Typically, when a company increases its dividend or announces a special dividend as Whole Foods Market Inc (WFM) did on Friday, it is viewed as a positive development. However, in contrast to popular belief, I believe this move could be a red flag.
Unimpressive Trading Session
As shown by the chart below, despite the news of the $2 per share special dividend, WFM shares did not have a particularly good trading session. By the end of trading on Friday, WFM shares ended higher by just 28 cents or 0.30%. This price action is somewhat disappointing considering the announcement of a special dividend. It is often argued that a stock bottoms when bad news comes out and the stock refuses to go lower. Likewise, it is often argued that stocks top out when they do not have higher despite good news.
Slower Growth Ahead?
WFM, currently trading at more than 37 times earnings is not a value stock. Contrastingly, as shown by the increasing profits throughout its history WFM is a growth stock. Usually, growth companies are better served investing any excess cash into growing the business, not returning money to shareholders.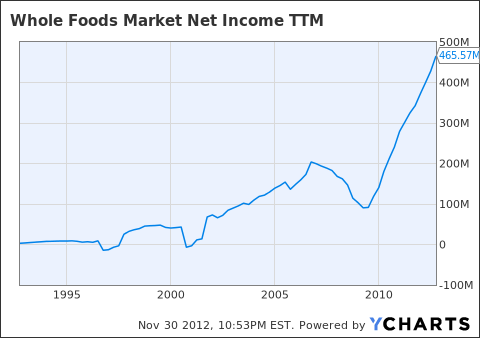 WFM Net Income TTM data by YCharts
Interestingly, in a few notable cases, an increase in the dividend of a growth company has coincided with a decline in share price. Some notable examples of growth companies turned dividend payers include Microsoft (NASDAQ:MSFT), Intel (NASDAQ:INTC), and now most recently Apple (NASDAQ:AAPL).
Apple stock since dividend announced in March.
For both MSFT & INTC ( it is to early to fully judge the outcome of Apple's dividend) the increased divided turned out to be indicative of slower growth ahead and thus led to a decline in share price.
Ample Funds To Continue Growing
WFM CEO John Mackey has said that he believes WFM will have plenty of money to continue funding growth plans:
We believe we will continue to generate strong cash flows and are confident in our ability to maintain a healthy cash reserve, internally fund our accelerated growth plans, and continue our quarterly dividend and stock repurchase programs.
Conclusion
In my previous mentions of WFM I have been bullish. While I still believe in the WFM growth story, I do not think the dividend announcement is a positive. To me, the dividend announcement could signal that growth has peaked at WFM. While I would not short the stock, I do believe caution is now warranted.
Disclosure: I have no positions in any stocks mentioned, and no plans to initiate any positions within the next 72 hours. I wrote this article myself, and it expresses my own opinions. I am not receiving compensation for it (other than from Seeking Alpha). I have no business relationship with any company whose stock is mentioned in this article.