"Three out of four global investors expect President Barack Obama and congressional leaders to reach a short-term agreement to avert more than $600 billion in spending cuts and tax increases scheduled to begin on Jan. 1. Only 6 percent of investors anticipate a political impasse that would send the U.S. economy over the so-called fiscal cliff and into a recession"--according to a Bloomberg Global Poll conducted on Nov. 27.
The "momentum" of global investors' outlook on the scarier issues facing the U.S. economy can certainly be characterized as positive. As December dawns on Wall Street the suspense keeps mounting.
Before we look at the momentum on Clean Energy Fuels (NASDAQ:CLNE) and Cheniere Energy (NYSEMKT:LNG), let's look at the overall momentum on the Russell 2000 index of small-cap stocks. A small-cap stock is a company with a market capitalization of between $300 million and $2 billion.
The chart below is of the iShares Russell 2000 index ETF (NYSEARCA:IWM). IWM's objective is to correspond generally to the price and yield performance, before fees and expenses, of the Russell 2000 Index.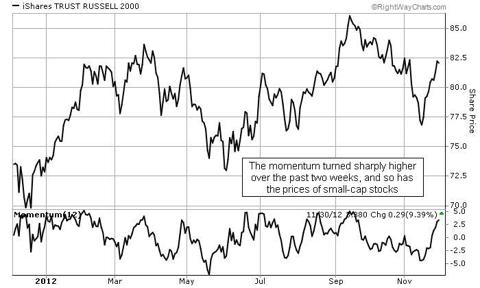 (Click to enlarge)
Momentum is simply the most recent price minus the price X days ago where X represents the Momentum period. Like its name suggests, this indicator tells you how quickly (or slowly) a securities price is changing.
IWM formed a bottom on Nov. 15th and 16th, with a low of $76.13 per share. In just two weeks, it moved 8.25% higher, reaching a high of $82.41 on both Nov. 29th and 30th. How convenient and how curious.
When it comes to momentum, values above zero indicate the current price is higher than the price X days ago. An increasing momentum line indicates that recent prices are consistently higher for this time period.
So as you can see from the chart above, the Russell 2000 index is about to meet "resistance." Watch the IWM to see if it can push higher and close at $82.50. Its last attempt in early November failed.
The important point is that if December is going to have a broad stock market rally, it will include small-cap stocks, which have already made significant gains. A pull-back first would not be unusual, and would offer one more chance to buy before a "Santa Claus rally" reignites.
Both CLNE and LNG have had a nice rally since mid-November. Let's look at CLNE first. Remember this is a great story as you can see from its website, but it's more about "hope-ium" than about being profitable.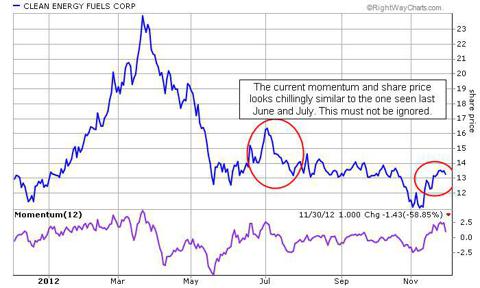 (Click to enlarge)
CLNE has had a big "good news bounce" that is beginning to fizzle. If you happened to buy it around November 9th at $11, you've already seen the stock run up almost 24%.
As Jim Cramer said during his "lightning round" last week about the nature of and current condition of CLNE, ""It is not doing well, because no one in Washington wants to do anything about having natural gas as a regular fuel. So it is just a spec."
Barring more unforeseen good news, it would seem likely that CLNE is about to retrace some of the last 21 days of exuberance. If you own the stock, now may be a the time to tighten your stealth trailing stops.
Many speculators and traders are big fans of a unique company called Cheniere Energy. As its symbols hints, Cheniere is a Houston-based energy company primarily engaged in Liquid Natural Gas-related businesses. LNG is one of the most important possibilities for America's energy independence.
LNG's management describes the company on their website:" We own and operate the Sabine Pass LNG receiving terminal in Louisiana through our 89.3% ownership interest in and management agreements with Cheniere Energy Partners, L.P. (CQP), which is a publicly traded partnership we created in 2007.
"We also own and operate the Creole Trail Pipeline, which interconnects the Sabine Pass LNG receiving terminal with downstream markets. One of our subsidiaries, Cheniere Marketing, LLC, is marketing LNG and natural gas and is developing a portfolio of contracts to monetize capacity at the Sabine Pass LNG receiving terminal and the Creole Trail Pipeline."
Cheniere is also developing projects to provide liquefaction and export services. But investors need to realize that LNG is a work-in-progress. The company isn't profitable yet, and in reading their 3rd quarter earnings report one learns that growth is measured by not losing as much money compared to the previous or year-ago quarters.
It's another energy company with a very compelling story and outstanding potential, and as of Nov.30th the market cap reached $3.5 billion. Even though it has a larger market cap than CLNE, its shares tend to move similarly, more like a small-cap stock.
Let's look at a price-momentum chart for LNG. Keep in mind that LNG's shares bounced off a low on Nov. 13th of $13.85 and then rallied almost 22%, hitting an intra day high of $16.86 on Friday Nov.30th.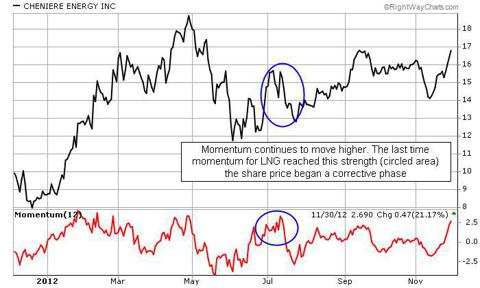 (Click to enlarge)
With a 52-week high of $18.92, LNG may have another 12% or more of upside stock price appreciation. If you own shares or are thinking of acquiring some I would encourage you to watch both the momentum and the stock's performance (including variables like volume and relative strength) on a daily basis.
Small-cap stocks and speculative companies like CLNE and LNG are candidates for the use of trailing stops. Be disciplined about setting them and use a percentage that limits your loses, allows for upward momentum and also protects your gains if the stock does move higher.
Until the "fiscal cliff" drama is resolved and/or the Fed brings some positive news to the stock market after the December meeting of its Federal Open Market Committee (Dec. 11-12), the chance for a short-term market correction still remains.
Watch the Russell 2000 carefully as a sort of "canary in the coal mine". If its momentum remains mostly positive this will bode well for the other major market indices. Hopefully December will bring positive opportunities and good results for both investors and traders.
Disclosure: I have no positions in any stocks mentioned, and no plans to initiate any positions within the next 72 hours. I wrote this article myself, and it expresses my own opinions. I am not receiving compensation for it (other than from Seeking Alpha). I have no business relationship with any company whose stock is mentioned in this article.