Ignite Restaurant Group (NASDAQ:IRG) was a highly successful spring IPO that suddenly collapsed this summer following a disclosure that there was a minor but embarrassing accounting issue. It didn't help that Q3 sales decelerated along with the industry or that the restatement was somewhat more deleterious than forecast, leading to a low print of 10.80 at the end of October, well below the May IPO price of 14 and the post-IPO peak of 19.86 in July. With a restatement behind them and a new CFO announced on November 28th, Ignite is likely to regain its prior momentum and could trade back to 20 over the next year, assuming a reasonable forward PE assumption of 20X 2014 projected EPS, suggesting a potential return of 59%: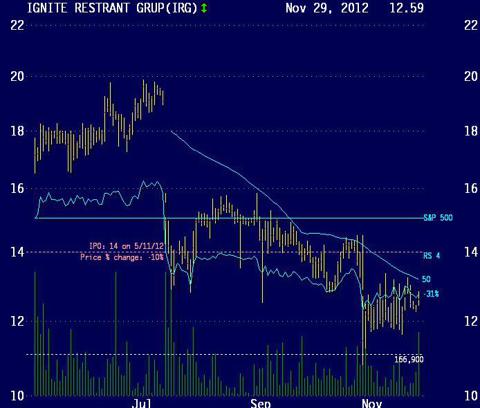 Background
Ignite, based in Houston, is a two-concept restaurant company, with the primary brand of Joe's Crab Shack and a newer Brick House Tavern + Tap concept. Joe's, which was formerly owned by Landry's, was founded in 1991 and is a unique seafood concept (the only national crab house) with 130 restaurants in 31 states. BHTT, founded in 2008, reminds me of BJ's (NASDAQ:BJRI), offering 70 varieties of beer and contemporary food, with 15 restaurants in 9 states (a total of 145 restaurants in 31 states).
CEO Ray Blanchette has worked in the restaurant industry for more than two decades and has been with Ignite since mid-2007. He is best known for his 18-year tenure with Carlson Restaurants Worldwide. Jim Mazany, SVP and COO of JCS, joined in late 2010 after serving as VP, Operations of Apple Gold (the second largest Applebee's franchise group, with 68 restaurants) and as Director of Operations for T.G.I. Friday's (owned by Carlson). Jim Kuhn, SVP and COO of BHTT, joined Ignite in 2007 and assumed his current role in late 2010, having worked previously for Sbarro's and Bertucci's Restaurants. Chief Marketing Officer Robin Ahearn joined in 2007 as well, having previously worked at Applebee's. Ed McGraw, SVP of Development, joined in 2009 and worked with CEO Blanchette at Carlson Restaurants.
The IPO on 5/10/12 resulted in the sale of 5.769mm shares sold at $14, with 96.5% sold by the company and 3.5% by existing shareholders. Additionally, the underwriters exercised their option to buy 865K shares, resulting in total net proceeds of $81mm. The company used $42.5mm to prepay a Term Loan and $1mm to pay J.H. Whitney a management agreement termination fee. After the IPO, J.H. Whitney owns 67.7% of the stock. As of 10/26, there were 25.635mm shares outstanding, with debt of $74.5mm and net debt of just $30.6mm and equity $105mm.
Accounting Issue
Here is the bomb the company dropped on July 18th:
Ignite Restaurant Group, Inc. (NASDAQ: ) today announced that, following an internal assessment of its lease accounting policies, the Company has determined it necessary to correct non-cash related errors related to its accounting treatment of certain leases. As a follow-up to this review, the Company is also commencing a detailed review of its historical accounting for fixed assets and related depreciation expense in prior periods as a private company. Following the completion of the accounting review, the Company, with the concurrence of its independent registered public accounting firm, PricewaterhouseCoopers LLP, will restate its previously issued financial statements for years 2009 through 2011 and for the first quarter of 2012.

The lease accounting errors have been preliminarily quantified by the Company and date back to 2006, the year of the Company's origination. As discussed below, adjustments for these errors will reflect non-cash charges primarily relating to deferred rent.
The press release goes on to further describe the situation, but it struck me at the time as shocking that its accountants could miss this. It also seemed to be more of a reputational issue than a material financial one, as the company quantified it as having a total impact of less than $4mm pre-tax.
Ultimately, the restatement, as described in the October 30th press release, played out worse than the company guided and included other issues:
A summary of the impact of the restatement is as follows:

The aggregate impact of the restatement adjustments and related tax effects from the Company's inception in 2006 through the first quarter of 2012 reduces net income by a total of $6.4 million over the 5-year plus period.
During the same period, the restatement adjustments reduced Adjusted EBITDA and restaurant-level profit (which are both non-GAAP measures) by an aggregate of approximately 2.7% and 1.4%, respectively.
The restatement adjustments do not impact the Company's revenues, comparable restaurant sales or free cash flows.
As a result of this embarrassing restatement, the CFO had to go, as the company identified:
material weaknesses in its internal control over financial reporting related to lack of sufficient qualified accounting and tax personnel, lack of adequate supervision and monitoring of accounting operations, inadequate lease accounting controls, and lack of effective controls related to the existence, completeness and accuracy of fixed assets and related depreciation and amortization expense.
New CFO
The former CFO, Jeff Rager, had joined Ignite in early 2008 from the Mast Industries division of Limited Brands. He had spent 8 years at YUM! Brands (NYSE:YUM) in financial roles and had previously been an Accenture (NYSE:ACN) consultant for 5 years and a KPMG auditor for 3 years, with a BBA from Miami University and an MBA from Northwestern. While he seemed qualified, notably he had never held a role as CFO previously.
New CFO Michael Dixon (50), who joins in January, is a huge upgrade. To take this job, he resigned his position on the Board of Directors at Brinker International (NYSE:EAT) and his role as CFO of Pinkberry (since 2008). Dixon served as Controller of Cheesecake Factory (NASDAQ:CAKE) from 2000-2004 and then CFO from 2004-2008. He was also previously Controller of PetSmart (NASDAQ:PETM) briefly and Director, Finance & Business Development, at Disney (NYSE:DIS) from 1994-2000 after 9 years in accounting with Coopers & Lybrand. He holds a BBA and an MBA from University of Michigan.
One might expect IRG to have to pay through the nose to get someone with Dixon's background, but his compensation seems quite reasonable. He will earn a base salary of $400K with a 40% targeted (60% maximum) bonus. He did receive a $75K signing bonus as well. The company will grant him 50K options as well.
Valuation
Analysts reduced their outlook for 2013 after the company reported and are looking for 25% growth to $0.76, down from $0.82 prior to the Q3 report. At the current price, that equates to a PE just 16.7X. Rapidly growing restaurants like IRG typically command valuations of 20-25X. Based on 20 PE a year from now (assuming $1 in 2014 EPS, which is slightly below the current consensus), the stock could appreciate to $20 (+59%).
Is 20 PE reasonable? For comparison, here are several peers, all of which are expected to grow sales in excess of 8% in 2013:

IRG trades below the group average despite having the highest expected 2013 EPS growth. Chuy's Holdings (NASDAQ:CHUY) and Del Frisco's (NASDAQ:DFRG) are similarly sized and also both recent IPOs. In the most recent quarter, CHUY grew sales by 28% as it has opened 7 restaurants YTD, but same-store-sales grew just 1.5%. DFRG sales grew 16%, including comparable sales of 3.5%. I think that investors may be concerned about their exposure to beef prices. IRG grew sales 14% with relatively flat comparable sales growth. YTD comparable sales grew 2.7%. The company has achieved positive comparable sales in each quarter for the past several years, and its recent change of advertising agencies could help reaccelerate growth in 2013. As an aside, improving consumer confidence and falling gasoline prices bode well for the industry.
My bottom line is that the current valuation is not overly aggressive. The stock was trading above 20 PE prior to the restatement issue, and the new CFO is likely to drive confidence that the issue is behind the company, though I expect that the company will need to boost same-restaurant growth to 4-5% to achieve my target.
Conclusion
Busted IPOs can be landmines, but often they can be an opportunity if the reason for the poor performance is discrete, as is the case here. With an accounting issue that followed the IPO so quickly, it's not surprising that the stock lost over 1/3 of its value as investors scrambled to exit. Further, weakness in the overall restaurant industry likely impacted the valuation further, with a shake-out in late October following disappointing earnings that coincided with the financial restatement. The stock, which likely isn't on most investors' radars, looks to be a likely year-end special, with the potential for revaluation after the recent CFO hire that should inspire investor confidence as it becomes better understood.
Disclosure: I have no positions in any stocks mentioned, and no plans to initiate any positions within the next 72 hours. I wrote this article myself, and it expresses my own opinions. I am not receiving compensation for it (other than from Seeking Alpha). I have no business relationship with any company whose stock is mentioned in this article.