Shutterfly (NASDAQ:SFLY) has nearly quintupled its annual revenue from $123 million in 2006 to $598 million in 2012. It is the undisputed leader in monetizing a very powerful trend: online, photo-related printing and sharing. Additionally, it holds between a 51% and 52% market share in this burgeoning online retail market.
Despite these facts, the stock has fallen 58% from its 2011 highs. Currently, the stock price sits at roughly $28 per share, just $13 over its IPO price of $15 back in 2006. Why the fall from grace? Shutterfly has definitely proven its ability to grow revenue. The price retreat represents a temporary lull in faith. This pause is not just due to Wall Street's horrible understanding of corporate long-term strategies in general, but also to the market's loss of confidence in Shutterfly's ability to control costs in order to expand the bottom line.
Shutterfly is currently in the midst of a major scaling operation on two fronts: 1) growing its customer base through the strategy of customer "acquisition, integration, and cross-sell," and 2) expanding its infrastructure to support orders on a massive scale.
Separately, as investors have heard by now, Facebook (NASDAQ:FB) is under increasing pressure to monetize its assets. Despite its recent Instagram photo-sharing app acquisition, a buyout of Shutterfly would completely close the loop on monetizing Facebook's second greatest asset - photo sharing. I am specifically referencing Facebook users' willingness to upload and share their most precious family moments in the form of online photographs.
This article explores the synergy between Facebook and Shutterfly and how a hypothetical marriage could solve BIG problems for both companies. This article is not intended as a prediction tool; rather, it is merely to demonstrate how both entities could benefit from Facebook acquiring Shutterfly.
Shutterfly Revenue Ramps, But EPS Issues Remain
Shutterfly's revenue and EPS numbers from Standard & Poor's (below) paint a few broad brush-stroke pictures:
1) The business is extremely "4th quarter heavy" with customers orders clustered during the holiday season.
2) Growing the top line is simply not a problem, with annual revenue growth rates as follows: 14.5% in 2008, 15.4% in 2009, 28% in 2010, 54% in 2011, and an estimated 26.4% for 2012.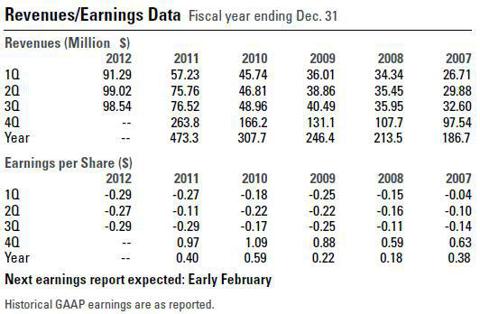 3) From 2010 to the present, however, this beautiful ramp in revenue is NOT translating to the bottom line. In other words, the market is, at least temporarily, correct in running the stock price down from $67 in mid 2011 to its current price of $28.
So, why isn't the bottom line growing?
Web Traffic
In Shutterfly's world, website traffic equates to customers (or potential customers). According to web tracking firm, Comscore's (NASDAQ:SCOR) latest long-term trend numbers, Shutterfly's unique visitor counts continue to trend upward. Alternatively, almost all other competitors are trending downward. In fact, with the recent addition of Kodak Gallery customers, unique visitors will likely break new records in November and December of 2012.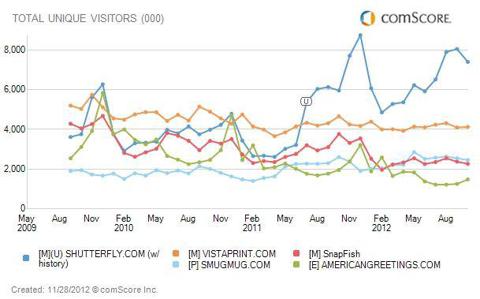 Unfortunately, there is a cost to maintaining this web traffic. Over the past few years, Shutterfly has been buying customers from dying photo printing and sharing websites. These customers are then integrated through large, costly data migrations in which photos are transferred to Shutterfly servers. Then, Shutterfly must market and cross-sell its innovative products to these new customers. To name a few recent customer acquisitions, Shutterfly has purchased customers from American Greeting Works, Sony ImageStation, and most recently from Fuji SeeHere and Kodak Gallery.
The Kodak Gallery acquisition alone will cost Shutterfly at least $9 million in CapEx in 2012 and likely more into 2013. Here is what CEO and President Jeffrey Housenbold recently said regarding the cost of the Kodak Gallery acquisition:
As we had indicated on prior calls, our 2012 one-time Kodak-related CapEx was estimated to be $9 million and our projected 2012 Kodak CapEx investment remains unchanged. Our combined growth capital investments in the Kodak Gallery migration plus the new Fort Mill facility is expected to be approximately $12 million in total for 2012 and we further estimate approximately $14 million of capital expenditures in 2013 related to these growth investments before returning to a more normalized level of capital spending.
We can deduce from these outside purchases that Shutterfly has an organic growth problem and is supplementing its user base with these purchases. Recently, in the form of a $60 million share repurchase, Shutterfly's management has sent a subtle signal to Wall Street acknowledging these near-term expenses.
Synergy
Speaking hypothetically, a marriage to Facebook would do three things to cut expenses and increase Shutterfly's profitability:
1) Facebook's 1.01 billion monthly active users could immediately halt the need for Shutterfly to maintain website traffic through outside user-base purchases. Facebook users regularly and willingly upload photos. Thus, a massive user base predisposed to photo sharing would be considered "gold" to Shutterfly's business model.
2) With Facebook's user base, Shutterfly also would halt the need to do costly data migrations like that of the recent Kodak Gallery. There is also a significant marketing cost in assimilating these new users into Shutterfly.com and cross-selling them Shutterfly products. Brian Regan, CFO and Senior Vice President at Shutterfly stated:
Sales and marketing expenses totaled $29.6 million in the [3rd] quarter, representing 30% of net revenues
Instead of these activities, Shutterfly could simply focus on servicing new Facebook customers going forward.
3) Finally, the sheer size of Facebook's user base could smooth "lumpiness" of the fourth quarter for Shutterfly. Since Facebook users consistently upload and share photos, imagine the increased revenue that could be captured if every time a user uploads a photo, they are presented with an option - to upload a high-resolution photo for printing or photo-related gift giving.
What Would Facebook Gain?
Revenue
Take a look at Facebook's 2012 estimated revenue is $4.94 billion as seen in this Credit Suisse report below.

Meanwhile, at Shutterfly, CFO Brian Regan has recently estimated 4th quarter revenue between $300 and $310 million. However, during the last four quarters, revenue numbers have been soundly beaten by an average of 20%. In the interest of being conservative, let's say Shutterfly beats revenue estimates by 10% and 4th quarter revenue comes in at $335 million. I believe this is possible with the new infusion of Kodak Gallery customers. If Facebook were to purchase Shutterfly today, Facebook's 4th quarter revenue would receive a boost of 23% ($335 million/$1.45 billion) over current estimates. Also note, Shutterfly's 2012 revenue of an estimated $623 million is 12.6% of Facebook's estimated 2012 revenue of $4.94 billion.
Products
Besides adding a profitable business and boosting revenue, Facebook would gain Shutterfly's innovative line of products. Customers appreciate the vast array of photo-related products offered. I firmly believe these very clever products are the standout reason why Shutterfly has continued its momentum over the years. Shutterfly's products include:
Cards and Stationary (including Seasonal Cards, Birth/Wedding/Graduation Announcements)
and of course, Standard Photo Prints
Anecdotally, a few years ago, my mother purchased this Sesame Street Photobook for my daughter. To this day, we read and enjoy the book together. Looking back, I see how the personalization of the book was helpful in prompting my daughter's enjoyment of reading.
Manufacturing Capabilities
Through an acquisition, Facebook would gain Shutterfly's manufacturing infrastructure and workforce expertise for creating these wonderful products. As mentioned previously, Shutterfly is currently expanding its infrastructure to scale order fulfillment. This, by the way, would be necessary if Facebook acquired Shutterfly. CEO Housenbold made these comments in the 3rd quarter conference call:
Now I'd like to share some thoughts on our recent decision to expand our East Coast manufacturing operations. The continued ramp in our order growth means that we will need to expand our manufacturing capacity before the 2013 holiday season. And with this new facility, we will be able to triple our manufacturing footprint at a similar annual lease cost of our current production facility while realizing meaningful future operational flexibility and cost savings. These savings will result from lower lease payments on a per square foot basis and through selected insourcing of some currently outsourced products that have achieved sufficient scale and volume, making insourcing economically beneficial.
Mobile
Increasingly, Facebook users are becoming mobile users. Consider this statistic from Credit Suisse's October 24th report on Facebook:
Monthly active mobile users equated to 604m vs. our 596m forecast, and the 543m in 2Q12. Thus, 60% of Facebook's total Monthly active users used a mobile device to connect to the service, compared to 57% in 2Q12, and 47% in the year ago quarter.
Facebook seems to have mobile photo-sharing well covered between Instagram and the Facebook app. But how do you actually monetize these photos? You have to convert them into things. Converting photos into things is exactly where Shutterfly excels.
Consequently, mobile is another area where Shutterfly could become more profitable through a Facebook acquisition. Shutterfly recently acquired a small development company called Penguin Digital to begin work on creating a better mobile presence. On the surface, it seems software development divisions like this could be downsized. They would not be needed with Facebook and Instagram developers who have already created a proven mobile platform.
Signs of a Partnership Forming?
Recently, Shutterfly has partnered with Facebook in what looks like some early attempts at monetization. Facebook has started a "Gift" initiative where users can click on a social network member and send a physical gift. The screen snippet below shows how this initiative appears on Facebook:

Housenbold describes the "Gift" partnership like this:
As it relates to Facebook, we're delighted to be partnering with them in their new Gift initiative, which for those of you not aware, they bought a company called Karma, and they're allowing people to send gifts, physical gifts, to the people who are in your social network. And they chose us to partner -- both our Treat and our Shutterfly brand is providing the vast majority of the cards that will go along with those gifts. And so we're not charging for that set of designs today. It really is about a brand awareness capability for us. And given the breadth and the different demographic that Facebook attracts, I think it's a great opportunity for us. We're delighted about the partnership and the relationship with Facebook. It's early days in that program.
Although it's early to speculate, one could easily see Shutterfly's role expanding to providing personalized photo-related cards and eventually photo-related gifts. Again, since Facebook is about photo sharing, and Shutterfly rules the roost at turning photos into personalized gifts, the role expansion would be a natural fit.
Adding It All Up
According to Yahoo! Finance, Shutterfly's Enterprise Value on 12/1/2012 was $881.5 million. For the sake of simplicity, let's round that up to $900 million. Let's also hypothetically assume Facebook would offer a 50% premium to Enterprise Value. This would make the takeover price roughly $1.35 billion (or $42 per share). As of Facebook's most recent quarter, cash on the books clocked in at $10.45 billion. So, $1.35 billion is a mere 12.9% of Facebook's current cash!
To recap what Facebook could acquire in return for only 12.9% of its current cash:
1) A currently profitable business, which would be made considerably more profitable through utilization of Facebook's giant user base.
2) An opportunity to close the loop in monetizing online photos through purchasing the leader in transforming photos into products.
3) Proven photo-related products that are smart and innovative.
4) The infrastructure, manufacturing base, and workforce to create photo-related products.
5) A 23% boost to 4th quarter 2012 revenue, and roughly a 12.6% boost to trailing 12-month revenue.
6) An opportunity to take advantage of Wall Street's temporary reaction to Shutterfly's scaling efforts. In other words, Shutterfly shares have dipped due to cost control fears. This would be an excellent time to take advantage of this dip in Shutterfly's enterprise value.
In summary, Facebook wants to monetize in a smart way. Thus far, the focus has been on monetizing user demographics for the advertising industry. But why not also focus on monetizing Facebook's culture of avid photo sharing? The purchase of Instagram brought a great group of mobile developers to Facebook and further expanded its ability to share photos through mobile. However, the ability to monetize these photos is still missing. It would be exceptionally smart to purchase a synergistic company with the ability to utilize Facebook's own assets to be more profitable. This is exactly what Facebook's huge user base provides Shutterfly, a perfectly paved avenue to increased profitability.
Incidentally, it looks as if George Soros sees the value in Shutterfly as well. Apparently, he has increased his stake in the company during the 3rd quarter to 8.4% of outstanding shares. That's a pretty high level of conviction! And finally, back in June, Eric Savitz of Forbes magazine wrote an article entitled "Leave Instagram To Facebook: Shutterfly Is The Better Buy". His thinking seems to align with mine in that a Facebook acquisition of Shutterfly, in order to monetize online photos, is key.
Happy Trading!
Disclosure: I have no positions in any stocks mentioned, and no plans to initiate any positions within the next 72 hours. I wrote this article myself, and it expresses my own opinions. I am not receiving compensation for it (other than from Seeking Alpha). I have no business relationship with any company whose stock is mentioned in this article.