Last week I was traveling up to New York City, and I arrived at the LaGuardia airport without a hotel reservation. While the plane was taxiing down the runway, I opened up my iPhone and clicked on the Orbitz link. I then proceeded to scroll down 400 hotel options in or around New York City.
As much as I would like to have stayed at the Four Seasons, I was not prepared to fork out $1,600 for a room key. So I continued scrolling down the varied list of hotel options until I found an affordable option in SoHo (Four Points Sheraton at SoHo); whereupon I booked a room and proceeded to my destination ($220 a night). This was the first time that I have embarked on a trip to New York City without a hotel reservation; however, I was pleased with the use of the Orbitz app and the overall experience and accommodations at the hotel.
Picking the right Hotel REIT
Now this is also the first time that I have ventured out into the hotel/lodging space on Seeking Alpha. As one of the smallest REIT sectors, the lodging/resorts sector is made up of 14 REITs with a combined market capitalization of around $25.89 billion (source: NAREIT).
With an average dividend yield of 3.22%, the lodging sector (timber is second smallest with a market capitalization of $29.53 billion) also enjoys one of the lowest year-to-date total returns (3.39%) in the overall FTSE NAREIT All Equity REIT Index.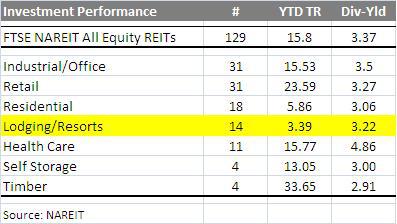 As a very bullish author, advisor, and investor in triple-net properties, I have always found it difficult to consider investing in assets that do not enjoy contractually long leases. For good reason, REITs like Realty Income (NYSE:O), National Retail Properties (NYSE:NNN), and W.P. Carey (NYSE:WPC) have all sustained decades of success in maintaining and increasing dividends.
Accordingly, the hotel industry is not the most risk-averse sector and it is particularly subject to external and unpredictable geopolitical shocks that can disrupt all previous travel and room demand forecasts. Fixed and many variable operating costs cannot be pared back easily during periods of weak demand, so even modest downturns can create substantial income declines. And, unlike the durable records of the triple-net REITs, there are no long-term leases in this sector to provide cash flow protection during those declines.
So picking a hotel REIT can be challenging, especially since investors in this sector often are treated to some wild rides, but when conditions improve, they can become very good. So maybe it's time to embark on a journey and explore the sector more closely and just maybe there is a hotel REIT that promises signs of accelerating growth.
Finding Risk and Reward in the Hotel Sector
One of my biggest lessons (and failures) in the franchise business was in operations. As a former owner and operator of multiple franchises, I found that owning a well-recognized brand is more than just flying the flag, but more importantly operating a platform.
Similarly, lodging assets require considerable operations acumen as their relative investment performance is rooted in a cyclical value proposition that includes changing market conditions, discretionary income, business conditions, room supply and other factors.
In fact, the hotel industry is extraordinarily cyclical. Room demand is sensitive to prevailing conditions, and few hotel stays are consumer necessities. Even the more reliable business traveler becomes scarce when the economy softens. Overbuilding is often an issue, particularly in the upper upscale and luxury segments, where it can take several years between groundbreaking and completion - during which the economy may have gone into reverse. But when market conditions are favorable, hotel owners have excellent pricing power.
There are 14 hotel and/or resort REITs that make up the FTSE NAREIT sector index. The year-to-date total return for the sector is 3.39% - barely higher than the average 3.22% dividend yield for the sector. Clearly, growth has been muted in the sector, so there must be a diamond in the rough?
Ashford Hospitality Trust: Maybe a Diamond in the Rough?
Because the fixed costs of maintaining high-end hotels, in particular, are substantial, owners have a great deal of operating leverage, and most of the benefits from higher room and occupancy rates can be brought down to the bottom line.
The problem with such an investment strategy, of course, is that hotel stocks may have already moved up substantially before a recovery becomes clearly evident. Nevertheless, perfect timing will not be crucial to the extent that the next up-cycle lasts longer than some of those in the recent past.
Just like my Orbitz search (last week), I began to look into the list of hotel REIT options and I found one that jumped out immediately. This REIT, I consider unique, because it has a strong alignment with shareholders to create value.
Ashford Hospitality Trust (NYSE:AHT), with a market capitalization of $617 million, has a differentiated ownership structure that consists of an experienced (also founding) management team that is also the largest individual shareholder (21%).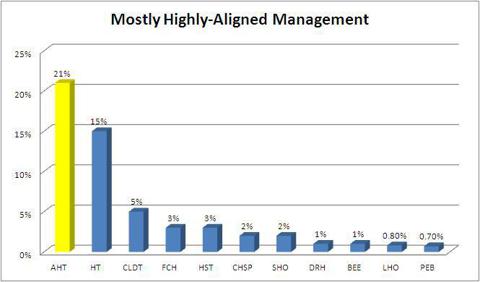 Ashford is unique among its lodging REIT peers because the company manages its risk at an "ownership" vantage point. Accordingly, Ashford can focus its investment strategies in markets where decisions are not influenced by institutional underwriting but instead by controlling risk that results into more proactive strategies.
Ashford proactively manages its capital market strategies in relation to financial market changes. As of the latest quarter (Q3-12) Ashford has gross assets of $4.9 billion and the company owns 123 properties with 25,767 owned rooms.

The portfolio consists of upper upscale properties (59%) and upscale properties (37%). The Washington D.C. area is the largest market in the portfolio, representing approximately 10% of rooms and approximately 15% of EBITDA. The San Francisco Bay Area was one of Ashford's strongest performing MSA's in the portfolio this quarter (Q3-12) with RevPAR increasing over 13%, driven almost entirely by increases in ADR.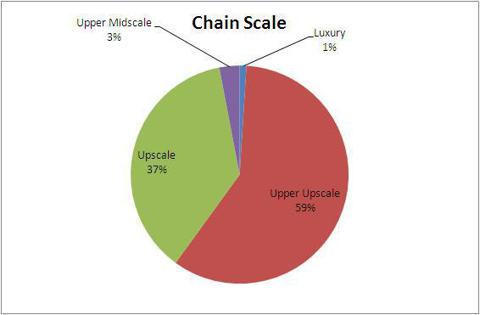 In addition, and due to the company's aligned inside ownership stake, Ashford owns and invests in (predominantly) the Top 50 U.S. markets. While most institutionally-driven hotel REITs steer peers into certain "gateway" markets, Ashford maintains a focused strategy on core primary and secondary markets.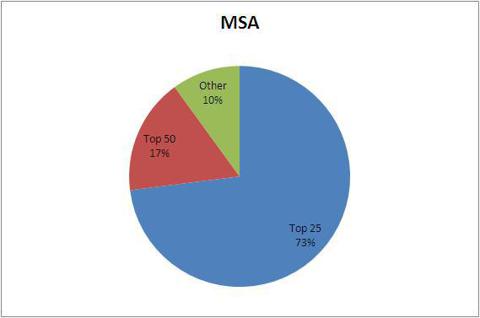 Marriott (NYSE:MAR) and Hilton (owned by Blackstone Group) are the two biggest flags flown by Ashford; however, the company maintains a well-balanced portfolio including other brands such as Hyatt, Starwood, and smaller independent chains.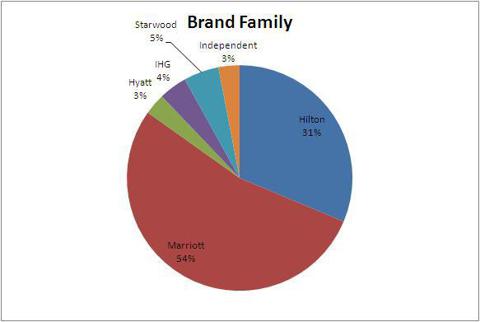 Upscale and luxury hotels, including those at convention destinations and vacation resorts, offer a full range of amenities for the business and leisure traveler and charge relatively higher rates; they are also expensive to build, due to higher land costs, longer building periods, and higher construction costs. Limited-service hotels don't offer dining, conference services, or other amenities, and charge modest room rates.
Ashford maintains a reasonably sound mix of customers, with a majority (49%) of corporate transient business. Group customers also make up a large part of the REIT's business platform as evidenced below: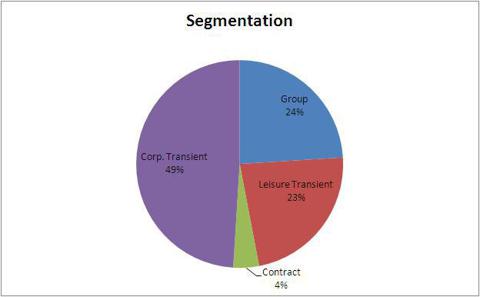 Does Ashford Outperform the Peers?
The most commonly used income is EBITDA (earnings before interest, tax, depreciation and amortization), which effectively is a measure of profit that obviates the different financing structures, different tax regimes and different accounting policies, thus facilitating comparability. Ashford consistently beats peers in hotel EBITDA flow throughs.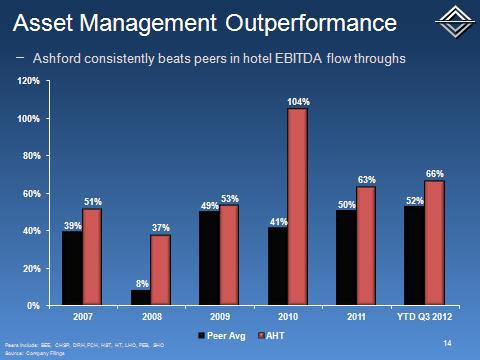 Ashford also has consistently produced strong dividend coverage. In the most recent quarter (Q3-12) Ashford's adjusted EBITDA growth was 14.4% over the prior year with an adjusted EBITDA of $80 million. The company has also seen hotel EBITDA margin improvement of 216 basis points for all of its hotels.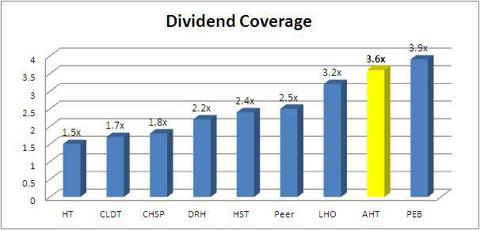 Because Ashford does not have considerable institutional ownership (like its peer group), the company is able to make the best investment decisions and deliver the most flexible hotel capital solutions. Consequently, Ashford has a strategy of seeking to capitalize on hotel and capital market opportunities that offer current yield and price appreciation, while simultaneously offering diversification and reduced risk.
Conversely, Ashford is able to structure its balance sheet such that investors can benefit from the highest possible total returns. As of Q3-12 Ashford had total debt of $2.312 billion with $165 million available to draw down on its credit line. In addition, Ashford has around $146 million in unrestricted cash. Ashford is able to generate higher returns because the company utilizes a significant level of property level non-recourse financing. Ashford has the highest debt-to-market ratio in the hotel sector: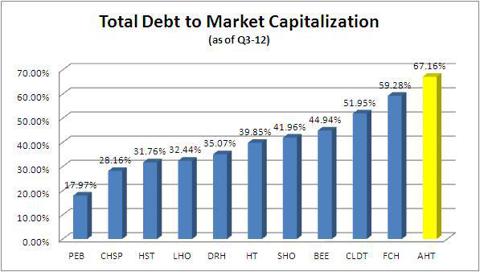 Ashford's Board of Director recently declared a dividend of $0.11 per share for the third quarter of 2012, which represents an annual rate of $0.44 per share. This covered dividend is well above Ashford's peer average. Based upon yesterday's closing price, the dividend yield is 4.86%, which is among the highest of our peer group.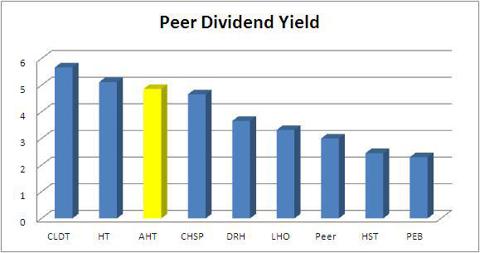 What is the Value Proposition for Ashford?
As mentioned above, I was traveling last week and I was looking for a hotel that promised value and convenience. I was not looking for a steal as I know that could've resulted in risk of sleep loss. Likewise, I am looking for a hotel REIT stock that provides a sound dividend, but also potential strong appreciation of capital, and hopefully a "margin of safety."
Utilizing a price per key metric, Ashford is trading well below the peer average. Currently the Dallas-based REIT price per key multiple is $156.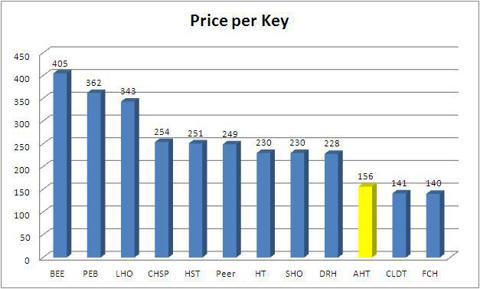 In addition, Ashford is currently trading below the peer average on an EBITDA multiple.
Like most REITs (and all hotel REITs), Ashford was forced to cut the dividend as the company's Funds from Operations (FFO) fell 30% (2009) and 31% (2010). Prior to the Great Recession (and after going public on August 29, 2003), Ashford was able to generate strong cash flow and FF). However, Ashford did reinstate a dividend in 2011, and both the dividend and Funds From Operations have grown rapidly since as depicted on the graph below. (Chart provided by FAST Graphs™):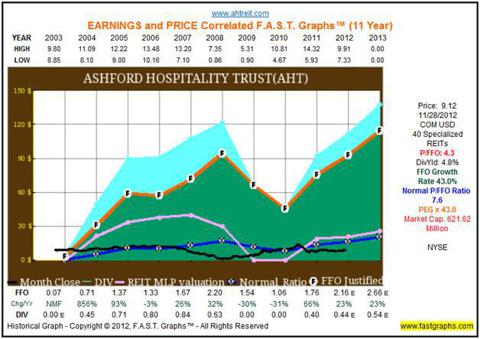 As the above chart demonstrates, the Great Recession and meltdown in the credit markets, worsened by a near shutdown in business conventions and business and leisure travel, caused a major disruption in hotel stays. According to a PricewaterhouseCoopers analysis, occupancy fell by 760 basis points, from 63.1% in 2007, to 55.5% in 2009. RevPar declined by almost 18%. But room demand eventually began to recover, as it always does, and beginning in mid-2010, RevPar was growing again.
A $1,000 investment on August 29, 2003, would have produced a current value of $983.77 representing essentially a break-even level of capital appreciation (minus two-tenths of 1% per annum). However, cumulative dividend income of $448.75 generated a respectable 4% total annualized rate of return. Moreover, notwithstanding the dividend cuts, shareholders still would have received dividend income that was almost twice what investors in the S&P 500 would have earned. (Chart provided by FAST Graphs™):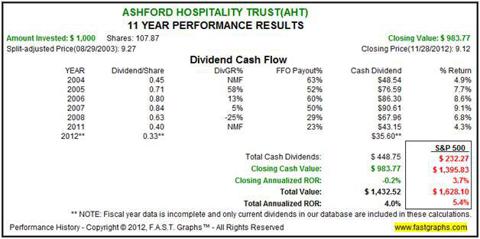 Since year-end 2010, Ashford Hospitality Trust has demonstrated reinvigorated growth in both its Funds From Operations and dividend income. The company currently can be purchased at a price to Funds From Operations of 4.3, which is below its recent historical normal price to Funds From Operations. Furthermore, its current price is attractively aligned with its dividend yield of 4.8% (see the light purple line on the FAST Graphs™ below).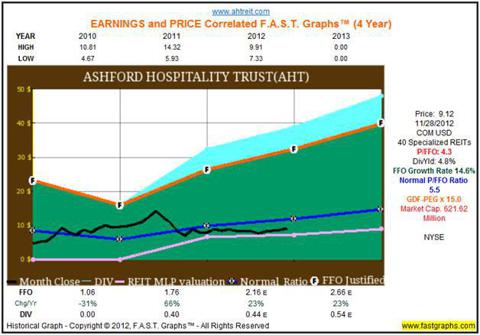 Since December 31, 2009, a $1,000 investment in Ashford Hospitality Trust would have grown to $1,965.54 representing a 26.1% compounded annualized rate of return. Additional dividend income of $157.33 increased the total annualized rate of return to 29.5%. This is significantly greater than the returns of the S&P 500, as seen on the performance graph (by Fast Graphs) below.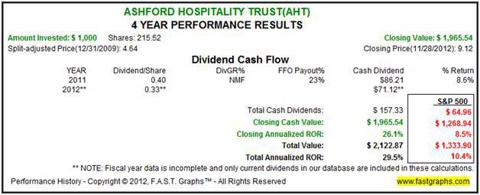 Looking forward, the consensus estimates of eight analysts reporting to Zacks expect operating earnings growth of 23%. This would indicate that Ashford Hospitality Trust, with its 4.8% current yield, attractive current valuation and strong future growth potential represents a compelling investment opportunity at its current levels for both capital appreciation and an increasing dividend income stream.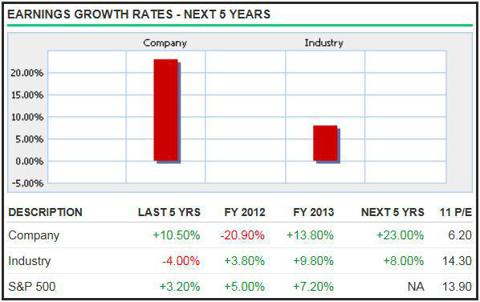 Ashford Hospitality Trust. Can You Make Hay If You Rent by the Day?
As a Ben Graham disciple, I have learned to patiently wait for the storm to subside, knowing that a sunnier and more plentiful time is bound, as a law of nature, to resume in due course. In this case of Ashford, it is clear that the company's risk is muted due to significant inside ownership as well as the company's lack of institutional influence.
On a recent earnings call, Ashford's CEO, Monty Bennett, said:
As you know, in our December board meeting is when we all get together and we set guidance for our coming dividend policy for the upcoming year. And last year, I think we were at $0.40 for the year and this year we're at $0.44. We're not constrained in any way by taxable income, and so we've got flexibility on the dividend, so there's kind of one marker in regards to that.

On one hand we've got our profitability GAAP based or FFO based, which is very strong and attractive. On the other hand, cash flow is not as strong as it could be, because the money is going to pay down debt, which some people kind of account that in cash flow or not. And so those are kinds of book-ins of what we're looking at.

So there's no appetite to do anything besides keeping it or raising it. But I would imagine that if it is raised, it be a modest raise, because the board and the management team just don't want to get ahead of ourselves too much on just pure raw cash flow. So I think that's our thoughts for now.
So far, Ashford has done a good job of growing its dividend (from the Great Recession) and I think that investing in a cyclical business model - like hotels - requires aligned ownership with considerable experience and "skin in the game."
The hotel industry has certainly recovered (from the Great Recession) and although the industry income fundamentals are encouraging, there is still considerable risk in the unpredictability of the Fiscal Cliff as well as the potential for another recession in 2013. As Dane Bowler explained in a recent Seeking Alpha article (Hotel REITs Look Promising With Strong Industry Fundamentals):
Ashford is differentiated from the other hotel REITS by its intentional use of high leverage. Montgomery Bennett, CEO, is extremely optimistic about the upside the hotel industry is heading into, and he personally owns a large portion of the company. He asserts that the use of leverage will propel Ashford to exceptional growth and set it ahead of the curve.
Ashford is currently trading at $9.05 per share and the year-to-date total return is 19.63%. Consensus NAV prices range from $10.50 to $11.00 per share and Ashford is currently trading at a discount of around 15%.
The hotel sector should continue to improve as the most efficient and experienced operators will gain considerable advantages over the smaller, less capitalized, owners. Ashford will continue to benefit from these trends and I would recommend the Ashford going forward as a "sleep well at night" brand.
I consider the hotel sector to be exposed to considerably more risk than the other lease-driven sectors - notably the categories with long-term net leases such as triple net, shopping center, healthcare and industrial. However, Ashford (with a 4.86% dividend) is around 15% undervalued and the supply and demand hotel fundamentals should benefit the REIT while also providing investors with risk-aligned exposure (with "skin in the game") to a cyclical and risk-adjusted sector. Current Entry Target: $9.00. Current Dividend Yield: 4.86%.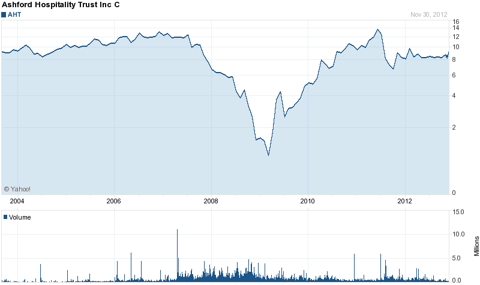 Source: SNL Financial, NAREIT, AHT Company Presentation (November 2012) and FAST Graphs™
REITs mentioned: ((NYSE:CLDT), (NYSE:HT), (NYSE:CHSP), (NYSE:DRH), (NYSE:LHO), (NYSE:PEB), and (NYSE:HST).
Disclosure: I have no positions in any stocks mentioned, and no plans to initiate any positions within the next 72 hours. I wrote this article myself, and it expresses my own opinions. I am not receiving compensation for it (other than from Seeking Alpha). I have no business relationship with any company whose stock is mentioned in this article.