I was absolutely fascinated by a recent Seeking Alpha piece titled "The Surprising Truth Behind Herbalife Put Volume." It is a revealing treatise and a cautionary reminder of why traders must not jump to quick conclusions in interpreting large options trades.
In the case of Herbalife (NYSE:HLF), author Richard Pearson explains how large volumes of puts traded were likely executed by a trader interested in hedging a large short position, similar to the way that an investor might sell covered calls. When other traders rush in to buy options in the hopes of riding coattails, they further drive up implied volatility which in turn provides richer premiums for selling these same options. (I covered how fear-driven put volume that follows the trades of people with advanced knowledge/insight has a very short shelf life in "Monster Spike On Mild FDA Letter Setup By Previous Fear-Based Trading"). A $2.0M purchase of shares by HLF COO Richard Goudis has greatly increased the stakes for shorts - who are now 17% of HLF's float - and will perhaps motivate even more hedging, if not an outright short squeeze.
Goudis was a frequent buyer of his company's stock in November, steadily increasing his stake. According to Yahoo! Finance, Goudis first bought 2150 shares at $46.37/share on Nov 11th. Four days later, he added 22,200 shares at $44.99/share. Not yet satisfied, Goudis spent another $2M on 45,516 shares at $43.89/share. (Note these reported dates may not be quite right based on my review of the stock chart. For example, November 11th was a Sunday).
In total, Goudis spent $3.1M buying HLF stock in November. These purchases are a strong endorsement for the company. At the same time, HLF dropped 10.5% for the month including a strong fade after earnings were reported on October 29th (in the aftermath of Hurricane Sandy) although HLF reported strong 2013 guidance of $4.40 to $4.55 earnings per share (EPS), suggesting now a forward P/E of 10.1 to 10.4. The stock also took a steep plunge on November 29th that was reversed almost as quickly as it happened.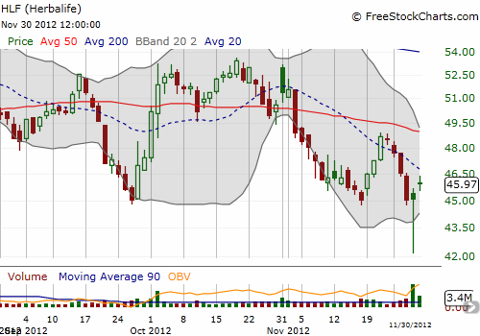 A tough November for HLF culminates in what looks like a washout of selling
All things considered, I am inclined to take a bullish bias on HLF. It seems this has been the position of analysts as well those who remain staunchly behind HLF: all 9 ratings on the company are strong buys - usually a useful contrarian signal. It seems the strong earnings report was largely ignored during November's selling.
The COO's buying during that time seems to confirm that HLF is currently undervalued. Meanwhile, shorts have ramped up their bets against HLF: a 36% increase in shares short from September 1st through November 15th, part of a tremendous 168% increase since April 30th. A disastrous earnings report after hours on April 30th ignited this sudden surge in short interest. While the stock quickly lost 34% in three days the stock reached a bottom within two weeks. Shorts have been looking for a fresh bearish catalyst ever since.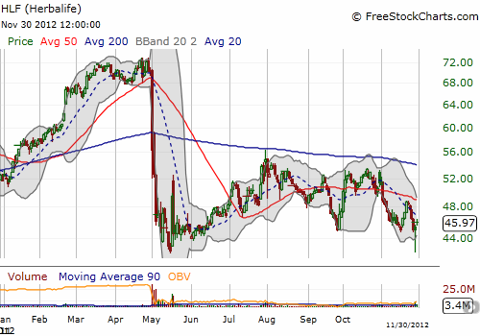 A roller coaster 2012 for HLF: a near 40% run-up gives way to a May collapse and a reluctant recovery
Source for charts: FreeStockCharts.com
Finally, the put/call open interest ratio on HLF is now at 2.56. The 52-week high was 2.76 the day before. These are levels last seen a little over a year ago. This extreme in the put/call open interest ratio is likely a peak. I will be interested in watching whether put-selling turns into outright call-buying as traders transition from trying to ride the coattails of bears to trying to ride the coattails of company insiders.
Be careful out there!
Disclosure: I have no positions in any stocks mentioned, but may initiate a long position in HLF over the next 72 hours. I wrote this article myself, and it expresses my own opinions. I am not receiving compensation for it (other than from Seeking Alpha). I have no business relationship with any company whose stock is mentioned in this article.