It hasn't been a good few months for Intel (NASDAQ:INTC). The chip giant has seen its shares continue to decline after a third quarter revenue warning and light fourth quarter guidance has sent investors away from the name. On Thursday morning, the company was hit by more negative analyst notes, and shares declined some more. Intel is close to testing its recent 52-week low again. Here's why.
Thursday's News:
There were two negative notes out from analysts on Thursday. The first one was from Citi, which has a neutral rating on Intel. Citi cut its estimates on the stock, and put a $21 price target on the name. The firm believes that Intel's guidance could continue to be weak. The other note came from Goldman Sachs. Goldman cut its earnings forecast on the name, stating that gross margins would continue to be pressured in the coming months. Goldman also cut its price target to $16, implying a huge drop from current levels. Both firms believe that guidance will be an issue, so it almost seems like they believe Intel could have another pre-announcement like we saw with Q3. Goldman also sees margins coming down because of higher inventory levels and lower average selling prices. A Digitimes report supports this theory, stating that Taiwanese notebook contract manufacturers want component vendors to lower their quotes for 2013. Some places are stating that gross margins for the production of notebook chips in 2012 dropped to 30% from 40% previously. Further price cuts in 2013 could pressure margins even more significantly.
This recent negativity is not something unusual for this space. Just a week prior, we saw downgrades for both Intel and ARM Holdings (NASDAQ:ARMH). Raymond James downgraded ARM from Strong Buy to Outperform, as ARM had closed near its 52-week high recently. Intel was downgraded at UBS to Neutral as a result of their CEO departure.
Current Analyst Averages:
Analyst estimates for Intel are still coming down in some respects. Since Intel's CEO retirement announcement, the Q4 revenue estimate has come down from $13.59 billion to $13.58 billion. That doesn't seem like much, but we're still about six weeks or so from Intel actually reporting. Those estimates could come down further. Currently, the $13.58 billion figure represents a 2.2% drop over last year's period.
But the real disappointment, and this goes back to the company's third quarter report, was margin guidance. Intel guided to Q4 GAAP gross margins of 57%, compared to 63.3% in Q3 and 62.5% in last year's Q4. When you lower your margin forecast, that will filter down the income statement, and the impact on earnings will be substantial. The following table shows Intel's GAAP earnings for 2011-2013, with the numbers in bold being estimates for quarters not yet reported.

CNBC has $1.95 for earnings in 2013 while Yahoo! Finance has $1.96. Let's not argue over a penny right now. But look at each quarter individually. Analysts don't expect an earnings rebound until Q4 next year, and it is possible that those expectations could come down if margins continued to be pressured. We're still a year away from that quarter, so plenty of time for expectations to change.
I've emphasized this point before, and I'll bring it up again. This earnings picture does not tell the whole story. You have to remember that Intel is buying back billions of dollars worth of stock each year, so earnings per share are being pushed up by the lower share counts. That being said, net income is falling at a faster rate, and that means cash flow from operations will be lower than previous quarters. I don't expect Intel's dividend to be hit, but it is possible that the buyback velocity slows down in 2013. It's a vicious circle, because the fewer shares that are bought back, the more that earnings will decline.
As for price targets, they've come down as well. That $16 one from Goldman appears to be the lowest on the street now. The mean target on the street right now is $23.47, which implies 19.93% of upside from Friday's close. The median price target is only $22.75, implying 16.25% of upside. I think you might see the average price target continue to come down, because the high target currently is $32. I just don't see Intel rising 63.5% anytime soon. The 52-week high was only $29.27, so you're talking about another $2.75 or so from there. I'm guessing some analysts haven't given up hope just yet, but a $32 price target at this point seems a bit lofty.
Final Thoughts:
The recent negativity from analysts is likely to continue in my opinion. With roughly six weeks until Intel reports Q4, I don't see too much positive news coming from the company itself. Shares will rise if people just think they are too cheap, or if we get a rally over a compromise on the fiscal cliff. Absent of that, Intel shares could continue lower if analysts continue their negativity.
Intel remains a short candidate, especially if analysts see a scenario where Intel might pre-announce again. Intel's pre-announcement started the latest leg down, as seen in the chart below. Bulls might point to Intel's now juicy 4.6% annual dividend yield, but that yield could still go higher. A 45 cent dividend over 6-months doesn't do much when the stock is down more than $6 over that time. Shorting Intel might be a bit tough just 34 cents off the 52-week low, but if we make another run towards the $21 level, it might be worth a look.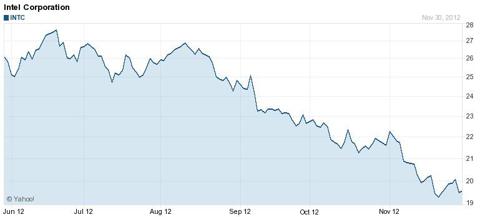 (Source: Yahoo! Finance)
Disclosure: I have no positions in any stocks mentioned, and no plans to initiate any positions within the next 72 hours. I wrote this article myself, and it expresses my own opinions. I am not receiving compensation for it (other than from Seeking Alpha). I have no business relationship with any company whose stock is mentioned in this article.
Additional disclosure: Investors are always reminded that before making any investment, you should do your own proper due diligence on any name directly or indirectly mentioned in this article. Investors should also consider seeking advice from a broker or financial adviser before making any investment decisions. Any material in this article should be considered general information, and not relied on as a formal investment recommendation.