Apple (NASDAQ:AAPL) is in one of its most significant tailspins ever which has seen the stock drop into bear market territory. I have utilized option strategies since 2010 to capitalize on the volatility. For reference, please view the first and other articles in the series to understand the strategy and its potential returns. This strategy is to simultaneously generate income and reduce your effective cost basis by selling out-of-the-money options to generate weekly income without sacrificing long-term returns. Even if you have no plans to engage in the options market this is your one-stop primer for the critical Apple developments.

(Source: Yahoo! Finance)
Apple had another volatile week and investors are unfortunately becoming accustomed to five percent intraweek swings. Apple edged up nearly $10, or 1.6%, and investors certainly hope that we have seen the bottom in Apple in the low $500s. The stock was clearly oversold and the valuation was extremely compelling. The quick eighty dollar rebound has removed some of the easy money in Apple but nothing has fundamentally changed for the company. The challenges from competitors still exist and the fiscal cliff still threatens both Apple's stock price directly as well as discretionary spending. I want to be cautious in the last month of the year but Apple is building momentum.
Apple quietly had a very good week as the iPhone 5 release propelled iOS over Google's (NASDAQ:GOOG) Android in market share and history dictates that the lead should expand as the iPhone 5 availability grows. Analysts have been reporting that the iPhone 5 is finally available in most Apple stores as availability constraints are being alleviated. The unlocked iPhone 5 is now available on Apple's website, lending support to the belief that Apple can meet its core demand. Apple continues to struggle in Europe, especially Germany, but is performing well elsewhere. On the positive front, Apple continues to enjoy leading customer loyalty as a strong 92% of current iPhone customers plan to stick with Apple when they upgrade. Android has performed well but fragmentation has hurt product loyalty as the operating system has not always had a flagship product that could rival the iPhone. The release of iTunes 11 continues to strengthen the Apple ecosystem as glowing reviews will keep customers satisfied for the near future.
From a competitive standpoint, Microsoft (NASDAQ:MSFT) finally announced the pricing for its Surface Pro Tablet: 64GB for $899 and $128GB for $999. Note that Microsoft has been sued for misleading claims about its storage space as the operating system commands a significant amount of the hard drive. Factoring in the costly keyboard attachment, consumers are looking at a $1,000 minimum investment for Microsoft's newest tablet. The slow adoption of the basic Surface has reportedly convinced Microsoft to reduce its order size for the Surface RT already. The high pricing and weak forecasted demand essentially mitigates Microsoft's threat against the iPad at least for now. You can never count Microsoft out but we may have another Zune on our hands.
As Apple continues to spar with its chief competitor and ally, Samsung, rumors swirl that Apple is attempting to reduce its reliance on chips produced by Samsung. This is very logical as Apple has always strived to have control over critical components and Apple can hardly like the fact that its biggest competitor produces its most precious resource. Intel (NASDAQ:INTC) is the popular pick to receive the bulk of Samsung's lost business but at least one analyst believes that such a change is not likely until 2014 at the earliest. Investors should not make any trades based upon rumors concerning changes to Apple's chipset strategy anytime soon.
The remaining big news this week focuses on the iPhone 5, iPad Mini, and New iPad launches in China this month. The launch will likely be confined to just China Unicom and China Telecom with the elusive China Mobile deal not mentioned. Apple has a stranglehold on the Chinese tablet market with a 71% market share and the market continues to grow in excess of fifty percent.
Before I close I want to touch upon the issue of Apple possibly issuing a special dividend. I have already read two articles here on Seeking Alpha alone that argue Apple could disburse some of its tremendous cash stockpile to investors. The argument is compelling: investors are selling Apple in 2012 to lock-in favorable capital gains ahead of a likely capital gains tax increase so give them a concrete reason to buy today. There are many flaws in the logical. First, as I have written in the past, most of Apple's cash is held overseas thus it would be very costly for Apple to bring the cash back into the United States. Apple's tax bill could be in the tens of billions depending on the size of the dividend and the countries were the cash was earned. Many analysts just consider Apple's cash to be an unproductive asset but I am of the opinion that having a very strong, liquid balance sheet has intangible benefits against competitors.
Secondly, Apple was very hesitant to reinstate its dividend despite effectively having more cash than it could profitably deploy. Given how cautious Apple was in regard to a mere two percent annual dividend, is really likely that Apple will issue a special dividend so soon? Finally Apple has shown that they do not overreact to the stock price or public outcry very often. Apple has fallen in excess of twenty percent a few times in recent years but management has made no statement indicating that they were concerned. Apple is an extremely well-managed company that is focused on long-term success; Short-term stock fluctuations are largely irrelevant for Apple and I doubt anything has changed to spur knee-jerk reaction to the stock decline. In conclusion I believe that the probability of an Apple special dividend in 2012 is very remote (<10%). Buy Apple for its long-term capital gains potential, not for hopes of a special dividend.
Below I present three possible scenarios and the potential returns for the Apple options. The first scenario represents a negative outlook for Apple while the final two scenarios are more reasonable. These scenarios are forecasts and there is no guarantee that they will come to fruition. Even if you are optimistic it is important to consider both positive and negative circumstances in order to stress your assumptions. As a general rule, selling calls with higher strike prices has greater potential return but additional risk of loss due to the lower (or lack of) downside protection. For more information on the fundamentals of covered calls, consult Investopedia.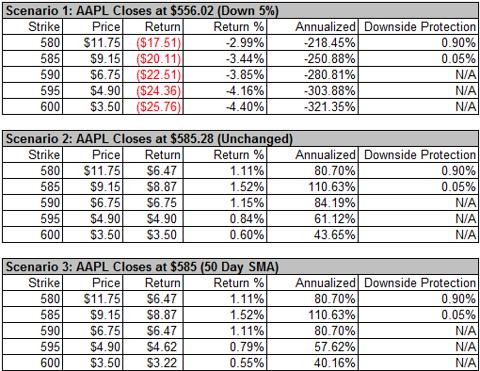 Additionally, if you would like even more information, I have prepared a sensitivity analysis for absolute return and percent returns, respectively. After studying the information above, these two charts make it easy to pick a strike price based on where you believe Apple will close at the end of the week. Estimate where you believe Apple will close and select the strike price with the highest return.

With this information, executing a buy-write on AAPL December 7 (Weekly) 580s is the optimal risk-return strategy as an opening Apple transaction. This is a more conservative covered call than I typically recommend as it is already in-the-money by five dollars. The option has a potential return of $6.47 (time value) and should provide adequate coverage against a slight drop. A more aggressive approach would be to sell the at-the-money 585s for $9.15. An alternative approach is to sell out-of-the-money 575 puts and collect the premium without having to purchase the stock outright. The 575s are currently trading around $5.00 and appear to offer the best risk-reward profile for the week. The money flow and relative strengthen indexes have converged and Apple is technically fair valued. Without any technical insight into this week's trading, I recommend caution. Note that if the stock declines to the strike price, you are obligated to buy the stock (or closeout the position). You should always consider the risks (particularly with naked calls or puts) raised in this article in light of your personal circumstances (including financial and taxation issues) in consultation with your professional financial adviser.
Disclosure: I am long AAPL, GOOG. I wrote this article myself, and it expresses my own opinions. I am not receiving compensation for it (other than from Seeking Alpha). I have no business relationship with any company whose stock is mentioned in this article.
Disclaimer: Please refer to profile page for disclaimers.