Continental Resources (NYSE:CLR) is an oil and gas E & P company that is the leading leaseholder in the Bakken - one of the most prolific unconventional oil fields in the US. Recently it announced that it had signed a pact to buy an additional 120,000 acres in the Bakken for $650 million. These acres are primarily in Divide and Williams counties in North Dakota. They bring CLR's total Bakken acreage to about 1.1 million net acres. They currently produce about 6,500 boe/d. This should add to CLR's already impressive total production of 106,000 boe/d as of September 30, 2012. This should make it easier for CLR to meet its goal of 57% to 59% year over year growth for FY2012 over FY2011 production. Q3 production was 55% higher than the year ago quarter, so CLR is already in the ballpark. I note that CLR sold some non-core assets in Q3 2012. These had a net production of approximately 1,100 boe/d. This will subtract from production growth.
CLR announced Monday December 3, 2012 that the Bakken contains 57% more oil in place than it previously estimated (903 billion barrels versus the previous estimate of 577 billion barrels). This should give CLR a good boost as it is the biggest leaseholder in the Bakken (even bigger after the Bakken acreage buy cited above). If you add CLR's October 9, 2012 announcement of the new discovery of the South Central Oklahoma Oil Province (SCOOP), the company's revised prospects look spectacular. The company believes this discovery should add 1.8 billion barrels of oil to its reserves as the field is proved out. CLR is up almost $4 to $72.57 per share on the Bakken news as of this writing.
Recent news from China should combine with the Bakken estimate revision news to push CLR even higher. The Chinese HSBC Purchasing Managers' Survey (PMI) rose to 50.5 in November 2012. This is its first expansionary reading in 13 months. It is a positive for China, and it should push oil prices up at least for the near term. That should help CLR near term. Keep in mind that China's economic growth slowed to +7.4% in Q3 2012. This was the weakest quarter since 1999. Short term we may not be out of the woods yet.
Another factor that bodes well for CLR is the plethora of new pipelines that are being built to service the Bakken. It has often suffered from prices lower than WTI prices due to the lack of cheap transportation available for the oil, NGLs, and natural gas. This should begin to change. Enbridge (NYSE:ENB) is building the Flanagan South Pipeline Project. This will transport oil from Flanagan, Illinois to Cushing Oklahoma. It will have an initial capacity of 585,000 bopd. ONEOK Partners (NYSE:OKS) has announced plans to build the Bakken Crude Express Pipeline. This will have a capacity of 200,000 bopd. These pipelines are only the tip of the iceberg.
Longer term CLR looks like a great oil and gas play. It has a terrific position in the prolific Bakken field. It has many other unconventional oil field holdings such as acreage in the Cana, Niobrara, Anadarko Woodford (315,675 net acres), and the Arkoma Woodford. The Anadarko and Arkoma Woodford plays are the second most important focus area for CLR. Its Bakken leaseholds alone should see CLR become extremely successful.
CLR is set to keep growing rapidly. CLR's current forecast for FY2013 annual production growth is 30% to 35%. This should help its stock price rise next year. The average analysts' forecast sees CLR's EPS rising 19.30% in 2012, 43.80% in 2013, and 28.90% per year over the next five years. This makes CLR a great buy with a PE of 32.41 and an FPE of 15.70 as of this writing. Keep in mind that CLR's FPE becomes the 2014 year upon reporting Q4 2012 earnings. This should be significantly lower than the 2013E PE, and it should help the stock price rise. This is especially true after the upgrade in the Bakken "oil in place" estimate by 57% (news released Monday December 3, 2012). CLR's stock is already up almost $4 on this news to $72.57 per share. Given its previous oversold status from the Friday November 30, 2012 close, CLR may have a good ways to move up. Certainly the Bakken news is great news for a lease holder of 1.1 million net acres in the Bakken. It is unquestionably great news for Hess (NYSE:HES) too. That company owns almost 1 million net acres of lease holds too. If you want a secondary play on the Bakken, you might try that company. The CLR estimate revision for the Bakken has not yet appeared in Yahoo Finance for HES, and the stock price has not seen the kind of pop one might expect on this news. Perhaps this will still be true by the time this article is published?
The two year chart of CLR provides some technical direction for this trade (November 30, 2012 close).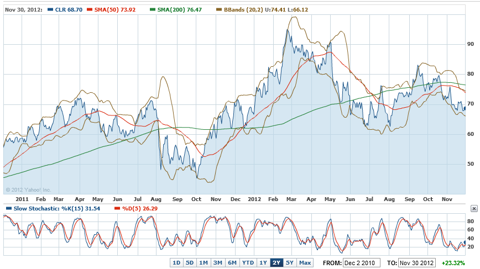 The slow stochastic sub chart shows that CLR is near oversold levels. On the main chart, CLR has just put in a higher bottom on the news about the 57% increase in the estimated total oil in place in the Bakken. The stock had been set to bounce anyway on the positive Chinese HSBC PMI expansionary reading of 50.5 for November 2012. The news about the Bakken estimate increase should ensure that this bounce is sustained near term.
The main worries are the EU economies and the US fiscal cliff. CLR truly looks great after the recent news. However, the entire market may take a nose dive if the US goes over the fiscal cliff. This is looking more likely every day. For this reason you may wish to average into this trade around the fiscal cliff. Longer term I don't think you can go too far wrong with CLR. It is set to become one of the great US oil companies, and it should continue to grow quickly for quite some time. This should mean your money will too in the long term. CLR does engage in hedging activities for a portion of both its oil and its natural gas expected production. However, this information was not in its 10-Q statement. Therefore I have not included it here.
Note: Some of the fundamental data above is from Yahoo Finance.
Good Luck Trading.
Disclosure: I have no positions in any stocks mentioned, but may initiate a long position in CLR, HES over the next 72 hours. I wrote this article myself, and it expresses my own opinions. I am not receiving compensation for it (other than from Seeking Alpha). I have no business relationship with any company whose stock is mentioned in this article.