Business Introduction And Background
Coach, Inc. (COH), founded in 1941 and based in New York, designs, markets and sells a variety of luxury goods, including handbags, accessories, wearables, footwear, jewelry, sunwear, travel bags, watches and fragrances for women and men in the United States and internationally. Coach also sells its goods through other department stores, specialty store outlets, and other online retailers, but its goods are mainly sold through its own retail outlets. The company mainly sells what is dubbed "accessible luxury" goods. These items are high-quality goods priced to appeal to middle-income and the high-income consumers. Wallets can go for as low as $40 and as high as a few hundred dollars, and handbags sell for cost as low as $100 and can go as high as thousands per piece.
Coach has tried to expand overseas in recent years, other than only operating in North America, with Coach Japan formed in 2001 to expand their presence in Japan. Coach has recently also acquired a number of companies in China (includes Hong Kong and Macau), and the number of retail outlets in that area have been growing the fastest over the past 3 years. Besides this, they also have outlets in Taiwan and Singapore. The table below shows the number of outlets Coach operates in the respective locations as listed above.
| | | | | | |
| --- | --- | --- | --- | --- | --- |
| Fiscal Year | North American (Retail)* | North American (Factory)* | Japan | China | Singapore & Taiwan |
| 2010 | 342 | 121 | 161 | 41 | 22 |
| 2011 | 345 | 143 | 169 | 66 | 27 |
| 2012 | 354 | 169 | 180 | 96 | 34 |
| Growth (%) | 3.51% | 39.7% | 11.8% | 134.1% | 54.5% |
*The difference between Retail and Factory outlets: Retail outlets are more sophisticated, sleek, and sell Coach goods at full price, and present a complete statement of the Coach modern American style. These stores target the consumers who have a considerable amount of disposable income and who are willing to spend them on Coach's luxury goods. Factory stores sell special manufactured-for-factory-store products primarily at 30%-80% of their normal retail price and are geographically positioned in outlet centers more than 30 miles from major markets. These stores target more value-oriented customers who are not willing to pay the full price for the Coach merchandise.
Figures and Descriptions from Coach's fiscal 2012 10-K, pg 5-6
Therefore, as described above, Coach's industry is incredibly cyclical, and its profits should be very sensitive to how the economy does and how much disposable income consumers have. But even now, with the world economy mediocre at best, Coach still looks like a compelling buy, with the host of qualities it has, as you will read about in this article. These qualities range from having an ambitious mission statement to having a strong balance sheet.
But first, here is a snapshot of the company's stock price and its fundamentals:
Snapshot
| | |
| --- | --- |
| Price (29.11.2012) | $57.84 |
| Market Cap | 16.41B |
| Income (Trailing 12-mths) | 1.05B (P/E: 16.20) |
| Sales (Trailing 12-mths) | 4.87B (P/S: 3.37) |
| Book Value Per Share (BVPS) | $7.03 (P/B: 8.23) |
| Return On Equity (ROE) | 54.86% |
| Long Term Debt/Equity Ratio | 0.00 |
| EPS Growth Past 5 Years | 15.93% |
| EPS Growth Next 5 Years (est.) | 14.31% |
| Current Ratio | 2.42 |
| Dividend | $1.20 (2.07%) |
| Payout Ratio | 28.70% |
Through this snapshot, Coach looks like a fundamentally healthy company. I will elaborate on these numbers later in the article.
Review Of Past And Present Growth
Coach has delivered very impressive earnings over the past 10 years, having grown by 23.19% annually over the past 10 years and 15.93% over the past 5 years, which includes its only EPS decrease in 2009, during the recession. This is remarkable growth for a company which was a mid-cap (market cap $2B- $10B) for a big part of the past 10 years and a large-cap (market cap $10B- $200B) for the rest.
| | | |
| --- | --- | --- |
| Year | EPS ($) | Growth |
| 2003 | 0.39 | - |
| 2004 | 0.62 | 59.0% |
| 2005 | 0.86 | 38.7% |
| 2006 | 1.19 | 38.4% |
| 2007 | 1.69 | 42.0% |
| 2008 | 2.17 | 28.4% |
| 2009 | 1.91 | (-12.0%) |
| 2010 | 2.33 | 22.0% |
| 2011 | 2.92 | 25.3% |
| 2012* | 3.53 | 20.9% |
*Coach's fiscal year ends in June
As stated in the introduction, Coach is a cyclical company which operates in an industry whose demand is driven almost fully by the consumers' disposable income. Many companies, especially cyclicals, saw their profits vanish and turn to losses, but it stayed profitable and had only saw a small 12% EPS decrease during the recession of 2008-2009. Besides this, the company's sales numbers did not decrease during the recession.Instead, they increased from $3.18B from fiscal year 2008 to $3.23B in fiscal year 2009, the year that earnings declined 12%. This shows the company's resiliency to recessions and reiterates Coach's widely-known and well-liked brand name that had cushioned its earnings decrease during the recession. Of course, the company's share buybacks program is ongoing even through the recession undoubtedly also helped cushion the earnings fall.
Coach had also done extremely well in its recent earnings estimates, although it is evident that growth had slowed in its latest quarterly earnings report. Earnings for the quarter ended September 30th, 2012 was $0.77, which increased 5.5% from the year-ago quarter's result of $0.73.
Another quarter back, earnings were $0.85 for the quarter ended June 30th, 2012, which increased 26.9% from the year ago quarter's result of $0.67. It was remarkable growth, but shares plunged almost 20% and brought it to sub-$50 levels after that report due to distressing SSS (Same Store Sales) numbers of 1.7% in North America instead of the expected 6%. Although this was the case, SSS in North America had recovered to a good 5.5% as of the latest quarter.
Future Growth
Coach's mission statement and its values have propelled it forward over the past years and should continue to do so in the future. Its mission statement, "Coach seeks to be the leading brand of quality lifestyle accessories offering classic, modern American styling," shows that the company has a goal that it aims to achieve.
This ensures that the company is focused in working towards the goal that it aims to attain. Its other five values, as shown below, reveals a consumer-orientated and success-orientated system that Coach has been using. In addition, with such a simple strategy and system to excel, it makes it easier for all decisions to be based on these values and for them to be implemented. With these useful and simple values and an ambitious mission statement, it has carved out a niche for itself in what is called the "accessible luxury" (as mentioned above) industry, and has built a strong and well-liked brand among consumers. Along with a team of experienced and effective management (as will be discussed later) that is managing the company at the moment, I believe that this will be a driver of future growth.
Values*:

1. The Brand Is Our Touchstone
2. Customer Satisfaction is Paramount
3. Integrity is Our Way of Life
4. Innovation Drives Winning Performance
5. Our Success Depends on Collaboration
*For the full description of the values, refer here
Consumers have been generally happy with Coach products (as shown here), with many online reviews showing very favorable results, ranging 3 out of 5 star ratings to 4.5 out of 5 star ratings. Besides this, employees working in the company are evidently happy too. This is one area for analysis that is frequently neglected but is extremely important in my view. The employees are the ones who will serve the customers and only with good service (and high quality products, of course), will ensure that a customer will keep buying more products. The average employee review on glassdoor.com is at 3.6 stars out of 5 and the average employee review on indeed.com at an impressive 4.2 stars out of 5. The company's employee reviews are also impressive as compared to that of other companies, with other Coach competitors like Tiffany & Co. (NYSE:TIF) only receiving a mediocre 3.1 stars out of 5, Polo Ralph Lauren (NYSE:RL) also receiving 3.1 stars out of 5 and Michael Kors (NYSE:KORS) receiving a slightly better 3.2 stars out of 5. Besides this, as seen here (glassdoor.com), a high 86% of employees approve of current Coach CEO Lew Frankfort, which again, is a much higher figure than the CEO ratings of other competitors.
On to the company's growth prospects. The company's US business is maturing (in fact, it is most likely already matured) with the company's US store growth evidently slowing. The company's future growth will be mainly fueled by the growth in its international operations, especially in developing areas like China, North America as well as certain parts of Asia, where income should increase a big deal over the next few years. The middle-class in these countries are getting richer as the countries develop and they will eventually start buying luxury goods from companies like Coach as they eventually get more disposable income.
Management And Shareholder Value
Coach's CEO Lew Frankfort (66) has spent 17 years as CEO of Coach and has been with Coach for 33 years. This just shows how committed he is to the company and how much experience he has in this area. He has brought Coach from a small company with just sales of a few hundred millions to a company with sales of $4.76B and income of $1.04B in fiscal 2012. Frankfort also owns 2,066,449 Coach shares, or less than 1% of Coach's $16B short float. His ownership might sound little, but in reality it is worth $122.7M (as of the closing price of 29.11.2012), which is quite a big deal of money.
As shown here, other members of management also owns some shares, and together they own approximately 1% of Coach's stock float. Their shares are valued at around $150M in today's market. The fact that insiders own a considerable amount of shares is good - this ensures that the interests of its management are in line with its shareholders, and that management would strive to govern the company to the best of its abilities.
Current management also has been shareholder friendly - as they had been creating shareholder value over the past few years. Shareholder value had been created by a number of ways: dividends and share buybacks. Management had bought back shares over the past few years, and the number of shares outstanding has been steadily dropping since 2003, as shown in the table below. Coach's total shares outstanding had decreased from 366.02M in 2003 to 283.69M today, representing a 2.52% decrease over the past 10 years. This is beneficial to shareholders as shareholders do not own the whole company - they only own part of the company. Share buybacks will enable the shareholders to own a larger part of the company without owning more shares.
| | |
| --- | --- |
| Year | Shares Outstanding (Millions) |
| 2003 | 366.02 |
| 2004 | 379.24 |
| 2005 | 378.43 |
| 2006 | 369.83 |
| 2007 | 372.52 |
| 2008 | 336.73 |
| 2009 | 318.01 |
| 2010 | 296.87 |
| 2011 | 288.51 |
| 2012 | 285.12 |
| Latest Qr. | 283.69 |
The company had also initiated a $0.32 dividend in fiscal 2010 (starting June 2009) and will pay a dividend of $1.20 this year ($0.30 per quarter). This is an attractive 2.07% dividend for investors to supplement their portfolios. The dividend may not be very high, but if one includes the more "intangible" share buybacks, the company is already creating a considerable amount of shareholder value. Additionally, Coach's dividend looks more than just sustainable with an amazingly low payout ratio (net income given out as dividends) of just 28.70%. The table below shows the company's dividend payments since June 2009.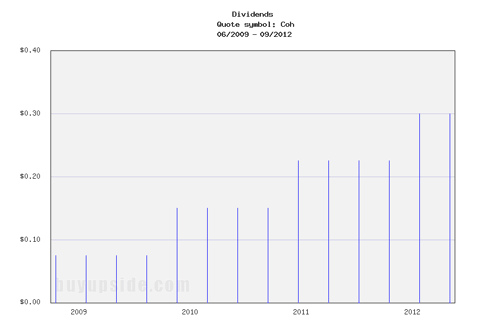 Favorable Fundamentals
Firstly, its ROE has been maintained above 30% over the past 10 years, and it has an impressive 54.86% ROE at the moment. A high ROE indicates that a company's management is using shareholders' money more effectively, which is good both for the company and its shareholders. The definition of ROE is the amount of net income returned as a percentage of shareholders' investments. This measures a corporation's profitability by revealing how much profit a company generates with the money shareholders have invested. Besides a high ROE which is within the top 3% of the entire universe of stocks, the company also has an equally high ROA number of 34.67%. Clicking on the link above will bring you to the ROA definition on investopedia.com. The table below shows Coach's ROE and ROA numbers over the past 10 years.
| | | |
| --- | --- | --- |
| Year | ROE (%) | ROA (%) |
| 2003 | 34.30 | 23.70 |
| 2004 | 33.50 | 25.40 |
| 2005 | 37.60 | 28.90 |
| 2006 | 41.60 | 30.40 |
| 2007 | 34.70 | 27.10 |
| 2008 | 51.70 | 34.30 |
| 2009 | 36.80 | 24.30 |
| 2010 | 48.80 | 29.80 |
| 2011 | 54.60 | 33.40 |
| 2012 | 52.10 | 33.50 |
| Latest Qr. | 54.86 | 34.67 |
Secondly, its Book Value per Share number had been increasing over the past 10 years, from $1.18 in 2003 to $7.03 now. The BVPS value is calculated by subtracting all liabilities from all assets, then dividing it by the total number of outstanding shares. The table below shows Coach's BVPS values over the past 10 years.
| | |
| --- | --- |
| Year | BVPS (Book Value Per Share, $) |
| 2003 | 1.18 |
| 2004 | 2.08 |
| 2005 | 2.74 |
| 2006 | 3.09 |
| 2007 | 5.15 |
| 2008 | 4.44 |
| 2009 | 5.34 |
| 2010 | 4.93 |
| 2011 | 5.49 |
| 2012 | 6.94 |
| Latest Qr. | 7.03 |
Thirdly, Coach has a low amount of debt. It has kept debt down to a minimum and its long term debt/equity below 0.03 over the past eight years. The company has a negligible $985,000 in long term debt as of the latest quarter, and resulting in a debt/equity ratio of 0. The number is fabulous in my view, with my personal debt/equity limit at 0.5. This shows that the company is earning enough to not consistently rely on debt to expand itself. The debt/equity ratio, on the other hand, shows the proportion of equity and debt the company is using to finance its assets, and the higher the ratio, the more debt, rather than equity, is financing the company. A high level of debt compared with equity can result in volatile earnings and large interest expenses. Below is a table containing Coach's debt numbers over the past 10 years.
| | | |
| --- | --- | --- |
| Year | Debt ($) | Long Term Debt/Equity Ratio |
| 2003 | 3.54M | 0.01 |
| 2004 | 3.42M | 0.01 |
| 2005 | 3.27M | 0.01 |
| 2006 | 3.10M | 0.01 |
| 2007 | 2.87M | 0.01 |
| 2008 | 2.58M | 0.01 |
| 2009 | 25.07M | 0.02 |
| 2010 | 24.16M | 0.02 |
| 2011 | 23.36M | 0.02 |
| 2012 | 985,000 | 0.00 |
| Latest Qr. | 985,000 | 0.00 |
Lastly, Coach's profit margins have been increasing over the past 10 years, which is fabulous, as it shows that the company is able to gain more income out of every dollar in sales; the definition of profit margin is how much out of every dollar of sales a company keeps in earnings. Its profit margin is now at an impressive 21.45%, which is within the top 15% of the entire universe of stocks. This could also be attributed to the fact that it has a good amount of pricing power, offering "branded goods," which are able to be sold at a significant price premium. The table below shows Coach's profit margins over the past 10 years.
| | |
| --- | --- |
| Year | Profit Margins (%) |
| 2003 | 15.40 |
| 2004 | 19.80 |
| 2005 | 22.70 |
| 2006 | 23.40 |
| 2007 | 25.40 |
| 2008 | 24.60 |
| 2009 | 19.30 |
| 2010 | 20.40 |
| 2011 | 21.20 |
| 2012 | 21.80 |
| Latest Qr. | 21.45 |
Strong Balance Sheet
Before I start on anything, here is Coach's balance sheet on Yahoo Finance.
First, Coach's assets grew much faster than its liabilities over the past three years, as shown in the table below. From the year ended July 3rd, 2010, to the year ended June 30th 2012, Coach's total assets had increased from $2.467B to $3.104B, an increase of 25.8% over three years. On the other hand, its total liabilities had increased from $961.8M to $1.111B, an increase of only 15.6% over the past three years.
| | | |
| --- | --- | --- |
| Fiscal Year | Assets | Liabilities |
| 2010 | $2.467B | $961.8M |
| 2011 | $2.635B | $1.023B |
| 2012 | $3.104B | $1.111B |
| Growth Over 3 Years | 25.82% | 15.61% |
Second, Costco has more current assets than current liabilities. As of June 30th, 2012, it had $1.805B in current assets and $718.2M in current liabilities. This is a good sign as the company is able to pay off its short-term liabilities if it is obliged to pay all of them off at one time. Coach had also $917.2M, which equates to around $3.23 per share, in cash as of June 30th, 2012. Its $917.2M of cash, which is also more than all its current liabilities (of $718.2M), shows that Coach will have no problem in paying off any short term obligations, which is extremely good. The table below shows Coach's current assets, current liabilities and cash numbers over the past 3 years.
Fiscal Year
Current Assets
Current Liabilities
Cash & Cash Equivalents
2010
$1.302B
$529.0M
$596.5M
2011
$1.452B
$593.0M
$699.8M
2012
$1.805B
$718.2M
$917.2M
Growth Over Past 3 Years
38.63%
35.77%
53.76%
Current Ratio (Current Assets/Current Liabilities)
2.42 (Healthy)
Third, Coach has no preferred stock, which is a good sign for the company and its shareholders - it does not need to pay extra special dividends, which would only drain its cash reserves, which can be used for other operations. A company that has preferred stock also shows how cash-strapped it is to have to borrow money from its shareholders, technically, at higher interests than normal (special dividends, etc.).
Cash Flow Statement
Before I start on anything, here is Coach's cash flow statement on Yahoo Finance.
Into Coach's cash flow statement now, cash provided by investment activities have increased a big deal over the past 3 years, from $990.88M in fiscal 2010 to $1.222B in fiscal 2012, mainly caused by a good increase in net income over the past 3 years (specifically, from $734.9M to $1.039B). The company has used $21.89M for investments and $184.3M for Capital Expenditures (CapEx). Its CapEx has increased dramatically over the past 3 years, from $81.12M in fiscal 2010 to the current number of $184.3M.
Additionally, in the past 3 years, it had generated a total of $3.246B by operating activities and have used it for the following purposes:
CapEx $413.17M
Investments $24.14M
Dividends $532.7M
Share Buybacks $2.948B
The company had generated weak cash flows in 2010, with a negative change in cash equivalents of (-$203.9M), but it has since generated a relatively strong cash flow, with the company's change in cash equivalents at $103.31M in fiscal 2011 and $217.43M in fiscal 2012.
Valuation
| | | | |
| --- | --- | --- | --- |
| P/E (Trailing 12-m) | P/E (forward 12-m) | P/B | P/S |
| 16.20 | 13.03 | 8.23 | 3.37 |
Coach is trading at a fairly valued 16.2X earnings and 13.0X forward earnings. Its P/E, when compared to its history, is very much acceptable, with an average of 18.46 (shown in table below) over the past two years and a low in the neighborhood of 13-14X trailing earnings, set after the company's stock plunged in late June following a weaker-than-expected SSS report in their North American outlets, as mentioned above. With its stock nearer to its 52-week low of $48.24 than its high of $78.93, Coach still looks like a stock worth a buy, especially after the plunge in June that was really uncalled for. With the stock already recovering well from its bottom, its seems like it has the momentum to continue to do so, as its downtrend line (as shown in the chart below) has been broken and seems that it seems to be moving in an uptrend now, as shown in the chart below.
| | |
| --- | --- |
| Date | P/E |
| Mar 31, 2011 | 18.01 |
| June 30, 2011 | 21.89 |
| Sept 30, 2011 | 17.16 |
| Dec 31, 2011 | 19.08 |
| Mar 31, 2012 | 23.07 |
| June 30, 2012 | 16.57 |
| Sept 30, 2012 | 15.69 |
| Nov 30, 2012 (latest) | 16.20 |
| Average: | 18.46 |
P/E ratio numbers obtained from here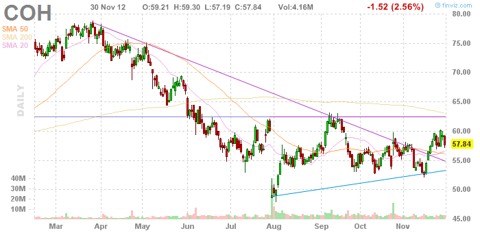 Coach Daily Chart, from finviz.com
Furthermore, as compared to its competitors, Coach is the cheapest of all, with competitor Tiffany trading at 17.2X trailing earnings, Steven Madden (NASDAQ:SHOO) trading at 17.7X earnings, Ralph Lauren trading at 22.2X trailing earnings, and finally, Michael Kors, trading at an astronomic 42.2X earnings.
Key Risks And Flaws
Regardless of how many merits a company has, it is bound to have some flaws. Here, I list some of Coach's flaws.
High P/B Ratio
Although Coach is fairly priced according to its P/E ratio and its book value per share (BVPS) has been increasing steadily over the past 10 years as shown previously, I feel that its book value as compared to its current price is still too low. Coach has a stock price of $57.84 as of November 30, 2012 and a book value of $7.03. This equates to a P/B (Price/Book) of 8.23. The number has dropped considerably after Coach's pullback but it is still a little too high by my standards.
Risks From Operating Overseas
There are many risks from operating overseas. One risk from operating overseas are the regulations from overseas governments. The overseas governments may decide after investigations that the company is not complying to a certain rule and may give them a fine or other such penalties. Another risk from operating overseas is political unrest. This could keep the company from operating for extended periods of time and this could significantly reduce sales and also profits.
Besides the risks stated above, there is also an exchange rate risk. As Coach's sales and income numbers will ultimately be converted to US Dollars, an unwarranted weakening of the foreign country's currency as compared to the US Dollar may also aversely impact Coach's international segment sales and profits.
All the risks stated above could reduce overseas income growth significantly, although the company is pretty diversified, geographically, in its overseas operations. As mentioned above, I believe that future growth will be fuelled mainly by international operations and if there are any disruptions in business overseas, it could aversely impact growth and may result in the company missing estimates and ultimately, causing a plunge in the share price. We have seen how much the company's share price can plunge by through the 20% plunge in share price after announcing disappointing SSS growth in July.
Risks From Unfavorable Economic Conditions
As mentioned previously in this article, Coach operates in an industry that tends to be incredibly sensitive to how the economy does. Although Coach seems more resilient to these downturns or recessions, this risk is not fully eliminated and Coach's earnings are bound to get impacted by unfavorable economic conditions. If a recession strikes the world again in the future, and is of a larger scale than the previous 2008-2009 recession, Coach's profits will be affected, as many consumers will have much less disposable income then as compared to a time when the economic conditions are favorable.
The Takeaway
Overall, Coach looks like a top quality long term pick for any investor's portfolio, and although it has a few risks and flaws - like any company has, I believe that its host of merits, as described in the article, makes up for its flaws and make the stock a great long-term investment. Along with its considerably lower valuation as compared to a year ago and a great 2.07% dividend to help, this could just be the right time to buy Coach's stock.
All the information/figures mentioned in this article were sourced from Coach's 10-K filings, Coach's website, MSN Money, Gurufocus, Finviz, YCharts, Investopedia and Yahoo! Finance. All prices mentioned are based on the 30 November 2012 closing price.
Disclosure: I have no positions in any stocks mentioned, but may initiate a long position in COH over the next 72 hours. I wrote this article myself, and it expresses my own opinions. I am not receiving compensation for it (other than from Seeking Alpha). I have no business relationship with any company whose stock is mentioned in this article.