In my last article, I wrote about four of my favorite undervalued buy and hold stock picks for long term investors to consider as we head into 2013. In this article, I've chosen to highlight my four favorite speculative stocks plays for the new year. I feel it important to mention that I am a primarily a long term value investor, but I do occasionally enjoy playing a more speculative pick in small amounts, as I did earlier this year with Arena Pharmaceuticals (NASDAQ:ARNA), much to the delight of the balance in my trading account.
I believe that the following four stocks could all be strong gainers in 2013, if the slow but steady US economic recovery continues, and could rally sharply if Washington manages to come to an agreement to resolve the looming fiscal cliff. An agreement would remove a major source of uncertainty for investors, which I believe, along with renewed concerns about the European debt crisis, is holding the market back from a major bull run.
Arch Coal (ACI)
Arch Coal is a one of the leading US producers of thermal and metallurgical coal, with 42 mines located throughout the US. Arch Coal shares are currently trading at $6.72, which is well below its 52 week high of $16.88, and miles away from its pre-financial crisis high of $75.44 in June of 2008. The current price offers us a potential 25% upside, based on analysts target price of $9.00. Arch Coal's dividend yield is 1.80%, a number that has fluctuated alongside the share price over the last several years. The entire coal industry, along with Arch Coal competitors Peabody Energy (NYSE:BTU) and Alpha Natural Resources (ANR), has been hard hit during this time, with record low natural gas prices having decimated demand for thermal coal from utility companies, and slow global economic growth also lowering demand for metallurgical coal used in steel production. In addition, the US coal industry has also faced an increasingly hostile EPA under the Obama administration, resulting in a dramatic increase in costly environmental regulations.
The regulatory environment is unlikely to loosen with President Obama having been re-elected to a second term, but there are signs of improvement with the demand situation. Rising natural gas prices should help increase demand for thermal coal this winter, and increased demand for steel should in turn help increase demand for metallurgical coal.
I believe that the coal industry has bottomed, and that the market has largely priced in the impact of an Obama reelection, and that with the coal demand picture improving, Arch Coal could be a great play for the coming year. For what it's worth, billionaire energy investor T. Boone Pickens seems to agree, having recently opened a large position in Arch Coal.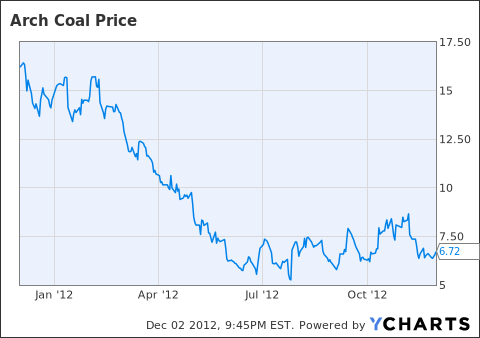 Navidea Biopharmaceutical (NYSEMKT:NAVB)
Navidea Biopharmaceutical is a biopharmaceutical company engaged in the development of precision diagnostics and radiopharmaceutical agents. The stock is currently trading at $2.72, well off its $4.77 52 week high achieved back in July.
The company's prime drug candidate is Lymphoseek, a lymph node targeting agent intended for use in intraoperative lymphatic mapping. Earlier this year, Lymphoseek received a Complete Response Letter from the FDA due to issues with third party contract manufacturing and not related to the safety or efficacy of Lymphoseek. The company has since worked to address the FDA concerns, and resubmitted the Lymphoseek New Drug Application [NDA] to the FDA on October 30th. The FDA has set a PDUFA goal date of April 30th, 2013, and a decision on the drug could come at any time before then.
In addition to Lymphoseek, the company has two other promising drug candidates in their pipeline. RIGScan is an investigational, tumor-specific, radio-labeled monoclonal antibody targeting agent. RIGScan has completed clinical studies for the enhanced detection of cancer in Stage IV primary or recurrent colorectal cancer. AZD4694 is a precision radiopharmaceutical candidate for use in the imaging and diagnosis of patients with signs or symptoms of cognitive impairment such as Alzheimer's disease.
For a developmental biotech company, Navidea has a fairly solid balance sheet, with $11.2 million in cash as of the end of Q3. In addition, the company has access to multiple lines of credit available in advance of anticipated revenue from Lymphoseek approval, so the threat of a share offering resulting in dilution appears minimal. I believe that Navidea shares will rise as the April 30th PDUFA date approaches, and with approximately 17% of shares short, could see a short squeeze, and a share price in the $5 range upon an expected FDA approval.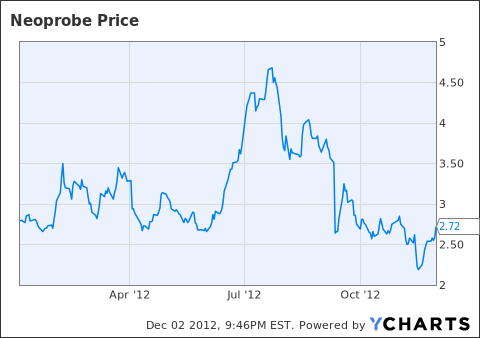 National Presto (NYSE:NPK)
National Presto is a small cap diversified manufacturing company that produces and sells small kitchen based home appliances, private label adult incontinence products and diapers, and ammunition fuses and ordnance related items, as well as non-lethal military weapons. The company was founded in 1905, and has long been a favorite among value investors. The company was even highlighted in Benjamin Grahams "The Intelligent Investor". Management is extremely conservative financially, and keeps tons of cash on the balance sheet, which currently totals $113 million, with zero debt. They also have a history of paying a special dividend each year, dependent upon end of year results. In 2012, the special dividend was $5.00, which was added to the company's regular annual $1.00 dividend.
Third quarter results were not good for National Presto, with earnings and margins coming in sharply below estimates and Q3 2011 results. Share prices have sagged accordingly, and are currently trading at $76.76, well below its 52 week high of $105.67. Sales of the company's small appliance products continue to shrink, and with the Iraq war now over and the Obama Administration pledging to wind down our military presence in Afghanistan, and with potential fiscal cliff defense cuts looming, the company's military ammunition contracts are a cause for concern as well.
With that said, the appliance division could soon see a turnaround, with the holiday sales season upon us, and consumer demand at new highs. In addition, the US housing sector continues to recover, and when people buy homes, they buy kitchen appliances such as waffle makers, electric griddles and deep fryers. Also, the company recently announced an $81 million dollar extension to its largest military contract, with deliveries under the extension through 2014. And finally, the company continues to expand their fairly new absorbent products line, and with the baby boom generation rapidly approaching senior citizenship, could be positioning themselves in a potentially large growth area over the next decade or so.
National Presto usually announces their special dividend in February, and I believe we could see a share price run-up as dividend investors buy in leading up to the announcement. With a short position of 20%, any improvement in sales and earnings could result in a short squeeze, which added to a pre-dividend run, could result in a sharp increase in share price.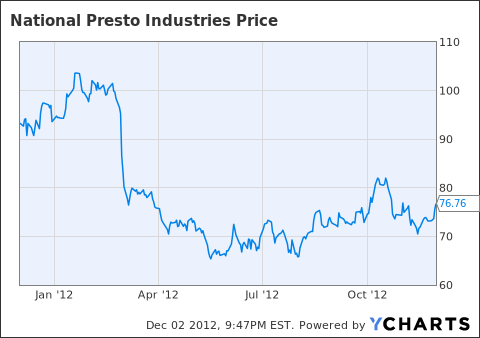 FutureFuels (NYSE:FF)
FutureFuels Corp is a small cap manufacturer of specialty chemicals and biofuel products. Shares closed Fridays trading at $11.35, which is 15% below its 52 week high of $13.10 and 30% below its analyst target price of $16.00. The company offers a hefty dividend yield of 3.90%, and also recently announced an additional special dividend of $1.20 per share and a quarterly dividend increase from 10 cents to 11 cents for 2013.
Q3 results were mixed, with revenues and net income down slightly from Q3 2011, with the underperformance attributed to extreme volatility in the biofuel market and the negative impact of an expired $1.00 per gallon federal fuel blenders tax credit. That aside, the company's net income for the first nine months of 2012 is still up 18% over the same period in 2011. It should also be noted with concern that the specialty chemical division relies heavily upon two large customers for about 35% of its revenues, and the loss of either customer would have a material adverse effect on the company.
FutureFuels Corp has a very strong balance sheet, with $157 million in cash on hand and zero debt. This stock also has very strong insider ownership, with 62% of shares owned by insiders. These factors could make FutureFuels a strong candidate to be acquired by a larger competitor such as Archer Daniels Midland (NYSE:ADM). Add the strong balance sheet and insider owning to the shareholder friendly dividend policy and the acquisition potential, and this stock may soon find its way off of my speculative list and into my long term portfolio.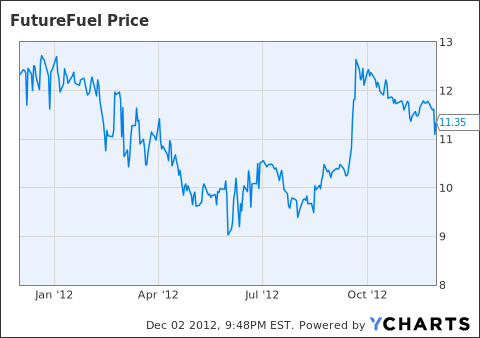 Summary
Given continued improvement in the housing market and the overall US economy, and assuming that Washington gets its act together and reaches a deal resolving the fiscal cliff, all of the above stocks picks could offer the aggressive investor the potential for significant upside gain. All also come with significant risks that could result in further downside weakness and potential loss, so please perform your own due diligence before investing in any of the above mentioned stocks.
Disclosure: I am long NAVB. I wrote this article myself, and it expresses my own opinions. I am not receiving compensation for it (other than from Seeking Alpha). I have no business relationship with any company whose stock is mentioned in this article.
Disclaimer: I am not a registered investment advisor and do not provide specific investment advice. The information contained herein is for informational purposes only. Nothing in this article should be taken as a solicitation to purchase or sell securities. Before buying or selling any stock you should do your own research and reach your own conclusion. It is up to investors to make the correct decision after necessary research. Investing includes risks, including loss of principal.