By Sean Geary
Yum Brands (NYSE:YUM) dropped almost 10% in Friday trading in New York after reporting disappointing quarterly earnings. Is now the time for investors to jump into this beaten-down name?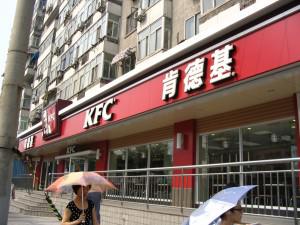 Although Yum Brands' roots are firmly planted in the United States, emerging market growth is what has fueled the substantial rise in the company's equity; prior to yesterday's seven-plus point drop, this large-cap stock was up more than 100%.
The umbrella company for noted brands Kentucky Fried Chicken, Taco Bell, and Pizza Hut, Louisville-based Yum Brands has increased its focus on the world's second-largest economy: China (NYSEARCA:FXI). The company's initiatives in China have been very successful. As of this most recent quarter, the group saw 44% of its revenue come from China, thanks largely to the popularity of its KFC brand.
While China had previously been a principal catalyst in the stock's rise, the precipitous drop in Yum Brands Friday was the result of fears over the health of the Chinese consumer. The company, like McDonald's (NYSE:MCD) previously had indicated, said fourth quarter same store sales in China were not particularly strong.
Analysts have posited that the decline in same store sales is likely attributable to both macroeconomic factors and uncertainty pertaining to the recent Chinese leadership transition.
However, with Chinese economic data starting to improve and the political transition having taken place without significant public disruption, Chinese consumer health could return to previous levels in the near future which could positively affect shares of Yum Brands.
Technically, the stock broke a number of major levels of resistance in its post-earnings drop. Short-term traders should look for a reversal before getting into the stock. At 17x forward P/E, the shares aren't particularly cheap. However, assuming that Chinese growth returns soon, investors with a longer time horizon, Yum! Brands could be attractively priced for investors looking for exposure to Chinese middle-class consumption.
Disclosure: Author's family is long YUM.