We have been long Berkshire Hathaway (BRK.B, BRK.A) since early last year. We took a stake in Lee Enterprises (NYSE:LEE) this year because of Warren Buffett's $85M investment in Lee's 2nd Lien Term Loans earlier this year. Although Berkshire Hathaway recently reduced its position in Lee Enterprises's common shares, there has not been any news with regards to if Berkshire has sold any of its 2nd Lien Term Loans, which is how Berkshire got its shares. According to Lee Enterprises's October Presentation at the Deutsche Bank 2012 Leveraged Finance Conference, Berkshire also held a portion of its 1st Lien Term Loan debt. We think that investors overreacted to the news that Berkshire sold out of its position by taking the stock down by over 20.5% the day after Berkshire's 13-F Form was filed.
We maintain that there is value in the company. In FY 2012, the company generated $54M in free cash flows, which was sharply down relative to the $90M generated in 2011. The good news is that Lee's free cash flows in Q4 2012 were $14.6M, up from $14.4M in Q4 2011. The decline in free cash flows was entirely due to Lee's bankruptcy reorganization and refinancing of its debt that was maturing in April 2012. Lee's FY 2012 free cash flows were negatively impacted by $25.65M in increased cash interest expenses and $19.9M in increased debt financing and reorganization costs paid. If we exclude these negative headwinds to free cash flows, the company would have seen its FY 2012 free cash flows reach almost $100M. We're not expecting the company to make any more payments on that unless it is successful in refinancing any of its sources of debt into a lower interest rate.
Lee has three debt indentures. The first indenture is its 1st Lien Agreement. The 1st Lien Agreement consists of a term loan of $689,510,000, and a new $40,000,000 revolving credit facility under which Lee has not drawn. The interest rate on the loan is currently 7.5% and the outstanding balance on the loan is $658M as of the end of FY 2012. The good news is that Lee may prepay outstanding principal amounts on this loan at any time without premium or penalty. Lee is required to repay principal amounts totaling $5M in FY 2012, $11M in FY 2013, $12.75M in FY 2014, $13.5M in FY 2015 and $3.375M in Q1 2016. With regards to Lee's mandatory principal payments, the company must make these specified mandatory principal payments in quarterly installments. In addition to these scheduled payments, Lee is required to make mandatory repayments from the net proceeds from asset sales. Lee made $2.56M in mandatory repayments from asset sales in FY 2012 and $11.95M from the sale of the North County Times in October 2013. The loan matures in December 2015, which is at the end of the first quarter of Lee's 2016 fiscal year.
Lee's second indenture is its 2nd Lien Agreement. The 2nd Lien Agreement consists of a term loan of $175M with an interest rate of 15% and quarterly payments. No principal payments are required and the company is not allowed to redeem this loan until January 30, 2013. From that date until January 30, 2014, the 2nd Lien Agreement may be redeemed at 102% of the principal amount, at 101% thereafter until January 30, 2015 and at 100% thereafter until the April 2017 final maturity. 2nd Lien Lenders shared in the issuance of 6.74M shares of Lee's common stock, representing 13% of Lee's outstanding shares. 2nd Lien Lenders also received $8.75M in non-cash fees, which were added to and included in the principal amount of the 2nd Lien term loan.
Lee's last indenture is its Pulitzer Notes. The Pulitzer notes were issued by Pulitzer Inc. subsidiary St. Louis Post-Dispatch LLC (PD LLC) in 2000. PD LLC borrowed $306M from a group of institutional lenders and the notes had an April 2009 maturity. In February 2009, Lee (PD LLC's new parent) and its Noteholders agreed to amend the credit agreement and under the amendment, PD LLC repaid a portion of the original maturity ($120M) and refinanced the remaining $186M for an additional three years. As part of Lee's bankruptcy and reorganization, Lee had extended these notes to December 2015. We don't consider these borrowings to be an extend-and-pretend scenario for Lee because Lee had reduced the outstanding balance from $186M in 2009 to $138.5M in Q1 2012, $126.355M in January 2012, and $113M in Q3 2012. Lee also has incentive to pay this loan down with excess cash flows because it has a 10.55% interest rate, which will increase by 75bp each year in January.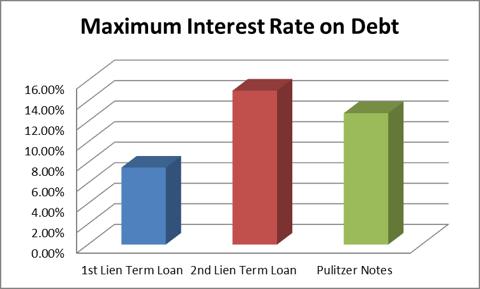 Source: Lee's Q3 2012 10-Q
Assuming Lee is able to continue to stabilize its unlevered cash flows, we don't see a reason why Lee cannot continue operating as a going concern. Lee has already gone through its bankruptcy and we see the company generating about $50M-$85M (with a Median likelihood of $75M) in free cash flows over the next 3-5 years. We expect Lee's unlevered cash cows to remain somewhat stable as revenue from its digital properties will continue to offset declines in its print operations. We also expect any revenue declines to be met with cost reductions. Our expectations for the company's future cash flows are conservative and based on the $54M in FY 2012 FCFs plus we expect the company to not have to pay another $32M in financing costs in FY 2013. These savings will be partially offset by $12M in increased interest expenses due to the increased interest expenses on the new debt. We expect these cash flows to be allocated to paying as much 1st Lien Term Loan Debt as it is legally required to do so and as much Pulitzer Note debt as it is permitted to do so. Over the next five years, we expect the company to pay about $300M of its $945M in face value debt from its free cash flows, and we expect the company to be able to refinance its 2015 and 2017 debt due to its progress in paying debt down.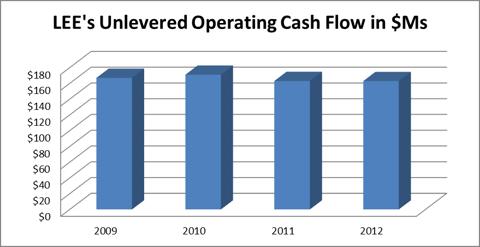 Source: Lee's 2012 Deutsche Bank Leveraged Finance Presentation and Q4 2012 Results
Although Lee is eligible to refinance its 2nd Lien Term Loan bearing a 15% coupon and quarterly frequency, we have not included it in our model for purposes of conservatism. If the company can refinance this debt, it would potentially save money on interest expenses, and these interest expense savings can be used to further pay down debt principal even after taking into account a 2% premium it must pay in order to refinance the debt. If the company is not able to refinance this debt, the status quo remains and the company will not be in any worse of a position. We believe that the company should be able to refinance its debt around January 30 in order to free up a few million annually in order to pay down its principal balances.
Although the company could continue to operate in its current form, we believe that it would be prudent for it to realize that it needs to make significant strategic alternatives. Lee may be one of the best performing newspaper related organizations as its advertising revenue performance has outpaced the industry average for 36 straight quarters. Unfortunately, the newspaper industry is facing challenging macroeconomic and microeconomic realities. We believe that for Lee to generate meaningful returns for its capital stakeholders, it cannot continue to operate in its current form. The biggest risk we see for Lee is industry-related headwinds. While community related newspapers have less risk than big urban broadsheets, community newspapers are not immune to the negative trends associated with newspapers. Not long after Berkshire took control of Media General's (NYSE:MEG) legacy newspaper properties, Berkshire's World Media Enterprises Chairman Terry Kroeger announced the closing of the Manassas News and Messenger. This paper was located about 30 miles away from The Washington Post's headquarters and was part of the ever expanding Washington/Northern Virginia metropolitan area. Buffett's community oriented newspapers have seen revenue declines of 1% for the year and 4%-5% for its larger metro area broadsheets in Buffalo and Omaha.
Lee has already sold one newspaper property this calendar year. On October 1, it completed the sale of its North County Times paper to Papa Doug Manchester. Papa Doug acquired the North County Times for $11.95M and merged it with his U-T San Diego publication. The sale of the North County Times represented a multiple of 17X operating cash flows and compared favorably with the $2M received by Media General for the sale of the Tampa Tribune, which was its largest publication by circulation. Lee generated nearly $90M in operating cash flows during the year and if it was able to sell the rest of its papers at 17X OCF, it would harvest $1.53B in gross proceeds. After paying off Lee's $945M in face value debt, we would have $585M in remaining cash for equity holders. When we consider that Lee's market cap is $65M, we have a comfortable margin of safety based on this assumption. While the company has a heavy use of leverage that might prevent an acquirer from taking it out, the company has plenty of assets that it could sell to a potential acquirer that do not have much in the way of attributed debt and the cash proceeds from the sale would pay down debt.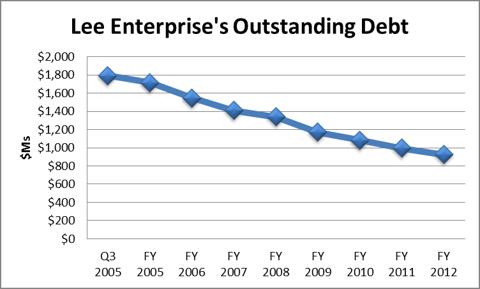 Source: Lee's Q4 2012 Earnings Release
In conclusion, we think the market has overreacted to Berkshire's recent sale of Lee shares. Lee is most certainly not a blue-chip company, and the glory days of the newspaper publishing business are most certainly over. However, we also believe that the sharp decline in Lee's shares presents investors with a potential buying opportunity. Lee generated $54M in free cash flows in FY 2012 even though it had the burden of $32M in non-recurring financing costs. Even assuming $12M in increased estimated interest expenses, we believe that the company should be about to generate about $75M in FY 2013 FCFs due to the absence of the non-recurring financing costs. When we consider that the company's market cap is now at $65M, we see that Lee's estimated free cash flow yield is over 100%. Also, Lee has the potential for refinancing its 2nd Lien Term Loan to reduce its interest expenses. We believe that Lee's revenue will narrow its decline in 2013 and stabilize in 2014 due to strength in its digital media monetization efforts.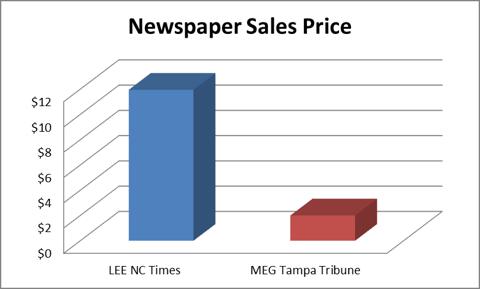 Disclosure: I am long BRK.B, LEE. I wrote this article myself, and it expresses my own opinions. I am not receiving compensation for it (other than from Seeking Alpha). I have no business relationship with any company whose stock is mentioned in this article.
Additional disclosure: This article was written by an analyst at Saibus Research. Saibus Research has not received compensation directly or indirectly for expressing the recommendation in this article. We have no business relationship with any company whose stock is mentioned in this article. Under no circumstances must this report be considered an offer to buy, sell, subscribe for or trade securities or other instruments.