LinkedIn (LNKD) has completely fallen out of the spotlight lately, despite what was originally perceived as an incredible earnings beat at the beginning of November. The stock had traded up to $117 pre-market the morning after earnings, only to then drop to close below $107. Since then, the $110 level has reasserted itself as a significant resistance level. The question must be asked: If a significant earnings beat is followed by a sell-off, what can one expect when LinkedIn only meets expectations or, even worse, fails to meet them?
The problem with LinkedIn's stock price is that all the earnings growth is already built in. Michael Prachter summed it up pretty accurately last week on CNBC, saying that:
LinkedIn really is a neutral if ever there was a stock. It's a great service, a great product, they've got great growth potential, but a $106 price tells you these guys are going to make $8 a share five years from now, and that's about the right number.
This $8 a share infers significant growth over the next five years. Interestingly enough, GAAP net income actually declined the last four quarters and has shown no signs of increase, despite significant gains in revenue. Sure, non-GAAP income has increased and that's what is discussed by analysts. However, non-GAAP net income is only relevant when GAAP net income reflects one time charges, or non-recurring items. This has not been the case for LinkedIn. The fact that GAAP net income has shown no signs of growth and has been pennies a share should be very concerning for those expecting a whopping $8 a share five years from now. Even if the trend does change and the company manages to make $8 a share, the current price already reflects that expectation.
Not surprisingly, insider selling has continued, with another 27 million shares sold in November. The company continues to spin an incredible growth story of LinkedIn in the future as insiders liquidate positions. Last week the story was the elaborate "social graph" CEO Jeff Weiner sees taking form in the future. And with each new growth idea insiders are provided further opportunity to unload shares at these lofty prices. How much longer can this much-discussed growth potential mask the fact that GAAP net income has not increased?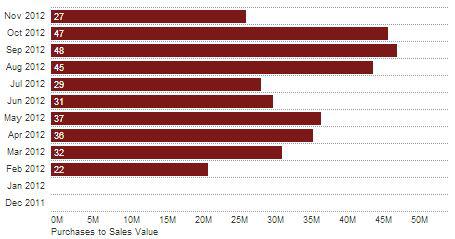 Many analysts have been around for some time and are not new to creating hype in order inflate a stock price. It's always amusing when the stock's performance is discussed, typically referencing some period of outperformance. This is popular right now, as one year ago LinkedIn was trading at its all time lows, and accordingly is currently "up 60%." Go back a little further to the beginning of August, however, and you'll see that the stock was trading in the $110 to $95 range, the same range it's trading in right now. The reality is that the stock hit $122.70 on its IPO and has failed to make meaningful new highs since then.
Click to enlarge images.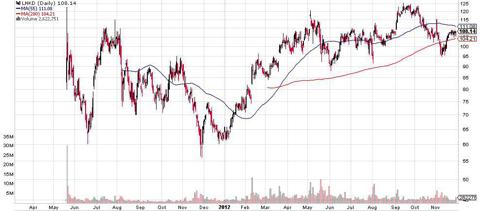 Furthermore, in the last two months the stock has actually underperformed both the Nasdaq and the S&P. It is no secret that relative performance tends to persist, and the fact that LinkedIn has been relatively week in recent months should be alarming to those maintaining a bullish thesis.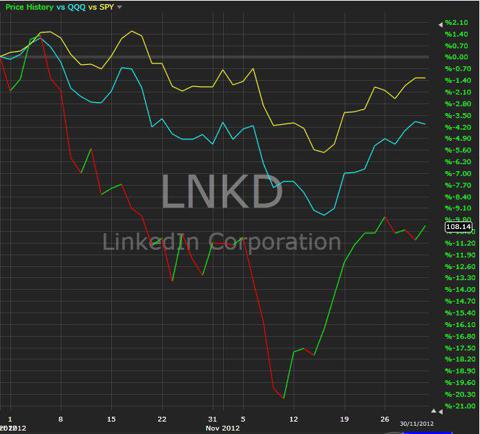 A final note of caution that investors must take note of is the large institutional ownership. Institutions own 90% of LinkedIn's shares. Remember when Apple (NASDAQ:AAPL) began to sell, and one by one hedge funds began to dump it? Apple went from $700 to $500 in two months. Sentiment simply changed from irrationally exuberant to direly pessimistic, despite arguably strong fundamentals. It cannot be ruled out that LinkedIn could very well experience an Apple-like correction.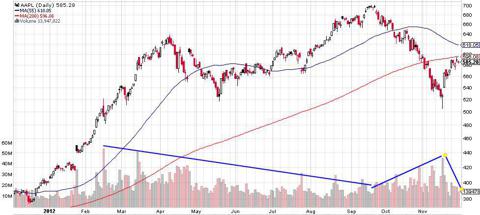 Well, imagine what can happen to LinkedIn, currently trading at a P/E over 700. I don't imagine many funds will want to be the last one exiting that trade. Apple at least has meaningful earnings that supported the stock and allowed it to regain some of its value. LinkedIn, on the other hand, with only pennies a share in earnings could be a completely different story.
Also note that the recent highs in LinkedIn, as well as November's gains in stock price, have been accomplished with diminishing volume. This is a classic telltale sign of stock distribution, and that a top may indeed be in place. The September highs were accomplished on one of the lowest volume periods LinkedIn has traded in, and it should come as no surprise that those price levels failed to hold.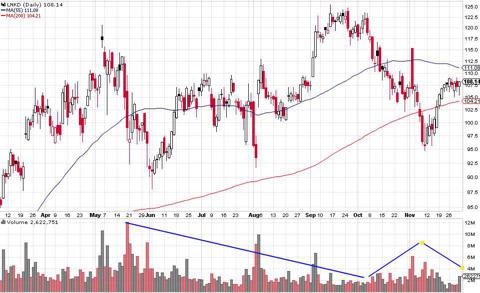 Finally, if you are the slightest bit bearish on equities in general, or even unsure, it is well known that when markets do go down, those stocks with the highest multiples get punished the most. Few stocks trade at the multiples LinkedIn does, and caution needs to be raised.
In conclusion, the evidence seems to be overwhelming that there is significant downside risk for LinkedIn. To sum up, there is:
Unabated insider selling
Flat GAAP net income over the last seven quarters and, even worse, declining over the last four quarters
November's earnings beat was followed by a significant sell-off
An extraordinary price multiple that already builds in any potential growth
Relative weakness in LinkedIn's stock over the last two months
Classic signs the stock is in a distribution stage, and volume has not confirmed price advances
Many similarities to Apple in volume and institutional ownership prior to its recent sell-off
Buyer beware.
Disclosure: I am short LNKD, AAPL. My positions are short term in nature, typically a couple days to a couple weeks. I wrote this article myself, and it expresses my own opinions. I am not receiving compensation for it (other than from Seeking Alpha). I have no business relationship with any company whose stock is mentioned in this article.