When trying to evaluate a company's prospects as a long-term investment, there are several questions an investor should ask. Will this investment give me a more diversified portfolio? Has this company done a good job of increasing shareholder value in the past? Has this company raised dividends at a rate higher than inflation? What do analysts say about the potential for growth?
One of the world's largest and most diverse companies is General Electric Company (NYSE:GE), with a market cap of over $223 billion. In a listing of other U.S. conglomerates, the next largest is 3M (NYSE:MMM) and is less than one-third the size. Because of the diversification of GE's business, it is difficult to name any direct competitors.
General Electric does business through six segments:
Aviation (17% of operating profits) - Makes,

sells

and services jet and other types of engines, as well as other replacement parts for military and commercial aircraft. Aviation also produces airborne computer systems, power generation and distribution products, and other components.
Healthcare (14%) - Makes and services a variety of medical imaging products, like Magnetic

resonance

(MR), computed

tomography

(CT), X-ray, etc. The division also produces a wide variety of diagnostic products.
Transportation (4%) - Makes and services diesel-electric locomotives, motors and electrical drive systems for a variety of applications, in addition to power generation and railway signaling products.
GE Capital (32%) - Consists of GE's finance units including Commercial Lending and Leasing (assets of $194 billion), Real Estate ($61 billion), Consumer Finance ($139 billion), and Aviation and Energy Financial Services ($67 billion).
Home & Business Solutions (1%) -

Produces

consumer appliances such as refrigerators, freezers, washers, dryers,

ranges

and air conditioners.
Energy Infrastructure (32%) - Consists of GE's Energy and Oil and Gas businesses. They make gas turbines, wind turbines, solar products, nuclear power plants (through joint ventures). The company is known for providing extensive aftermarket services for its equipment.
The company earns 47% of its revenue within the U.S., with an additional 20% from Europe and 16% from the Pacific Basin. The company also has operations in Central and South America, as well as the Middle East.
So back to our questions from the beginning of the article:
First, will this further diversify my portfolio? Regardless of your other holdings, the answer to this question is a resounding yes. There are very few, if any, other companies as internally diverse as GE. In fact, not that I am recommending this, but an investor could put 100% of his/her capital into GE stock and have exposure to the sectors of healthcare, defense, railroads, financial services, consumer goods and alternative and traditional energy. This by itself sounds like a well-diversified portfolio.
Has this company done a good job of increasing shareholder value in the past? Yes, however not without some bumps in the road. One of the drawbacks of holding a company like GE is that whenever there is a crisis, the company will have some exposure to whatever caused the crisis. In the 20-year chart below, you can see how the company was impacted from the tech crash of the early 2000s, as well as the finance crisis of '08-'09, and the share price has not seen those pre-crash price levels since. The stock was trading at $7.13 exactly 20 years ago, traded as high as $60 in 2000, crashed to as low as $5.72 in March 2009, and has since rebounded to $21.13. Quite a roller-coaster ride, but still a 6.1% annual gain on average.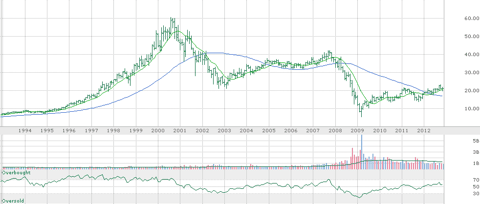 Has this company steadily increased the dividend? Just as I said with share price, yes, however not without some hiccups along the way. See the chart below for GE's dividend over the years. However, it has increased on average, despite the cut after 2008, from $0.052 in 1993 to $0.17 today, a 6.5% annual increase on average.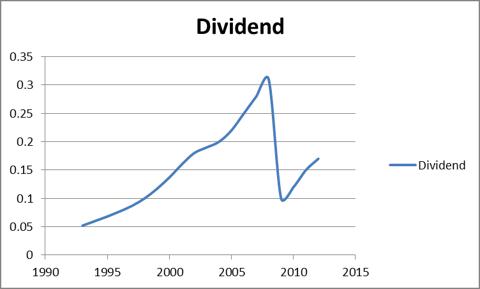 Analysts are generally bullish on GE, with an average 1-year price target of $24.71 amongst the analysts covering the company. They project GE will grow at 10% annually for the next three years.
In conclusion, investors have had some bumps in the road, but GE is still a solid long-term investment, with a good dividend yield (3.2%) and good prospects for growth amongst all of their segments. Since the name of the game with dividend investing is diversification, GE is certainly worth a look for anyone's long-term portfolio.
Disclosure: I have no positions in any stocks mentioned, and no plans to initiate any positions within the next 72 hours. I wrote this article myself, and it expresses my own opinions. I am not receiving compensation for it (other than from Seeking Alpha). I have no business relationship with any company whose stock is mentioned in this article.