The last time OCZ Technology (NASDAQ:OCZ) was reviewed in July 2012, rumors were swirling that the company would be taken over. In that time, everything bad that could happen did happen. The former CEO of OCZ rebuffed a buyout from Seagate Technology (NASDAQ:STX) and Micron Technology (NASDAQ:MU), the company delayed its quarterly earnings filing, and losses would be incurred because production would be disrupted from the company's only supplier. OCZ shares finally bottomed in late-November at $1.11, and rose nearly 44% last week. OCZ closed recently at $1.67. With a market capitalization of just $112.98 million, investors might want to consider a speculative position in shares in OCZ Technology.
For the first three quarters, OCZ saw its assets in inventory, work in progress, and finished goods rise steadily. Inventory rose from $77.76 million (quarter ending November 30 2011) to $125.79 million in the quarter ending May 31 2012. When the company finally releases its quarterly results, investors should expect an increase in these figures to continue.
OCZ Accounts Receivable: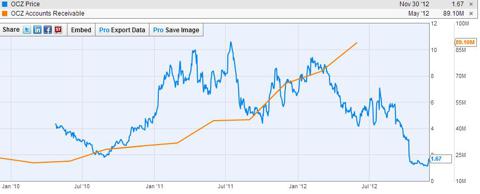 (Chart Source: YCharts)
On the bright side, the company showcased its Vector SSD (solid state drive) which is built around a Barefoot 3 controller. This controller was built by staff acquired from OCZ's Indilinx buyout. In addition, there are 5 more reasons to look more favorably at OCZ:
1) Additional Suppliers
OCZ alleviated worries for future parts supply shortages by sourcing components from multiple vendors. The shortage for NAND chips should no longer be an issue in future quarters.
2) Reduction in Customer Incentive Program
The reporting of quarterly results continues to be delayed, because the company is still reviewing the accounting for the customer incentive program. Investors should expect unaccounted costs for this program to significantly hurt quarterly results. If the company discontinues this program, this will improve future earnings. In addition to reducing the number of lower-margin SKUs by 150, OCZ could focus on fewer, higher-margin products. This, too, would support higher margins in future quarters.
3) Worry of Insolvency Alleviated
OCZ said in October that in addition to having access to its cash facility, it would seek additional sources of capital.
4) OCZ trades below Liquidation Value
OCZ has $346.1 million in assets and $96.0 million in liabilities, giving OCZ a book value of $3.70 per share. Investors get a 50% discount for shares, which make it less likely for shares to fall much further. If shares do drop again, OCZ could consider a buyback or a privatization to maximize shareholder value.
5) OCZ Could Shift Competitive Positioning
By reducing the product diversity, OCZ could differentiate itself from Micron or Intel (NASDAQ:INTC), where low-price is the main source of competition. Investors frequently speculated in the past that OCZ could be a bigger player in the enterprise space. OCZ is too small to compete in this sector, but could find a partner or re-allocate savings from its operational costs to focus on enterprise customers.
Conclusion
Now that the takeover premium is no longer built into the share price of OCZ, investors have much less downside in taking a speculative position in the company. Its shares are down nearly 80% in 2012, compared to a decline of 20% for both Intel and Sandisk (SNDK). By releasing its quarterly results, the cloud of uncertainty will be removed from its share price.
Disclosure: I have no positions in any stocks mentioned, but may initiate a long position in OCZ over the next 72 hours. I wrote this article myself, and it expresses my own opinions. I am not receiving compensation for it (other than from Seeking Alpha). I have no business relationship with any company whose stock is mentioned in this article.