Stocks To Trade
Today, we are looking at an earnings trade in Accenture (NYSE:ACN), longs in HCA Holdings (NYSE:HCA) and Tesla (NASDAQ:TSLA), and shorts in iShares Dow Jones US Real Estate (NYSEARCA:IYR) and Yum! Brands (NYSE:YUM).
For an earnings trade, we are looking at Accenture. We like playing ACN into their earnings report on Dec 19 as we believe the stock is setting up nicely to move higher before the report and could outperform a relatively weak market. The key for ACN is the company's previous three reports. On the chart below, you will notice three major gap ups during the year on the chart. Each one of those is an earnings report. The company has been very successful with beating earnings expectations this year and seen a lot of interest come into the stock after reports. We believe some of that interest should move into the stock prior to earnings as traders will play it for a gap. The company is expected to report around 10% growth in earnings and 2-3% growth in revenue, which is solid in low-growth business consulting services. Further, we are a big fan of the technical setup for ACN. The company has been holding up very well and has been in a nice uptrend. The stock is very close to breaking out if it can get above 68.25 on volume as that has been resistance over the past week. We believe a move above that level will signal the strength we believe should show up for the stock, but we do not have to commit until we get the confirmation.
Trade: ACN, Long
Breakout: 68.25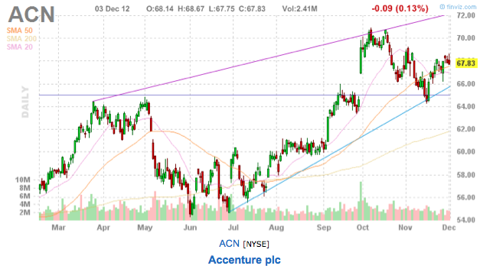 For longs, we like the looks of HCA Holdings and Tesla. HCA looks very strong right now and should continue to break out higher while Tesla looks strong and good for a bull put spread. HCA is looking very good as the company is benefiting from the election of Obama. Hospitals benefit from Obama's election because Obamacare increases the number of people that have healthcare and can use hospitals as well as provides more Medicare benefits. We also like them as they are showing a very promising technical setup. The stock broke a key pivot point resistance line and is showing the start of a very bullish trend that we like. Additionally, the company announced Monday morning that they intend to announce a $2 special dividend on or before Dec 31 that should keep a bottom on the stock and attract new investors. Look for the stock to get moving above 32.50.
Tesla is also looking good and is another stock that we like long right now. The company's Nov 5 earnings report was very solid as revenue beat expectations and the company guided well, saying production is ramping up well as the company doubled its production in November from October. They are now producing 200 cars per week. The company is moving in the right direction to get to their 20,000 cars produced in 2012 goal. Despite not making profits, they are speculated to start turning profits next year and investors are betting on the company's future. They have very strong support at 31-30 where the 200-day and 50-day MA are both sitting right now, which will provide support on any pullbacks. Additionally, 30 was the level the stock broke out from on earnings, so we like looking there for a potential option spread.
Equity Trade: HCA, Long
Breakout Point: Break of 32.50
Options Trade: TSLA, Dec22, 31/30 Bull Put Spread
Max Gain: 11%
For shorts, we like the looks of iShares US Real Estate ETF and Yum! Brands. Real estate and residential construction would be very weak if we got a fiscal cliff as the momentum that the housing market has had in 2012 would be hit. Higher taxes and less government spending would mean home buyers and real estate companies could lose customers. IYR holds a number of REITs that would definitely suffer under a fiscal cliff scenario, and as we near the fiscal cliff we could see IYR start to weaken. The stock seemed to show some weakness at its 50-day MA on Monday as it could not breakout above it and closed below it. The key level to watch is 63.00 where the 20-day MA is sitting. If that breaks, we could see a lot of weakness in the stock. Watch IYR.
YUM saw a very significant breakdown last week after forecasting earnings for the rest of FY12 and FY13. The company commented that they would see FY12 EPS at 3.24, which was below 3.28 estimates. Further, they announced that they expected to see 10% growth, at least, in 2013. That growth would take EPS to 3.56 - 3.60. Consensus EPS estimates were for 3.70+. Both forecasts missed analyst expectations, and that announcement has created weakness. Despite our Buy rating on the stock, we believe this stock has too many concerns right now and is a good candidate for a bear call spread. First, it has a ton of weakness from earnings. The fiscal cliff makes most stocks look concerning as it would hurt nearly every business, and they have lost momentum. They have significant resistance now at 68 where their gap down started and at $70, which is where the 20-day MA sits. We like a bear call spread in that area.
Stock Trade: IYR, Short
Breakout point: Break of 63.00
Options Trade: YUM, Dec22, 70/72.50 Bear Call Spread
Max Gain: 12%
Today's Outlook:
The market did not move greatly on Monday as the ISM Index was weak at 49.5. Expectations were for the reading to come in at 51.2. The miss was significant, and it was the lowest reading for the ISM index since 2009. While the reading was likely due to Superstorm Sandy, the only way we can rally this week is if we get solid data points. The fiscal cliff is not going to get resolved this week, and it will only create unsure traders/investors this week. If data does not provide a catalyst, we should see selloffs. Heading into Tuesday, we have no economic data on the table, so look for most of the attention to be diverted to the fiscal cliff. One interesting point is that Republicans did present a fiscal cliff proposal towards the end of the day, so we will see how Obama and the Democrats react to it on Tuesday. The initial reaction was a rejection, but the commentary about what they want to see is more important.
Chart courtesy of finviz.com.
Disclosure: I have no positions in any stocks mentioned, and no plans to initiate any positions within the next 72 hours.
Business relationship disclosure: The Oxen Group is a team of analysts. This article was written by David Ristau, one of our writers. We did not receive compensation for this article (other than from Seeking Alpha), and we have no business relationship with any company whose stock is mentioned in this article.