Teva Pharmaceutical Industries Ltd. (NYSE:TEVA), the world's largest generic pharmaceutical manufacturer with operations in 60 countries, issued FY 2013 guidance below analysts' estimates on Nov. 30, 2012. TEVA expects net revenue to be in the range of $19.5-$20.5 billion and Non-GAAP diluted EPS between $4.85 and $5.15. The numbers were below analysts' expectations with revenue of $20.8 billion and the EPS of $5.71. The share price reacted to this soft guidance with an opening low of $39.09, followed by a quick reversal and rebounded to an intra-day high of $40.98, before closing with a small gain at $40.35.
Copaxone Update
Investors are concerned that multiple sclerosis medicine Copaxone may lose market share to new treatments such as Norvatis AG (NYSE:NVS)'s Gilenya and Biogen Idec Inc. (NASDAQ:BIIB)'s not-yet-approved pill BG-12. Sales of Copaxone, which accounts for 20 percent of TEVA's revenue, will be $3.7 billion to $3.9 billion, which is in-line with the analysts' estimate of $3.74 billion, based on the average of six estimates. TEVA previously predicted that sales of Copaxone would peak this year at $3.8 billion. TEVA is taking a "careful approach" to its forecast for Copaxone, as stated by TEVA's CFO, Eyal Desheh. The numbers will depend on how U.S. regulators view BG-12.
New Management Strategy and Recent Development
The Company also announced that CEO, Jeremy Levin, will present a wide-reaching strategy update on Dec. 11 in New York. TEVA will discontinue some research and development programs and push through $1.5 billion to $2 billion in cost cuts. TEVA is making their forecast more transparent by breaking out sales and profit into separate business units. The Company also narrowed its profit forecast from $5.30-$5.40 a share in May to $5.32-$5.38 in November. Under Jeremy Levin's new management, TEVA is determined to reward its shareholders while TEVA is currently suffering the lowest valuation among the world's 20 biggest drug companies.
On Nov. 21, 2012, as stated by TEVA chairman, Phillip Frost, "The idea of the multi-billion dollar type of acquisition is going to be reserved for very special cases going forward, in which the desirability is so compelling and so game-changing that everyone will feel it has to be done." The company is shifting away from multi-billion dollar acquisitions that have defined its growth for the past decade to smaller product and technology acquisitions and bring in new people who themselves are capable of creating new products. TEVA is also considering an entrance into emerging markets from Brazil to China where the company's presence is relatively smaller.
On Oct. 26, 2012, U.S. Food and Drug Administration had approved a new leukemia treatment from TEVA, which could be sold under the brand name Synribo. As quoted in the report,
"The drug, also known as omacetaxine mepesuccinate, is approved to treat a type of the blood and bone marrow cancer called chronic myelogenous leukemia, or CML, in patients whose cancer has progressed after treatment with at least two drugs from a class called tyrosine kinase inhibitors. Synribo received an accelerated approval based on the disease response to the drug in studies. However it has yet to demonstrate an improvement in disease symptoms or an increased survival benefit in a clinical trial, the FDA and company said."
Fundamental Overview and Technical Analysis
With the data obtained from MorningStar, TEVA's key stats will be compared to its competitors in the drug manufacturer industry. TEVA continued to achieve higher than the industry average revenue and EPS growth (3 year average) of 18.2 and 58.2, as compared to the averages of 13.6 and 22.7. Despite the trailing operating margin of 12.0%, ttm, as compared to the average of 12.8%, TEVA managed to achieve slightly higher net margin of 10.4%, ttm, comparing to the average of 10.0%. TEVA's ROE had decreased to 9.4, which is currently below the industry average of 11.2. However, TEVA still maintains a stronger debt-to-equity of 0.6, as compared to the average of 2.3. TEVA is still under-valued with P/E of 16.5, P/B of 1.5, and P/S of 1.7, as compared to the averages of 30.8, 2.8, and 2.5. With the new initiatives carried out by the management, TEVA is expected to raise its valuation if the Company can back up its projections and statements in the next few quarters.
TEVA closed at $40.35 with 0.32% gain on Nov. 30, 2012. The volume of 12.84M is 3.74x of the 30 day average volume of 3.43M. TEVA had been trading in the range of $37.40-$46.65 in the past 52 weeks. As seen from the chart below, TEVA sliced through its 50-day MV of $40.11 and quickly rebounded and touched its 200-day MV of $40.97 before closing at $40.35, between its 50-day MV and 200-day MV. The MACD (12, 26, 9) indicator started to show a bullish sign since Nov. 26, 2012; however, the MACD difference did not change in the past 3 trading days. The momentum indicator, RSI (14), is relatively neutral at 54.64. TEVA is short-term technically neutral toward slightly bullish.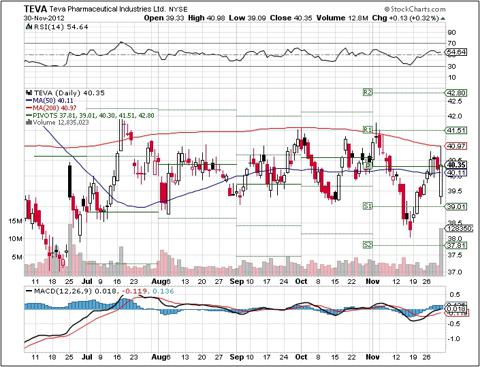 Source: StockCharts.com
Options Play
Our long-term view for TEVA remains positive with the aging baby boomer trend and the increasing drug demand. The credit put spread options play, which was covered and reviewed in our first TEVA article, is suggested to be closed, and a new credit put spread will be reviewed below.
By buying back Jan. 19, 2013 put at the strike price of $37.5 and selling Jan. 19, 2013 put at the strike price of $35 based on the closing price on Nov. 30, a profit of $0.22 will be made. This translates into 10.19% return on margin ($0.22 profit / $2.16 margin used) for around 5 weeks of investing period.
A new credit put spread will be reviewed below for investors who are bullish on TEVA:
Short 1x March 16, 2013 Put at the strike price of $37.5 for the credit of $0.72
Buy 1x March 16, 2013 Put at the strike price of $35.00 for the cost of $0.35
The maximum profit is $0.37, and the maximum risk/margin requirement is $2.13 ($2.5 loss - $0.37 credit received). If TEVA closes above $37.5 on March 16, 2013, 17.37% return on margin will be gained. If TEVA falls below $37.5 upon options expiration, TEVA stocks will be acquired at $37.13, which is 7.98% below the current price of $40.35. The projected annual dividend yield for TEVA will be 2.8% based on the projected dividend of $0.26 per quarter at the acquisition cost of $37.13.
Note: All the prices are quoted from the closing of November 30, 2012 and all calculations are before fees and expenses. Investors and traders are recommended to do their own due diligence and research before making any trading/investing decisions.
Disclosure: I have no positions in any stocks mentioned, but may initiate a long position in TEVA over the next 72 hours. I wrote this article myself, and it expresses my own opinions. I am not receiving compensation for it (other than from Seeking Alpha). I have no business relationship with any company whose stock is mentioned in this article.