Tired of hearing the same thing over and over again about Apple (NASDAQ:AAPL)? How many times can one read an article about PE compression or margins or whether the company will deliver a special dividend?
So I'll discuss something no one has noticed before. There are no slew of articles about this Apple fact. The subject is critical to understanding Apple. To my knowledge, no one has done this simple calculation and compared it to other large cap names.
The data has been staring everyone in the face for years.
Apple's shares turn over more rapidly than just about every other large cap company. Literally, shares change hands so quickly that in the last two months, 920 million shares traded - almost the size of Apple's available float.
The math behind the assertion: Over the last month, an average 22 million shares have traded daily. With a float of 940 million shares, that comes to 2.3% of all shares are bought and sold. In other words, an amazing 48% of Apple's shares, or 460 million shares, found new homes in November.
None of the other twelve largest market cap companies turn over at this lightning pace. Not even close. The two charts below show the daily trading volume as a percentage of the share float for the twelve next largest corporations. Microsoft (NASDAQ:MSFT), IBM (NYSE:IBM), Oracle (NYSE:ORCL), and Qualcomm's (NASDAQ:QCOM)'s daily trades amount to less than 0.8% of their float, a fraction of Apple's. Google (NASDAQ:GOOG) and Intel (NASDAQ:INTC)'s share turnover is about half that of Apple.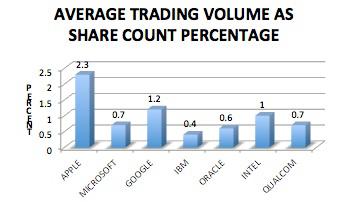 (Data sourced from average daily share trades in a month divided by available float.)
Other large stocks have an even slower share turnover - Exxon-Mobil (NYSE:XOM), Walmart (NYSE:WMT), GE (NYSE:GE), AT&T (NYSE:T), Pfizer (NYSE:PFE), and Visa (NYSE:V) turn over less than 0.5% a day. Exxon shares turned over 0.26% a day, nearly a tenth of Apple's rate.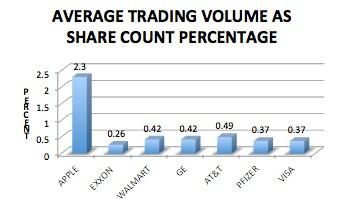 (Data sourced from average daily share trades in a month divided by available float.)
Investors are blitz trading Apple on a level rarely seen in large cap companies. (You can't really accuse Apple investors of being diehard fanboys. True fanboys wouldn't abandon their Apple shares like this!)
This Has Been Going On A Long Time
Apple has had a high share turnover for years. Daily trading volume averaged 20 million in 2011, 28 million in 2010, 28 million in 2009, 40 million in 2008, and 35 million in 2007. An incredible 4% of Apple's shares traded daily in 2008. In other words, 83% of outstanding stock found a new home on average each month in 2008.
Since 2008, shares have increased 220% - so the whipsaw trading hasn't been the kiss of death.
The implications
1. Sure there are investors who have held their Apple positions for 10 years and have not sold a single share, but they represent only a tiny portion of Apple owners. Long-term investors are a vanishing breed. Shares are traded at lightning speed. It pays to know who's in the trenches. The "other guy" thinks holding onto Apple a long time means keeping your shares until Thursday.
2. It's a good bet that a lot of long-term capital gains were harvested since Apple's high of $701 back on September 21. After all, more than 80% of Apple's outstanding shares have traded since that high. Selling to lock-in gains is likely over.
3. Those investors who can keep their head and trade on the fundamentals are at an advantage. Historically, Apple investors have been easily parted from their shares. Apple has had many periods when share price has dropped by 25%. Those that held through it all were amply rewarded. Those who bought into the panic did even better. This time isn't any different.
Disclosure: I am long AAPL. I wrote this article myself, and it expresses my own opinions. I am not receiving compensation for it (other than from Seeking Alpha). I have no business relationship with any company whose stock is mentioned in this article.
Additional disclosure: Disclaimer: The opinions in this document are for informational and educational purposes only and should not be construed as a recommendation to buy or sell the stocks mentioned. Past performance of the companies discussed may not continue and the companies may not achieve the earnings growth as predicted. The information in this document is believed to be accurate, but under no circumstances should a person act upon the information contained within. We do not recommend that anyone act upon any investment information without first consulting an investment advisor as to the suitability of such investments for his specific situation.