A lot that can be learned about a company and its prospects by looking at what the market is telling us with current share prices. With Apple Inc. (NASDAQ:AAPL) trading at $585/share, the market is telling us that iPhone unit growth will achieve a 6.1% increase by end of fiscal year 2013 (recall Apple's year end is 9/30) and $166bn in sales. The market is also telling us that a 15% 2013 EPS miss would result in approximately the same number of iPhone units sold in fiscal year 2013 as in 2012. A 15% EPS miss is unlikely and analyst estimates peg sales at $192bn for FY13. This lends some sense of rationality, or what I believe to be irrationality, to the price swings that the stock has seen in the past months.
I've backed into these numbers by reviewing historical sales and revenue data from Apple's most recent 10K. You can review the numbers in the below table: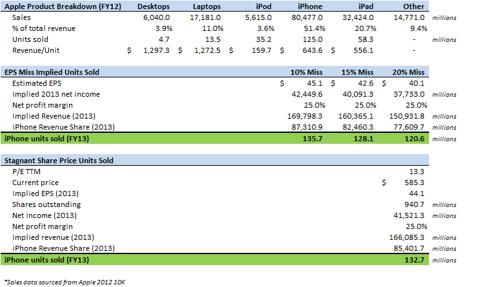 What the market is telling us about FY13EPS
First, let's look at what level of an EPS miss would result in a certain number of iPhones sold. With the share price decline that has occurred in the last weeks, the market is certainly expecting some erosion of earnings results, be it a function of supply issues, lackluster unit sales over the holidays, or tumult from key executive changes. The question today is how rationale is the selloff and how large of an EPS miss is the market assuming? My estimates using average iPhone revenue/unit for FY 2012 show that the market is pricing an EPS miss of approximately 15%, and this would result in 128mm units sold (2.4% unit sales growth). The following bullets outline additional estimates of an EPS miss and what this would mean for unit sales:
2012 units sold = 125mm
10% 2013 EPS miss = 135mm units
15% 2013 EPS miss = 128mm units
20% 2013 EPS miss = 120mm units
As you can see, a 15% miss would put unit sales marginally above 2012 figures. It is a rare case that Apple disappoints to the downside so there is some conservatism baked into these forecasts. For example, in 2011 and 2010, Apple missed annual EPS by 0.32% and 0.82%, respectively. Thus, even a 10% miss is on the lower end of probable outcomes. I do believe the analyst consensus for 2013 of $50.10 EPS is slightly aggressive as it would imply 20% unit growth compared to 2012. This may be a difficult level to reach given supply concerns that have arisen within Apple's Chinese manufacturing facilities.
FY13 iPhone Unit Sales Growth
For the second analysis, let's assume that the price today were to remain stagnant through September 2013 and that shares will then trade on the lower end of historical P/E multiples. Such a scenario would mean that Apple increases unit sales growth by 6.1% to 132.7mm while trading at 13x EPS. AAPL has only traded below 13x EPS in the past years for finite periods of time and 14x-16x is a more probable multiple range and downside risk is limited at 13x. Essentially, as an investor, the depressed share price and P/E multiple today is telling us that Apple will minimally increase iPhone unit sales growth come 2013. Is the market acting rationale in this expectation? I don't believe so. Are shares currently oversold or in line with likely unit sales? Yes, I believe the market is understating unit sales and 137mm is more appropriate. Will margins hold with a lower cost product mix from the iPad mini and how has the maps fiasco affected brand loyalty? Well, those certainly are questions that require a more thorough review for long-term shareholders.
Apple is now at a turning point as growth slows and others chip away at market share and this is a likely reason for the share price reversing from all time highs. It doesn't mean revenue and EPS will decline, rather, the game-changing, innovative, product releases that drove rapid growth are behind us. Investors may need to become more comfortable with the fact that fan boys will not be camping out in droves to get the new iPad or iPhone, but sales will continue to grow at a reasonable clip along with Samsung and other smart phone makers. If you believe unit sales will grow faster than 6.1% and revenue will be greater than $166bn by September 2013, then this might be an opportune time to open or add to an existing position. Regardless of outcomes, the downside risk in AAPL shares is attractive at such depressed multiples. One of my favorite quotes about depressed prices is "the lower the multiple of a good company, the lower, not the higher risk of losing money." I may have mauled the actual quote and stated it less elegantly, but I hope the overarching message comes through. Thank you for reading and happy investing!
Disclosure: I am long AAPL. I wrote this article myself, and it expresses my own opinions. I am not receiving compensation for it (other than from Seeking Alpha). I have no business relationship with any company whose stock is mentioned in this article.