Energy Transfer Partners ("ETP") is one of the largest and most diverse MLPs in North America. ETP has assets across most of the major productions regions which it uses to provide midstream, intrastate, and interstate services to natural gas, natural gas liquids, crude oil, and refined products customers. While owning a great set of assets, ETP units have stagnated for the past few years, and three of investors' biggest complaints have been: (1) the complexity of ETP's story, (2) its lack of distribution increases for the past 18 quarters, and (3) a lack of explanation how the company's various initiatives will result in an increase in distributions. With this in mind, management has initiated several actions to address the first two issues, and we attempt to address the third in this article.
Though management has been great at explaining the big picture strategy behind ETP, they have been poor at bridging between the company's various initiatives and their financial impacts. Below is an explanation of how the company's HoldCo transaction and ETP's various growth projects will increase distributable cash flow (DCF) and eventually help management to fulfill its promise to modestly increase distributions in 2013. As the road map to an increase in distributions becomes clearer over the next two to three quarters, the sentiment and momentum on ETP units should begin to change. As this process unfolds, a purchase now could result in 10-15% upside in ETP units by Q2:2013 or Q3:2013.
HoldCo Impact
One of the company's most notable actions is the HoldCo transaction which was consummated simultaneously with ETP's acquisition of Sunoco - HoldCo is the 40/60 joint venture between ETP and its general partner, Energy Transfer Equity ("ETE"), which holds the newly acquired Sunoco retail business and the Southern Union Gas Company (NYSE:SUG) assets which were not sold to ETP.
Below is an estimate of the possible financial impact of HoldCo on ETP. Understanding this is important because the units which ETP issued for the Sunoco acquisition were eligible for ETP's Q3:2012 distribution of $0.89375 per unit, but because of the timing of the transaction's closing, ETP did not directly benefit from the results of Sunoco or HoldCo during Q3:2012. This mismatch was the cause of a large portion of ETP's DCF deficit in Q3:2012.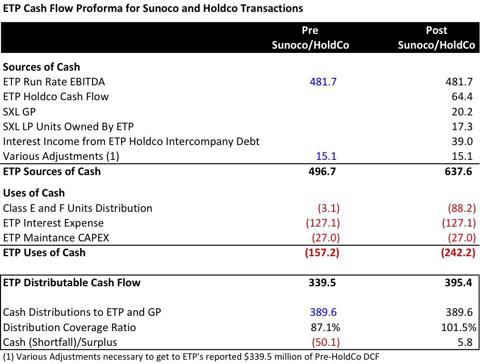 As we can see from the middle column in the chart above, ETP's Q3:2012 DCF deficit was over $50 million, or nearly a 13% deficit. However, as we can see in the right hand column, cash flow from HoldCo will have a dramatic impact on ETP's distribution coverage ratio (DCR), bringing ETP closer to the 1.05x DCR which management is targeting - Please see the chart below for a calculation of HoldCo's $60 million cash flow contribution to ETP.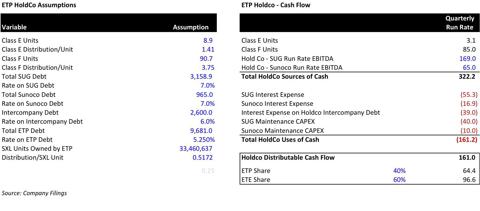 Based on the calculations above, which use ETP's Q3:2012 performance as a baseline, we see ETP's share of HoldCo's cash flow (~$60 million) will be helpful, but after we include the expenses associated with the transaction, still insufficient to completely fill ETP's $50 million DCF deficit. ETP will also receive a $37 million contribution from its interest in Sunoco Logistics ("SXL"). However, these combined cash flows are still insufficient to get above management's hurdle DCR of 1.05x.
Organic Growth Projects
Fortunately, the bag is not empty; ETP and its Lone Star Joint Venture have over $2.5 billion of organic growth projects which are scheduled to begin operations and contribute to cash flow in Q4:2012 or Q1:2013. - Lone Star is a 70/30 natural gas liquids joint venture between ETP and Regency Energy Partners ("RGP").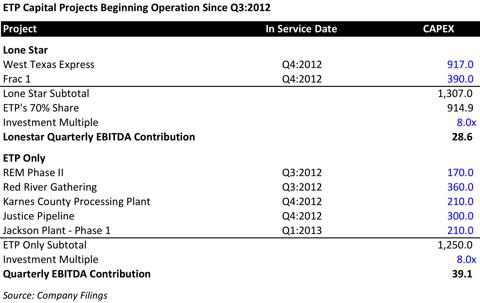 Using a conservative investment multiple of 8.0x to calculate an expected quarterly run rate level of EBITDA contribution for these projects, we calculate Lone Star's projects could contribute $28 million of EBITDA and ETP's projects could contribute an additional $39 million.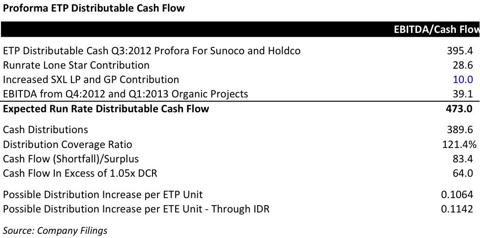 When we combine ETP's DCF proforma for SXL and HoldCo contributions with the cash flow from Lone Star's and ETP's slate of organic projects, and with a $10 million uplift in distributions which is expected from ETP's ownership of SXL units and SXL's GP (please see a previous post for a discussion on catalysts for SXL's growth), we calculate ETP's Proforma DCF could be $473 million per quarter (Note because of long construction time of ETP's growth projects, we assume the interest expenses associate with the projects is already in ETP's base DCF.) This would give ETP a DCR of 121%, well (~$64 million) above management's target DCR of 105%, and a dramatic improvement from Q3:2012's $50 million or 13% deficit. If DCF were to hit this level, we expect quarterly distributions could increase by $0.08 - 0.11 per unit as soon as Q2:2013. As we mentioned above, any distribution increase is likely to change the sentiment on ETP units, and we believe a purchase now could result in 10-15% upside by Q2:2013 or Q3:2013.
Other Cash Flow Levers
In addition to the above, ETP has a number of other levers which can help to further improve the company's position:
Basis Differentials. As natural gas prices rise off of their lows from earlier this spring, and as basis differentials begin to show signs of widening, management believes every $0.10/MMBtu increase in basis differential could create an additional $72 million per year (~$18 million per quarter) of incremental EBITDA on ETP's intrastate system.
SUG Maintenance CAPEX. During its Q3:2012 earnings call, management has stated it expects it will continue to be able to improve on the amount which SUG spends on maintenance CAPEX. In Q3:2012, SUG spent $41 million on maintenance CAPEX, an improvement over the $47 million it spent in Q2:2012.
Additional Slate of Organic Growth Projects. In addition to the organic growth projects which are mentioned above, ETP has a number of additional projects which are scheduled to be completed and begin operations later in 2013 and into 2014. Once operational, these projects should be accretive to ETP and to its distributions.
Disclosure: I am long ETE. I wrote this article myself, and it expresses my own opinions. I am not receiving compensation for it (other than from Seeking Alpha). I have no business relationship with any company whose stock is mentioned in this article.