Continued take rate improvement, a great business model and a growing number of active customers makes me bullish on Groupon (NASDAQ:GRPN). The business model is an innovative one and with its progression, we see new products and services being introduced that will allow an expanding customer base. Yes the stock is down since its inception but I believe the worst is priced in. Several positive indications, which I will cite below in the sections, point towards the changing face of the business, but the industry as a whole remains difficult to be accurately analyzed and risks relating to projections and competition remain. The company is guiding improvement in both billing and revenue growth for 4Q as it sees itself propelling into the international business based on its experience in the U.S. Though investors remain shaky, I believe the business model is solid and as the company matures, offers exciting new deals and provides merchants with access to customers, the stock is headed nowhere but up. I hold the view that at current valuation, GRPN is a great investment opportunity.
Company overview
Groupon is an e-commerce platform that connects consumers and merchants. The company is headquartered in Chicago, was founded in late 2008 and went public in November 2011. It has a long lasting business model, whereby it offers discounted goods and services to customers. Deals offered by the company are customized according to customers' personal preference and location and are available through the company's website and mobile apps.
The company manifests significant growth potential with a $500 billion global advertising addressable market. Growth opportunities are further enhanced as the company intends to expand into travel and events market.
Financial Performance
Since going public in Nov 2011 the stock has plunged 80%.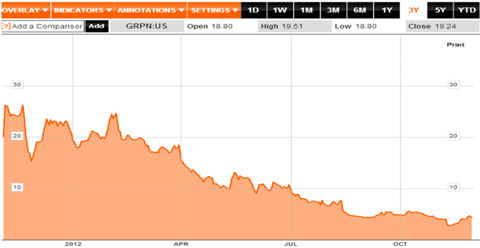 Source: Bloomberg.com
Despite Groupon's great business model, the company has been struggling to deliver financial results and unable to live up to the expectations of the street. The unsatisfactory financial performance by Groupon took a toll on the stock since its IPO; evident by the graph above.
Groupon has increased its revenue sharply over the years. Reported revenues for 3Q were $569 million, up 32% year over year. As almost half of the revenue is generated through its international segment, a strengthening dollar reduced the total revenue by 6%. Although year over year revenue growth for 3Q was solid, the company did not achieve impressive quarter over quarter growth. North American segment revenues grew at an accelerating rate and were up 80% year over year.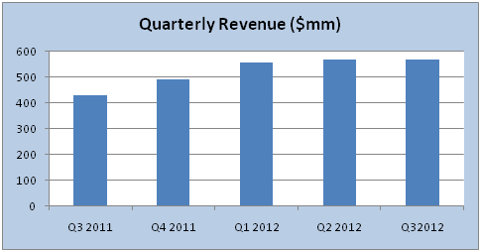 Earning per share (adjusted) for the 3Q12 was $0.03, in line analyst's expectation. The EPS was better when compared with the 3Q11's loss of $0.04 per share. Graphs below show gross and EBIT margin for Groupon in the last four quarters.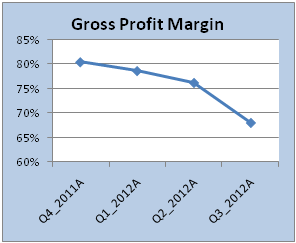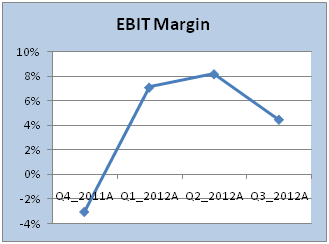 Growing number of active numbers is an encouraging development. Should Groupon continue to grow its active customers at a decent pace, the company will be on track to achieve a solid financial performance in the coming quarters. According to 3Q earnings release Groupon has 39.5 mm active customers.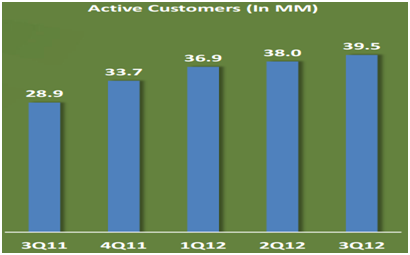 Source: Earnings Presentation.
Take rate for the company has been showing consistent improvement over the recent quarters. Currently the take rate stands at 47%. The trend is a positive catalyst for the stock since it would uplift the company's margins and eventually the share price.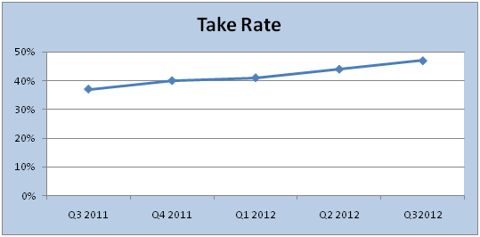 4Q outlook remained mixed with revenue guidance of $625mm - 675mm, against consensus of $635mm. CSOI guidance for fourth quarter is $30mm - $50mm.
Recent News
Last month, Groupon launched its first concept store in Hong Kong. This will help the company expand its operations/revenue along with increasing customer awareness about Groupon. For the very first time it has allowed customers to experience Groupon in a tangible interactive way. Groupon started its 3rd annual ancient celebration 'Grouponicus'.
Key Catalysts
Groupon's largest asset remains its large addressable market. Conversion rate - turning subscribers into actual shoppers also holds key for the company success. To bring about the success, it has to focus on targeting the right customers respective to their needs and demands (deal relevance). Moreover, as Groupon has a large market, it must continually come up with deals in order to fully utilize the potential market.
Risks
In the presence of some really attractive growth opportunities, there are also some risks. Since the industry is relatively new, accurate projection of trends and key drivers remains a cumbersome task. Groupon also must face competition from Amazon (NASDAQ:AMZN), Google (NASDAQ:GOOG) and Living Social. This potentially limits expansion of its margins and take rate. Overall, the consumer sentiment prevailing in the economy can influence the business.
To conclude
On a simple comparative analysis, GRPN seems to be trading at cheaper multiples. It trades at 1.2x its sales compared to 1.9x of Amazon and 4.6x of Google. I have a bullish view on the stock given the recent encouraging developments, specially relating to its expanding active user base. Take rate expansion and a potentially huge market also augur well for its future.
Disclosure: I have no positions in any stocks mentioned, and no plans to initiate any positions within the next 72 hours. I wrote this article myself, and it expresses my own opinions. I am not receiving compensation for it (other than from Seeking Alpha). I have no business relationship with any company whose stock is mentioned in this article.