In 2008, the electric vehicle industry entered into the hearts and minds Americans. What followed however, were years was wrought with many challenges and difficulties; the high costs of cars, limited range distance and poor planning each played a role in the slow adoption of electric vehicles. That's in the past, and with lessons learned, the electric vehicle industry is poised for an unprecedented upswing; from an investment standpoint, these stocks could not be any cheaper than they are now.
1. Valuable lessons from past mistakes
During the past few years, many companies who have received alternative energy grants from by the US Department of Energy have failed. A good example would be A123 Systems (OTC:AONEQ), a start-up company from MIT, to manufacture battery packs for electric vehicles and General Motors (NYSE:GM) main battery supplier. The Company received a grant of $249 million dollars for a product that had numerous defects. Early this year, the Company announced a first quarter net loss that reached approximately $125 million due to a recall. Just last month however, the company filed for Chapter 11 bankruptcy and sold its assets, contracts and rights to Johnson Controls Inc., (NYSE:JCI).
Right now, with critics hitting the president and his policies from every angle with articles published in Bloomberg and Planetizen, we can bet that this particular failure as well as all the others will cause the US government to be more meticulous in its screening process of giving out future grants to companies. I.e., companies showing a successful track record, effective business models and perhaps injecting cash based on completing successful milestones.
Manufacturers of electric vehicles have learned the hard way that people will not buy electric vehicles without enough charging stations and support structures for electric vehicles. Companies such as Tesla Motors, Inc. (NASDAQ:TSLA) and Nissan Motor Co. Ltd. (OTCPK:NSANY) are now investing in infrastructure and partnerships to support and promote the use of their electric vehicles.
On the infrastructure side, companies such as Ecotality Inc., (ECTY) and Coulomb Technologies, Inc with multi-million dollar grants from the government started to deploy numerous charging stations around the country. This, in my honest opinion, is not how a profitable business should be run. Instead of carefully studying the market for patterns and populations that own electric vehicles before deploying the EV charging stations, these companies went for deployment speed instead; sinking in millions of dollars in EV charging system deployments where no market exists. By the time the market arrives, however, those systems would most likely be outdated and rarely used.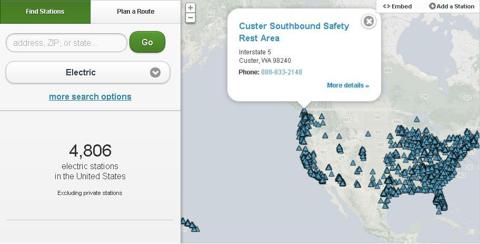 2. Unifying charging station locations
Last year, Google (NASDAQ:GOOG) together with the Department of Energy launched a new project to map out commercially available EV charging stations (see sample below). Prior to that, the only way an EV owner could find a charging station was by linking to maps of individual charging station service providers. As of this moment, Google has mapped out approximately 4,806 EV charging stations in the US, excluding private charging stations and new installations.
This functionality enables an EV owner to easily find the nearest EV charging station in his/her vicinity regardless of provider. The numbers of charging stations have been growing at a steady rate, and according to a projection done by Pike Research, the number of electric vehicle charging stations sold will increase from less than 200,000 to more than 2.4 million in 8 years time, with a total distribution of 11 million operating units worldwide.
3. Increasing gasoline & diesel fuel prices a boost for demand in electric cars
With declining supply of petrochemical products, the increasing trend of oil prices is projected to rise over the coming years while the emergence and recent advancements in alternative energy sources such as solar, wind, hydro and geothermal energy promises to lower the price from our grids.
This divergence in fuel cost (fossil fuel vs. electric) will be a major factor in pushing consumers to think long-term on their next vehicle purchases and probably favor electric vehicles.
4. President Barack Obama's 2nd term
In a recent Reuters article on the President's win and what it means for the electric car industry, Tesla Motor's chief executive, Elon Musk, was very optimistic regarding the electric vehicle Musk said:
I think that we can expect at least that things will continue as they have, I wouldn't expect it to get any worse for electric vehicles, hopefully it will get a little better.
Back in 2010, Tesla Motors received a $465 million dollar loan from the US government and more recently received a grant for $10 million for new hires and equipment. Currently, the company aims to produce cheaper and affordable electric vehicles and plans to put up numerous fast charging stations in strategic locations across the US.
5. Charging convenience
People often cite the hassle of getting out of your car and plugging in your EV to an electric outlet, but come to think of it, fueling your car with gasoline and diesel is much more cumbersome and messy relative to electrical charging of your electric vehicles.
Even with these nonsensical objections to electrical charging, the EV industry made revolutionary steps in making the charging of EVs easier with fast charging and wireless charging technologies.
The EV industry is currently promoting and upgrading several charging stations to include wireless charging stations to make EV charging more convenient by having no direct contact between the car and the charging station. Your electric vehicle will be charged by wireless inductive energy transfer similar to how a transformer works.
6. Benefiting from effective business model
In terms of infrastructure distribution, Car Charging Group Inc. (OTCPK:CCGI) and Texas utility giant NRG Energy, Inc (NYSE:NRG) seem to be well positioned to adopt wireless in the coming years for different reasons. NRG has the dollars to purchase any new system they wish, but CCGI has the smarts via its business model with its low cost and growth strategy that is based on real estate and not product. Both are not manufacturers and thus are not limited to any specific technology. Ecotality, however is a manufacturer and bound by the terms of its grants to produce and place their existing charging stations throughout the country.
Is Car Charging a company to watch?
With the exception of NRG, whose market capitalization is at $4.69 billion, Ecotality and Car Charging are still in the red. When comparing their latest income statements. However, this commonality diverts into two different directions. The latest quarterly result from Ecotality showed a $3.937 million loss, while CCGI only lost less than 1.2 million dollars. The debt-to-equity ratio of Ecotality and CCGI is 33.45 and 5.51 respectively.
Recent stock performance of both the companies revealed biased investor opinion regarding the two companies in favor of Car Charging with its stock gaining more than 13% in the past 52 weeks, while Ecotality's stock dropped more than 80% in the same time period and currently is trading below its 200-day moving average of $0.64 and still trending downward. It also does not help that Ecotality lost a legal battle against California Public Utilities Commission [CPUC] for granting NRG approximately $102.5 million to install electric vehicle charging stations across the state. With the grant in place, NRG will clearly have a slight advantage with monopolistic control of a large percentage of the EV charging market of California.
It's anyone's guess whether Car Charging will emerge as the predominant electric car charging provider without seeking further investment. On the other hand, when viewing their forty or so strategic partnerships, such as Walgreen Co. (WAG), Barrel Old Country Stores Inc. (NASDAQ:CBRL), and REITS - Federal realty Investment Trust (NYSE:FRT) and Simon Property Group (NYSE:SPG), representing approximately 6.5mm parking spots across multiple business sectors, including residential and commercial properties, parking garages, retail, and municipalities, as well as their relatively low operating costs, solid business model and strategy, it's more likely that the Company may be acquired by a utility with deep pockets.
Investors should take a closer look and NRG and its growth, but expect shorter returns. For Car Charging however, investment should be based on a long position, because short-term losses in fluctuation will be hedged by the company's future exponential growth, or possible acquisition.
Disclosure: I have no positions in any stocks mentioned, and no plans to initiate any positions within the next 72 hours. I wrote this article myself, and it expresses my own opinions. I am not receiving compensation for it (other than from Seeking Alpha). I have no business relationship with any company whose stock is mentioned in this article.