In my previous piece on ConocoPhillips (NYSE:COP), I wrote about its future production growth and industry leading dividend. This article will expand upon the dividend and share buyback aspect of ConocoPhillips.
ConocoPhillips currently has a payout of $0.66 per quarter. This translates into a 4.64% yearly yield at the current price of $56.94. ConocoPhillips is in a unique space between being an independent energy producer and the integrated energy companies. The chart below shows the comparably favorable yield ConocoPhillips offers compared to other independent producers such as Apache (NYSE:APA), Anadarko Petroleum (NYSE:APC), Devon Energy (DVN) and Occidental Petroleum (NYSE:OXY).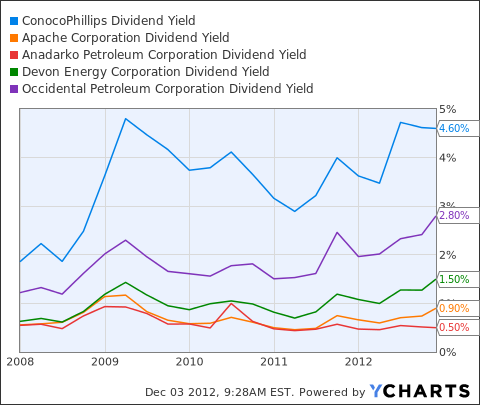 COP Dividend Yield data by YCharts
The yield for ConocoPhillips is even favorable compared to the integrated energy producers such as Chevron (NYSE:CVX), BP (BP) and Exxon Mobil (NYSE:XOM).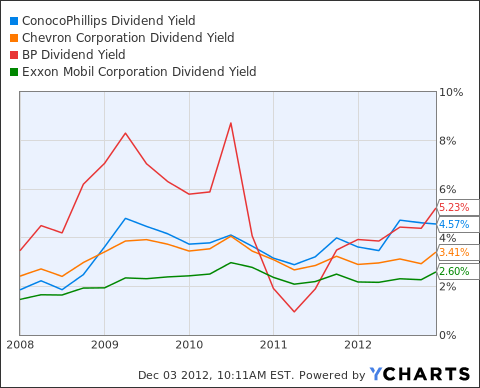 COP Dividend Yield data by YCharts
One of the most important aspects in analyzing a dividend is seeing if a company can afford to pay it. ConocoPhillips is more than able to afford the dividend, with a TTM payout ratio of under 40%. The payout ratio has crept up to about 45% this last quarter after the spinoff of Phillips 66 (NYSE:PSX).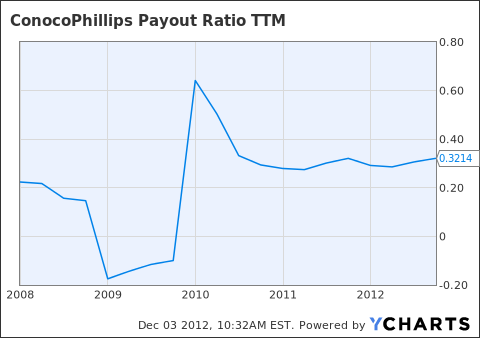 COP Payout Ratio TTM data by YCharts
ConocoPhillips has also been engaged in a massive share buyback program. Since 2008, the company has bought back 25% of its total shares outstanding, or about 390 million shares. Please note that for 2013 the company has a more modest share buyback program and will instead focus on production growth.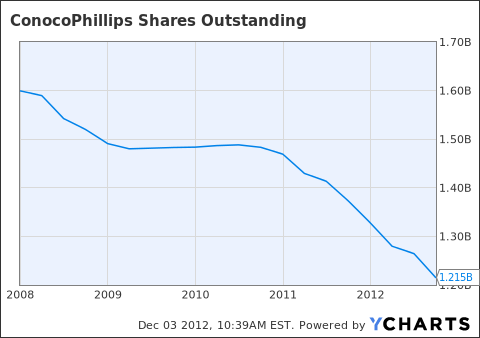 COP Shares Outstanding data by YCharts
ConocoPhillips is also generating massive amounts of free cash flows. FCF per share has averaged $3.30 per quarter. Last quarter, ConocoPhillips generated $2.86 per share in FCF. Last quarter's FCF should give a good indication of future FCFs given that Phillips 66 was still a part of ConocoPhillips during previous quarters. The dividend coverage using last quarters FCF would be about 4X.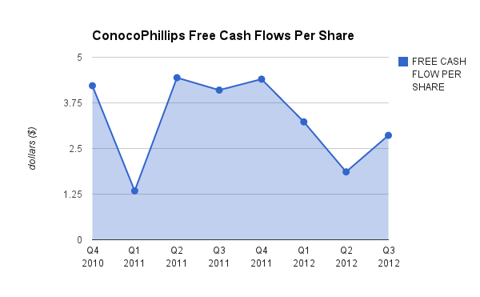 The company recently announced that it was selling its 8.4 percent interest in the North Caspian Sea Production Sharing Agreement (Kashagan) to ONGC Videsh Limited for $5.0 billion. In my opinion, this is a positive for the company as it shifts more focus towards increasing production in North America. I believe ConocoPhillips is a buy at current levels. Both the current high dividend and future production growth are compelling reasons to own shares.
Disclosure: I am long COP, PSX. I wrote this article myself, and it expresses my own opinions. I am not receiving compensation for it (other than from Seeking Alpha). I have no business relationship with any company whose stock is mentioned in this article.