If you invest in any commodity ETF that tracks futures contracts instead of the actual commodity itself, you have to watch the contango.
Case in point: Take a look at two ETFs that trade oil futures contracts - the US Oil Fund (NYSEARCA:USO), which tracks WTI (West Texas intermediate) crude oil and the US Brent Oil Fund (NYSEARCA:BNO), which tracks Brent crude oil.
This chart shows that since the beginning of the year, WTI crude oil is down about 10.3%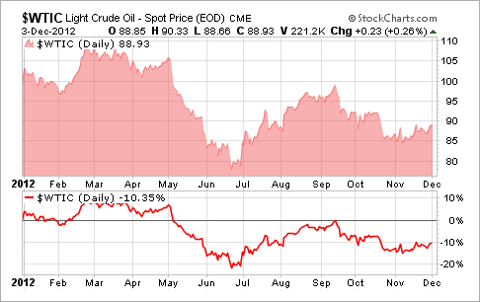 Yet, as you can see here, the USO fund is down by more than 14%.

Yes, both were down, but USO significantly underperformed the spot commodity it tracks.
Now take a look at Brent crude oil, which is up about 3.3% year to date.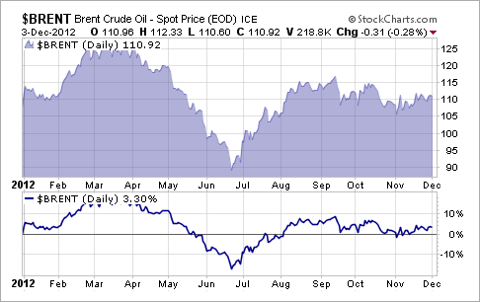 But the BNO fund is actually up by more than 8.6%, which means the ETF outperformed the spot price of Brent crude.

Why? You can see it in the contango.
This chart shows that WTI crude futures contracts have been in contango all year.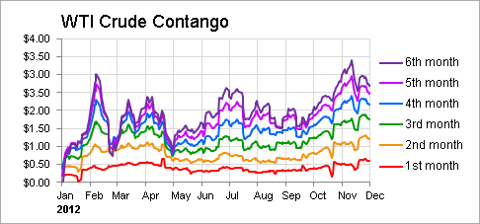 Contango means that the prices for delivery of WTI in distant months are higher than for the near month contracts. This represents a market where there's a storage premium. If people are willing to pay more for delivery in six months, the commodity is generally not in short supply.
Given that USO, which tracks WTI, rolls its contracts each month, that means the fund sells the current month and pays more for the next month's contract. That eats into returns - and is why USO underperformed spot WTI crude oil.
Brent crude, on the other hand, has been in backwardation most of the year, as you can see here: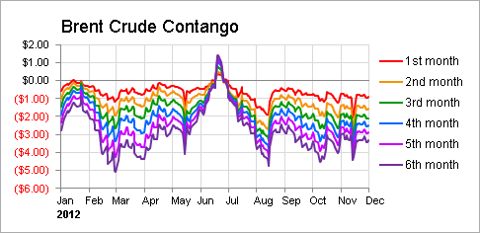 Backwardation is the opposite of contango. That means there's a negative storage premium. People are willing to pay more for delivery sooner rather than later, which suggests a market where supplies are much tighter and/or demand is higher.
So when BNO rolled over its contacts over the course of the year, it sold its current contract each month, and paid less for the next month's contract. That adds a tailwind to returns and is why BNO outperformed spot Brent crude for the year.
This makes it pretty clear that if you want to invest in any futures-based ETF, choosing one that tracks a backward market makes more sense than picking one that's in contango.
I'm not sure whether Brent's backwardation and WTI's contango will continue into 2013, but if these trends hold, BNO would be a better choice than USO if you want to add crude oil to your portfolio.
Disclosure: I have no positions in any stocks mentioned, and no plans to initiate any positions within the next 72 hours. I wrote this article myself, and it expresses my own opinions. I am not receiving compensation for it (other than from Seeking Alpha). I have no business relationship with any company whose stock is mentioned in this article.