Regular readers of my columns know that when it comes to the small cap biotech and pharma space, I take a shotgun approach to investing. The risk and reward in these sectors is much higher than the overall market. My strategy is to take a lot of small positions in these stocks knowing that for every dozen investments; 4 or 5 will go broke, 2 or 3 will muddle along, 1 or 2 will double or triple my money and hopefully 1 or 2 will become 5 or 10 baggers. There are a few things I look for before making an investment. I want to see recent insider buying, at least one viable product with impressive sales potential and a balance sheet than can fund operations for a few years while these sales increases come online.
One stock that recently plunged because of initial disappointing sales and a downgrade from an analyst firm has caught my eye. It appears to have a good risk/reward ratio and has the criteria I look for in these types of investments.
Corcept Therapeutics Incorporated (NASDAQ:CORT) is a pharmaceutical company that develops and markets drugs for the treatment of severe metabolic and psychiatric disorders. It focuses on disorders that are associated with a steroid hormone called cortisol.
7 reasons CORT is solid speculative play at $1.40 a share:
Two separate directors have bought approximately $800K worth of new shares in November. Most purchases were made at higher than the current stock price.
The company has over $70mm in net cash on its balance sheet. This would fund over

2½

years of operations at the company's current burn rate.
The median price target on CORT held by the 6 analysts that cover the stock is $3.65. There is a wide range to these targets (Low Target: $1.10, High Target: $8). Throwing out the high and low target prices gives us a median price target of $3.20 on the shares, more than double the current stock price.
Analysts have a consensus revenue target of over $24mm for FY2013 currently on CORT. This is quadruple the under $6mm in revenue the company is tracking to book in FY2012.
In February the FDA approve Korlym (mifepristone) 300 mg Tablets as a once-daily oral medication for a very specific conditions found in some Cushing's Syndrome patients. Corcept is also currently conducting a Phase 3 study of the effects of Korlym on the psychotic features of psychotic depression. The FDA has granted Corcept "Fast Track" status for this compound. The company is in the early stages of testing to see if this drug can counteract the weight gain impacts of certain antipsychotic drugs as well.
Given CORT's small market capitalization (around $75mm after net cash subtracted), growing sales and possible new uses of its signature product; I could see it as a logical acquisition target by a bigger player with a larger distribution network and sales force.
The stock has traded in a range of roughly $1 to $5 a share. It is much closer to the bottom of that range than the top (See Chart).
My option strategy: Most of these types of investments tend to be volatile and binary in nature. I love to invest in them therefore through options. My position in CORT consists of May $2 calls I picked up for 15 cents.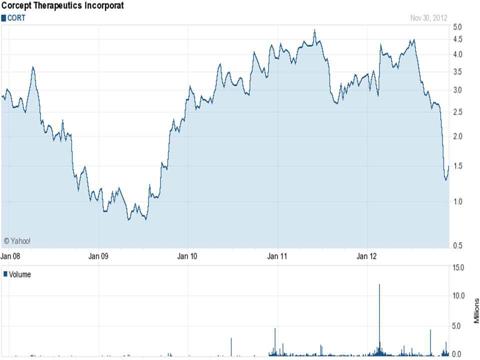 Disclosure: I am long CORT. I wrote this article myself, and it expresses my own opinions. I am not receiving compensation for it (other than from Seeking Alpha). I have no business relationship with any company whose stock is mentioned in this article.