Founded in 1807, John Wiley & Sons (NYSE:JW.A) has helped people learn and reach their dreams for more than 200 years. More recently, John Wiley & Sons has generated one of the most consistent records of earnings and dividend growth since 1993 of any company you could find. Because of this consistent record, the shares of this high-quality dividend growth stock have historically been awarded a premium valuation by the market. However, even though the great recession of 2008 changed market sentiment, very little has changed regarding John Wiley & Sons' current and future operating results. Consequently, we believe a great buying opportunity has presented itself.
The following fundamentals driven earnings and price correlated F.A.S.T. Graphs™ since 1993 puts the above paragraph's words into graphic clarity. The orange earnings justified valuation line plots the company's annual earnings since 1993, and represents fair value for the company based on its earnings growth. The black line represents monthly closing stock prices. At this point, the important takeaway is how the market had historically placed a premium valuation on the company's shares (the black line is above the orange line) until the great recession of 2008. Since that time, the company's earnings have continued to advance, but the market is now pricing the shares at much more pessimistic levels.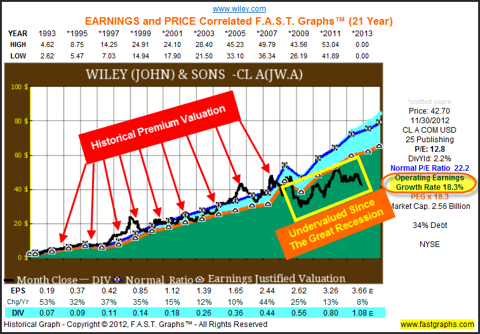 About John Wiley & Sons
John Wiley & Sons operates in three core businesses developed to improve results through research, education and professional development. We believe the company is a leader in all of its core businesses, and has a highly evolved niche in each, with no one competitor challenging the company's preeminence. In other words, competition is fragmented with most competing in one of their core areas, but not any competitor competing across all three core businesses. Their major competitors are, in no special order, McGraw-Hill Companies (MHP), Reed Elsevier Plc (RUK), Gannett Co. Inc. (NYSE:GCI) and Scholastic Corp. (NASDAQ:SCHL).
The three core businesses that John Wiley & Sons operates are, Wily Scientific representing approximately 59% of revenues, Professional Trade (development) representing 24% of their revenues, and finally Global Education representing approximately 17% of revenues. The following graphic highlights their business segments by revenues and geographic location.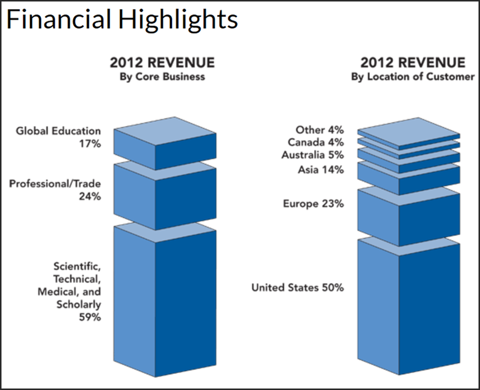 Scientific, Technical, Medical and Scholarly (STMS)
Wiley-Blackwell serves the world's research and scholarly communities and is the largest publisher of business journals, reference works, laboratory manuals, books and reference works. This core business is identified as Scientific, Technical, Medical, and Scholarly, or STMS. These important works are published both electronically and in print form.
Professional Development
This segment serves all customers from the professional to the everyday consumer. Key brands include For Dummies, J.K. Lasser and many others. This second-largest of their core businesses provides subscription content, books and many reference works and databases to everything from business, technology, health, religion, architecture, and general interest to name just a few.
Wily Global Education
Although it is the smallest of their three core businesses, Global Education publishes educational materials in all media. This segment targets computer science, mathematics, engineering, business and accounting, statistics, education and other important sciences.
Brands and Imprints
The following graphic summarizes John Wiley and Sons' most important brands. Although this company seems to be off the radar of many investors, many of their leading brands are highly recognized.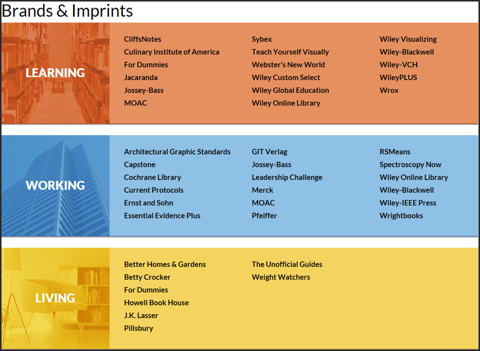 (Note: On November 8, 2012, John Wiley & Sons announced divestiture of their Culinary Program, Webster's New World Reference Titles and CliffsNotes Guides to Houghton Mifflin Harcourt.)
High Potential Future Total Return at Low Risk
Consensus Estimates
As previously stated, we believe that very little has changed with John Wiley & Sons and their long-term business potential. Moreover, we believe that this is an extremely high-quality company that is being overlooked and/or ignored to the detriment of investors seeking a high potential future total return at a below-average level of risk.
Interestingly, it is not only investors that are ignoring John Wiley & Sons, because in spite of its impeccable long-term record only three analysts reporting to Standard & Poor's Corp.'s Capital IQ are forecasting earnings for the company. However, the three that are reporting on John Wiley & Sons expect the company to continue growing earnings at the rate of 12.5% on average over the next five years. As we will soon demonstrate, this rate of growth seems plausible because it is consistent with the company's historical achievements.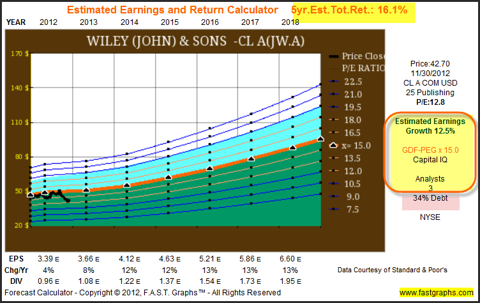 Management's Investment Thesis
The management team of John Wiley & Sons is confident enough in their long-term future to post their beliefs in the company's future prospects directly on their website as follows: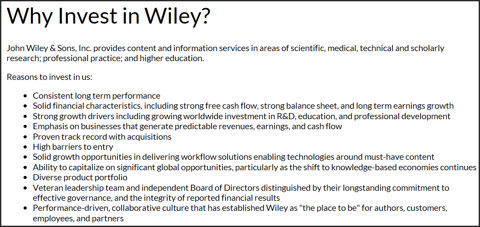 Testing Management's Investment Thesis
The following graphic plots John Wiley & Sons' earnings per share growth along with its dividends since 1993 (for a look at a longer perspective, see the first graphic in this report above). It is clear that John Wiley & Sons does possess a consistent record of operating performance. The orange line plots earnings per share, the green shaded area represents total earnings and the light blue shaded area shows dividends paid out of those earnings. Furthermore, the fact that the company only has 34% long-term debt corroborates the company's statement of solid financial characteristics.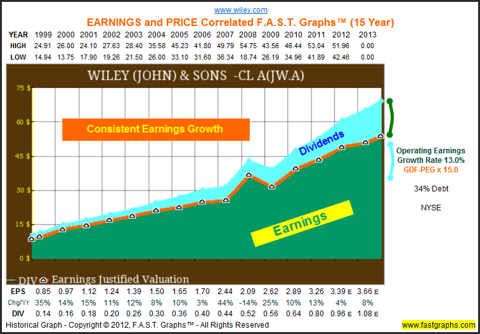 The following graphic plots John Wiley & Sons' operating cash flows and free cash flows. The lime green shaded area marked with an O represents operating activities net cash flow, defined as the net change in cash from all items classified in the Operating Activities section on a Statement of Cash Flows. The light orange shaded area marked with an F plots free cash flow, defined as Operating Activities - Net Cash Flow minus Cash Dividends minus Capital Expenditures.
This graphic validates management's contention that the company possesses solid financial characteristics including a healthy level of free cash flow left over after paying dividends and after making the necessary capital expenditures to continue funding future growth. Consequently, we believe the company possesses the financial flexibility to exploit any future growth opportunities through acquisitions or the necessary continued funding of Research and Development activities.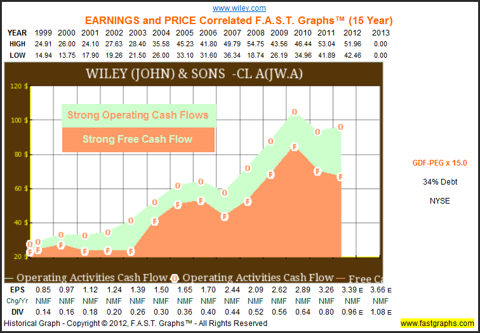 The Valuation Opportunity
What has been presented thus far in this report describes an extremely high-quality company with a dominant position in its industry and a wide economic moat. Consequently, it is no wonder that the company has typically commanded a premium valuation assigned to its share price. On the other hand, it is somewhat befuddling to consider how little attention this high quality, consistently growing company receives from investors. This is especially intriguing when you examine the company based on its current fundamental valuation.
From the following earnings and price correlated graphic we see that the market has placed a historically normal premium PE ratio averaging 20.2 since 1999. On the other hand, we see that the company's shares have traded closer to 15 times earnings since the great recession of 2008. But most importantly, even considering how negative sentiment has reduced this company's valuation since the great recession, today's low PE ratio of 12.8 represents a compelling buying opportunity in our view.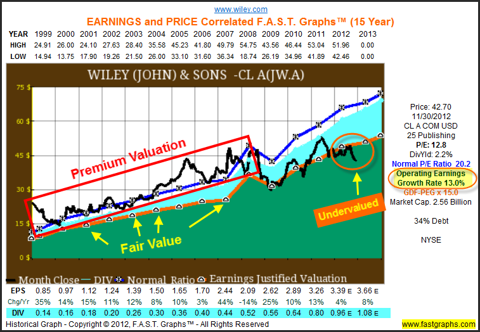 Due to the consistency of this company's ability to grow its business, long-term shareholders have enjoyed returns that have exceeded the S&P 500 index, even though its price has gone from being overvalued in 1999, to being undervalued today. Furthermore, in addition to providing above-average capital appreciation, John Wiley & Sons' record of above-average dividend growth stands out as well.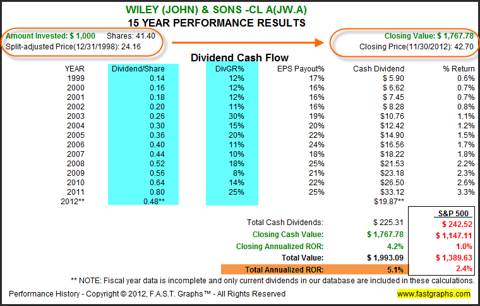 This next graphic simply shortens the time frame by focusing on John Wiley and Sons' earnings and price history since the great recession of 2008. The reader should note that even though average earnings growth has been lower since the recession, today's current valuation still appears unnecessarily low even judged on these more recent standards. Remember, John Wiley & Sons' future growth expectations are for the company to return to growth rates more consistent with their long-term historical norms.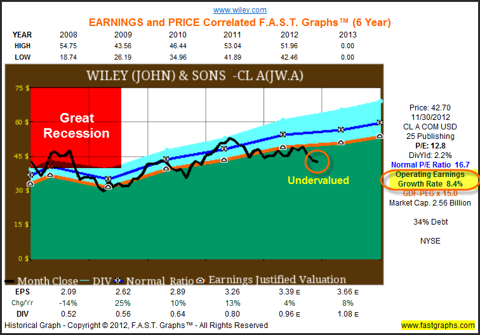 In addition to looking at valuation from the standpoint of PE ratios, another valuable measure of valuation is the company's price to sales ratio. From the graphic below, we see the John Wiley & Sons has been trading at a significantly reduced price to sales ratio since the great recession of 2008, further indicating that the shares are cheap by historical standards.

It is also important to mention that John Wiley & Sons' book value has increased from roughly $5.60 per share in fiscal 2003 to $16.69 per share through fiscal 2012. Furthermore, this quality company generates high returns on equity and high returns on assets while continuing to produce a gross margin of 69%, and a net margin of 11.9%, its highest in the last 10 years. It seems that no matter how you measure this company fundamentally, it warrants a higher valuation than it is currently receiving.
Summary and Conclusions
We believe that John Wiley & Sons should not be overlooked as a long-term investment opportunity for both investors seeking growth (total return), and for those seeking a growing dividend income stream. On September 28, 2012, the company made their presentation to the institutional investor conference. Here is a link to that conference so that readers can review the same information that the attending analysts saw.
For convenience and efficiency, the following slide from their presentation summarizes management's view of the opportunity in front of their businesses. We believe that this slide nicely summarizes the fact that John Wiley & Sons, with a current market cap of only $2.5 billion, is both well poised to participate in the new trends affecting their business model, and because of its size, has ample room to grow into the opportunity in front of it.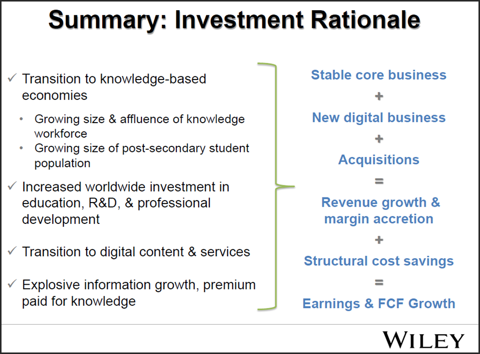 Our experience indicates that it is very rare, to be able to find such a high-quality company available at such an attractive price, and history supports our view. Therefore, we suggest that readers spend some time reviewing the presentation that we linked to above in order to get to know this company and the investment opportunity it represents a little better. We believe you make your money on the buy side, and John Wiley & Sons looks like a strong buy to us. Finally, in order to research this stock deeper and faster follow this link to a live fully functioning F.A.S.T. Graphs™ on John Wiley & Sons, were you can not only duplicate the graphics presented in this article, but also run the company through numerous additional time frames and fundamental valuations.
Disclosure: I am long MHP. I wrote this article myself, and it expresses my own opinions. I am not receiving compensation for it (other than from Seeking Alpha). I have no business relationship with any company whose stock is mentioned in this article.
Disclaimer: The opinions in this document are for informational and educational purposes only and should not be construed as a recommendation to buy or sell the stocks mentioned or to solicit transactions or clients. Past performance of the companies discussed may not continue and the companies may not achieve the earnings growth as predicted. The information in this document is believed to be accurate, but under no circumstances should a person act upon the information contained within. We do not recommend that anyone act upon any investment information without first consulting an investment advisor as to the suitability of such investments for his specific situation.