Pentair (NYSE:PNR) has been getting lots of love lately, mainly from an upbeat investors' day presentation with analysts. Recently, Pentair purchased the value business of Tyco and is in the process of merging the two businesses. The presentation was an update on the merger process, along with revised forecasts. Pentair offers exposure to global water and water infrastructure through their Water and Fluid Solutions operating segment.
From Pentair's website:
Reporting Segments


We report the performance of our business within three global operating segments: Water & Fluid Solutions, Valves & Controls, and Technical Solutions.

Water & Fluid Solutions

Water & Fluid Solutions designs, manufactures, installs and services products and systems used in the movement, storage and treatment of water. Global Business Units: Process Technologies, Flow Technologies, Water Purification, Aquatic Systems, and Water & Environmental Systems

Valves & Controls

Valves & Controls designs, manufactures and markets valves, actuators and controls throughout the energy and process industries. Global Business Unit: Valves & Controls

Technical Solutions

Technical Solutions designs, manufactures and markets heat management solutions and enclosures that house and protect sensitive electronics and electrical components.
More detailed information on global reporting segments can be found here.
A map of operating locations is shown below:
Click to enlarge images.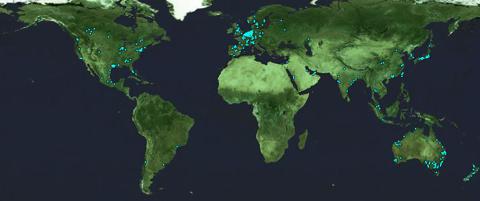 Acquiring businesses is nothing new for Pentair. Founded in 1966, Pentair has grown into a nicely profitable industrial conglomerate by acquiring companies, creating synergies, cutting costs, and ramping up sales and production. When parts of acquired companies do not fit as a core holding, management is not afraid to unload them. In addition, management is consistently revisiting its core strengths to ensure that its assets align with its strengths. For example, Pentair jettisoned its hand tools segement (Delta, DeVilbiss, Porter-Cable, and Oldham Saw) in 2004 to Stanley Black and Decker (NYSE:SWK) when it no longer fit its strategy.
Pentair offers products used in global water infrastructure, fluid processes, and thermal management. About 28% of Pentair's business is related to energy, 26% to industrial production, and 24% to residential/commercial users. About 40% of its business is in North America, 35% in international developed countries, and 25% in fast-growing developing countries.
The excitement on the Street comes from the acquisition of the Tyco business and folding it into Pentair's Flow Control division. Not only will the purchase add to top-line growth, but management should be able to stretch the bottom line as well. Pentair is a lean operational business with historically lower sales, general and administrative (SG&A) expenses than Tyco. With the latest acquisition, if SG&A for the Tyco business were to come in at the same rate as Pentair as a whole, SG&A would be reduced by at least $120 million per year and add 300pb to its profit margins.
The Pentair story will play out between now and 2015 when the Tyco acquisition should be fully integrated. With 209 million shares outstanding, EPS growth per share between now and then can be broken down as follows: improved tax rate of $0.10 ($21 million), Tyco merger synergies of $1.10 ($230 million), share repurchase of $0.30 ($60 million), and overall business growth of $0.95 ($198 million, of which $56 million is from anticipated margin expansion). With 2012 EPS expected to be $2.36, management forecasts 2015 EPS in the $4.81 to $5.00 range. Midrange management forecasts for next year are $3.20. EPS could rise to $3.80 in 2014 and $4.81 to $5.00 in 2015.
It would seem the biggest risk to achieving these results would be actual merger synergies and growth of the overall business. With Pentair's management history of successful merger execution, these anticipated results take on added creditability. The investor presentation can be found here, and third-quarter conference call transcript here.
Below is a five-year price chart compared to the S&P 500. Notice the gap up in the spring of 2012 with the announcement of the Tyco acquisition. Share prices jumped from $40 to $48 with the announcement.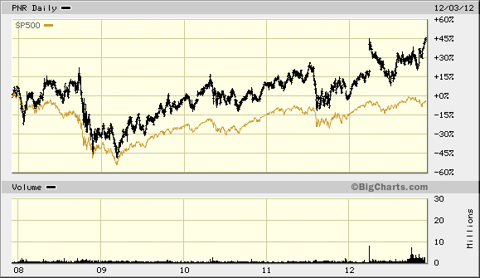 Pentair has earned an "A" Quality Ranking for consistency in 10-year earnings and dividend growth from Standard & Poor's. Five-year dividend growth is 9.1% and the current dividend yield is 1.8% based on the latest quarterly dividend of $0.22. Return on invested capital over the past five years is a bit light at 6.45%, but look for this matrix to expand over time as the synergies of the Tyco merger takes hold.
Investors looking for a well-managed industrial company with exposure to the underlying trends in water and water resources should strongly considered underfollowed mid-cap Pentair. With a $5.00 EPS target and a P/E ratio in the 13 to 15 range, share prices could reach $65 to $75 within the next few years for a potential 30% to 50% capital gain.
Disclosure: I have no positions in any stocks mentioned, and no plans to initiate any positions within the next 72 hours. I wrote this article myself, and it expresses my own opinions. I am not receiving compensation for it (other than from Seeking Alpha). I have no business relationship with any company whose stock is mentioned in this article.
Disclaimer: Please review important disclaimer here.