MarkWest Energy Partners, L.P., (NYSE:MWE) is a master limited partnership with a leading role in the midstream services sector of the natural gas industry. In addition to gathering, processing, and transporting natural gas, MarkWest is involved in the transportation, fractionation, storage, and marketing of natural gas liquids and the gathering and transportation of crude oil. MarkWest develops high quality and strategically located assets in the liquids-rich areas of the natural gas resource plays throughout the U.S., and since 2007, has realized the majority of its growth in emerging resource areas, such as the Marcellus/Utica Shales, Huron/Berea Shales, Woodford Shale, Granite Wash, and Haynesville Shale. From well-established positions in these liquids-rich locations across the U.S., we believe MarkWest provides high value through strong yield and distribution growth to its investors.
How do MWE's resource locations provide distribution growth?
As the largest processor of natural gas in both the Marcellus and Utica Shales of the Appalachian Basin, which also includes the Huron/Berea Shales, MarkWest has established a dominant midstream presence in the desired Northeast segment of the United States with fully integrated operations in the liquids-rich Marcellus Shale. MarkWest's senior management realized early on the potential of the Northeast resource areas, and have effectively locked in substantial future growth through long-term contracts and joint ventures with large upstream production companies in the Marcellus and Utica Shales (such as Range Resources Corp. (NYSE:RRC), Chesapeake Energy Corporation (NYSE:CHK), EQT Corporation (NYSE:EQT), Antero Resources, and Magnum Hunter Resources (MHR)).
In addition to its resources in the Northeast, MarkWest has opportunistically pursued plays in the emerging Southwest, such as the Woodford Shale and Granite Wash across Oklahoma and into the Texas Panhandle and the Haynesville Shale throughout West Texas. These locations account for nearly half of the partnership's segment operating income -- earnings before interest and taxes. -- and give us confidence in MarkWest's ability to maintain a healthy distribution to investors from future cash flows.
Infinium reached out to MarkWest recently to discuss the company's successes and competitive positioning. Senior management emphasized that one of the greatest advantages they have over competitors is their ability to expand relationships with existing customers via highly customized long-term contracts and a focus on exceptional customer service. One needs to look no further than last year's customer satisfaction survey conducted by EnergyPoint Research that ranked MarkWest #1 in the midstream industry. This is not an anomaly either; since 2006 customers rated the partnership #1 or #2 in customer satisfaction according to EnergyPoint Research. Because MarkWest earns its profits from margins as a partnership, the tremendous growth potential in the rich-gas resource areas should effectively drive future distribution growth as the company's customers produce more oil and gas liquids.
Why would one invest in MWE?
MarkWest is a master limited partnership and its investors (limited partners) enjoy the benefits of tax advantages and a reduction of one's cost basis through quarterly distributions of MarkWest's earnings. Additionally, after completing a $740 million merger with its general partner, MarkWest Hydrocarbon, MarkWest is one of a few partnerships that does not have a general partner, meaning that the limited partner unit holders no longer have to compete with the general partner for distributable cash flows. In other words, as distribution per unit increases with a general partner in the picture, the general partner would receive a larger portion of incremental payments through incentive distributions. A higher general partner distribution would result in a higher cost of equity, making future growth more difficult for the partnership. Without the general partner contending for distributable cash flows, the limited partner can enjoy more favorable distributions and stronger growth potential than other publicly traded MLPs in our view.
MarkWest employs a prudent approach to the management and use of leverage as evidenced by a debt-to-equity ratio of 1.01 for Q3 2012 (see Chart 1), which is comparable to other companies in the midstream services sector. Most energy companies use leverage to grow their business and therefore grow their shareholder earnings. In addition, MarkWest has consistently delivered strong and increasing distributions over the years (see Chart 2).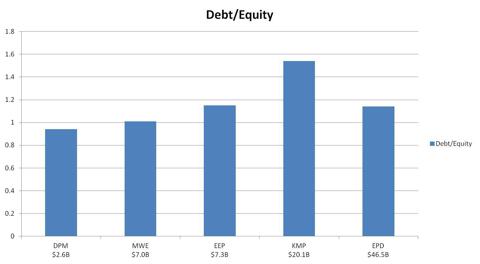 Chart 1
(Comparable MLP's Debt-to-Equity Ratios sorted by intraday December 3, 2012, market cap; most recent quarter data provided by Morningstar, Inc.®)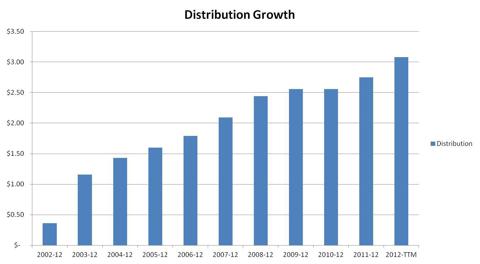 Chart 2
(Distribution growth since inception in 2002; data provided by Morningstar, Inc.®)
What risks are associated with MWE?
Undoubtedly, many investors in MarkWest hold the company for its healthy and consistent dividend. The biggest risk in the stock, therefore, is the potential for a cut to the annual distribution amount. On the surface, it's easy to believe that lower commodity prices could potentially impair the company's ability to sustain the distribution, since MarkWest's core business centers around the gathering and processing of natural gas and natural gas liquids. However, MarkWest undertakes a two-pronged strategy to combat this risk.
First, management employs a robust hedging program to reduce their sensitivity to price changes by entering into 1-3 year crude swaps, collars, and puts on natural gas liquids and direct product hedges. These hedges are typically arranged long natural gas liquids and short natural gas, which the team believes provide the right combination of risk/reward in order to dampen volatility.
The second component of their efforts to secure and grow the distribution is through volume growth in the company's long-term fee-based contracts in the Northeast. Management expects recurring fees to increase from 40% of cash flows in 2012 to more than 50% over the next several years. These long-term contracts, usually with a range within 10-15 years, are customized to each respective producer and require a minimum volume of production; otherwise, MarkWest will collect a stated fee.
The positive effects of both strategies are clear when looking back at the brutal moves in natural gas recently. Prices have fallen dramatically from nearly $14 in 2008 to a low of $1.98 per MMbtu reached on April 19 of this year due to supply through fracking outweighing demand. The unusually mild winter of 2011-12 caused less electricity and natural gas to be used for heating, thus negatively affecting natural gas prices. Even so, MarkWest's distributable cash flow was a record $109 million during the first quarter of 2012, an increase of more than 40% compared to the first quarter of 2011. In April, when natural gas prices hit their $1.98 low, management announced a first quarter distribution of $0.79 per common unit, a nearly 18% increase compared to the first quarter of 2011, while maintaining a strong distribution coverage ratio of 1.35 times, which is defined as cash available for distribution divided by distributions paid. In addition, MarkWest increased their second quarter distribution to $0.80 per common unit, up 14.3% compared to the second quarter of 2011 and 1.3% compared to the first quarter of 2012. Recently, MarkWest announced a third quarter distribution $0.81 per common unit, up 11% compared to the third quarter of 2011 and 1.25% compared to the second quarter of 2012.
Overall, we are impressed with management's ability to sustain the distribution amount in light of an extremely challenging natural gas pricing environment. In the best case scenario, should prices firm as they have through the summer months in 2012, we believe this may provide a tailwind to the company and give management greater flexibility to increase the payout.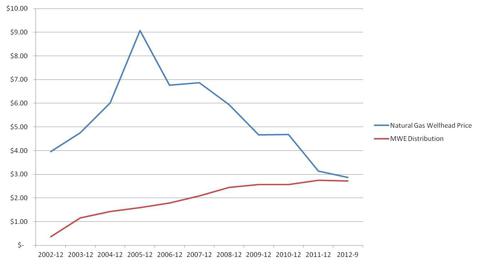 Chart 3
(Chart displaying natural gas wellhead prices in dollars compared to MWE's distributions in dollars; data for natural gas wellhead prices (dollars per thousand cubic feet) provided by the U.S. Energy Information Administration and data for MarkWest's distributions (dollars per share) provided by Morningstar, Inc.®)
Price:
From a technical perspective, MWE has found support recently around $46.50 and may have formed a double-bottom pattern after a significant and sharp sell-off in mid-November. Undoubtedly, talk of a more burdensome tax landscape for MLPs created a near panic selling in this asset class which has since subsided. MWE is trading well below its 200-day moving average, possibly acting as overhead resistance if the stock continues to rebound. Overall, a mixed technical outlook currently.
Our analysis suggests that the stock is priced under its fair value and significant distribution growth and appreciation remain. The stock is currently trading around $51.75 as of December 3, 2012, while 9 brokers project a mean target price of $60.20 according to Thomson/First Call. As well, Buy and Strong Buy recommendations dominate the broker recommendation trends from Thomson/First Call.

(Thomson/First Call® broker opinions, as of December 3, 2012)
Thesis:
Overall, MarkWest Energy Partners, L.P. is well-positioned to increase revenue in the liquids-rich resource plays that it serves. Through its established locations in the emerging Northeast (primarily the Marcellus and Utica Shales) and the Southwest segments, it is likely that MarkWest will provide the partnership with larger cash flows available for distribution as production of oil and gas increases. MarkWest's commitment to customer satisfaction, which has earned them significant awards, will drive future demand for its midstream services. Joint ventures with large producing companies and long-term contracts in the economically significant resource plays throughout the U.S. will effectively increase the profitability of the partnership in the coming years. Even in a tough natural gas pricing environment, MarkWest has a proven track record of increasing distributions to shareholders, and we expect that trend to continue. Should prices firm, the portion of the partnership's midstream structure that is not fee-based may actually enhance distributable cash flow.
For investors seeking exposure to the midstream sector of the oil and gas industry, MarkWest Energy Partners, L.P., provides the presence of a leader in the midstream services sector with future cash flows available for continued strong yield and distribution growth.
Disclosure: I am long MWE. I wrote this article myself, and it expresses my own opinions. I am not receiving compensation for it (other than from Seeking Alpha). I have no business relationship with any company whose stock is mentioned in this article.
Additional disclosure: One or more employees of Infinium Investment Advisors is long MWE, and there are no plans to trade the stock within the next 72 hours.