It has now been four weeks since President Obama was re-elected in early November. While four weeks is a short period of time, the initial reaction of stocks in the weeks following the election may provide a clue as to which areas of the market stand to benefit from President Obama's re-election and which areas may be under pressure in the president's second term.
Since election day, the S&P 500's best performing stock has been Titanium Metals (TIE), with a gain of 37.03%. Behind TIE, the only other stock that is up more than 20% is Abercrombie & Fitch (NYSE:ANF), with a gain of 34.16%. Looking at sector representation, of the 25 best performing stocks, nine are from the technology sector, six are from the consumer discretionary sector, and four are from the consumer staples sector. The remaining six stocks on the list come from health care (three), materials (two), and industrials (one). One thing to keep in mind with this list is that while the election results may have played some role in the performance of these stocks, there are also a variety of other stock specific reasons for why they have moved.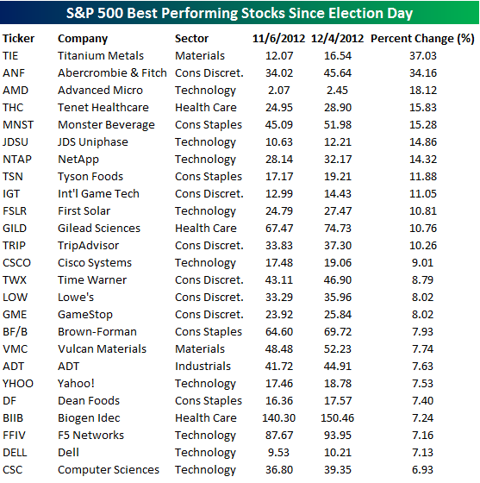 Of the 25 worst performing stocks on the list below, J.C. Penney (NYSE:JCP) is down the most, with a decline of 26.94%, followed by Cliffs Natural (NYSE:CLF) (-25.43%) and Kohl's (NYSE:KSS) (-20.52%). The sector breakdown for these 25 names is very different from the list of best performers. Consumer discretionary is the most heavily represented sector on the list below with seven stocks, and it is followed by energy and technology each with four. The 10 remaining stocks on the list are spread out between energy (three), financials (three), materials (two), industrials (one), and telecom services (one). Here again, there have also been stock-specific factors for the declines. For example, JCP's decline is not because of Obama's re-election. That said, it is probably not a coincidence that there are three financials on the list of worst performing stocks and none on the list of top performers.