When an industry is devastated by excess supply, declining demand, and falling prices, it is a sector investors should without question, avoid. The solar energy sector is an example of such an industry, yet First Solar (NASDAQ:FSLR) is defying the odds of imminent failure. The company is cautious, but optimistic, that the marketplace is stabilizing. Supply and demand imbalances are being resolved in two ways. First, weak firms will be exiting the industry through bankruptcy. Second, capacity reduction in the industry by existing firms will continue.
First Solar is the strongest player in the battered solar sector. First Solar shares are up 136% from a low reached at the beginning of June 2012. In the last 6-months, First Solar is performing better than SunPower Corporation (NASDAQ:SPWR), Yingli Green Energy Holding Co (NYSE:YGE) and Trina Solar (NYSE:TSL):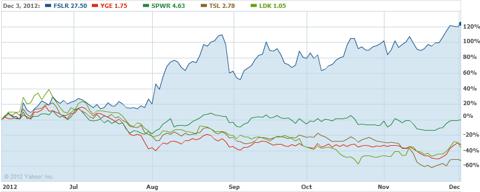 (Chart Source: Yahoo Finance)
There are 7 reasons to still like First Solar despite a sharp rise in the price of its shares.
1) Financial Strength
First Solar earned $1 per fully diluted share in the third quarter (GAAP), an amount that included a $0.27 per share restructuring charge. Revenue recognition for the 550-megawatt Topaz Solar Farm project helped support its positive earnings last quarter.
During the quarter, First Solar was running its factories at 83% of capacity, driven by stronger demand. This is an improvement from the 63% utilization in the previous quarter. For the full-year, the cost per watt is estimate to be at $0.64 (consolidated manufacturing) and $0.61 (best line). Both estimates are lower than previously provided estimates.
First Solar has $717 million in cash and marketable securities and $530 million in debt.
2) Positive Forecast
The company raised its guidance for the year. First Solar now expects earnings to be between $4.40 - $4.70 per share (non-GAAP). Sales are expected to be between $3.5 and $3.8 billion.
Plant utilization is expected to run at 90 - 95% of capacity. This will help manufacturing costs decline from $0.70 - $0.72 per watt to $0.68 to $0.70 per watt for the year.
If warranty expenses and restructuring are included, earnings for the full year will be reduced by $6.00, leading to a GAAP diluted earnings per share loss of between $(1.60) and $(1.30). The company lowered its operating cash flow guidance to $650 to $850 million. First Solar previously guided $850 to $950 million.
First Solar anticipates nearly $9 billion in revenue in the future, based on its current project pipeline.
3) Expansion in China
As China-based players weaken, First Solar could strengthen its position in this region.
Yingli Green Energy Holding Co and Trina Solar are both dominant players in China. Trina anticipates favorable product development growth for PVs in China. The company also signed a land use agreement that would support Trina's large-scale, multi-phase utility-scale project in Eastern China. Trina is also increasing head count in China.
Yingli Green Energy reported shipment growth to China increased by 74% over the previous quarter. The region represented 28% of total revenue, up from 14% in the previous quarter.
Still, Yingli and Trina both experienced a serious deterioration in its gross margins. Trina's gross margin was 0.8% last quarter. Yingli reported gross margins of negative 5.9%.
SunPower began discussions to leverage C7 technology for customers in China. The C7 concentrator product is important for cell efficiency.
Like Trina Solar, China-based LDK Solar Co. (NYSE:LDK) cut its full-year sales and shipment projections. Facing $2.5 billion in debt that will mature in 12 to 18 months and falling margins, LDK cut nearly 2,600 positions during its third quarter.
To raise its presence in China, First Solar hired Bruce Yang as Managing Director and Vice President of Business Development. He will be responsible for initiating the developing the Ordos Project in the region. Most recently, First Solar announced a partnership with Zhenfa to supply 2 megawatts for projects in Xinjiang province.
4) Competitive Advantages
First Solar has a technology advantage over its competitors. The company developed tools to manage grid stability and reliability. Customers have Operations Center, a monitoring and control tool to manage the integration of photovoltaic power plants with the electrical grid. This allows customers to reliably and predictably incorporate First Solar's product to their energy grid. Competitors are not able to offer this. First Solar views this technology as expensive for competitors to replicate. The weak financial health of other players also ensures that competitors will not be able to provide the same offering in the near-future.
5) Reduced Operational Costs Nearly Complete
Previously implemented cost-cutting initiatives are nearly complete, which will reduce costs by $100 million to $120 million annually. First Solar incurred $440 million in restructuring charges so far. Next quarter, restructuring charges of between $20 million to $25 million will be incurred.
6) Healthy Backlog
First Solar has a nearly $9 billion backlog. $1.8 billion of the backlog that came during the year is from customers in sustainable markets. $3.4 billion of the backlog will be realized as sales by the end of 2014.
7) First Solar More Insulated than Others from Distressed Pricing
The distressed silicon pricing is taking place in markets outside of First Solar's core market. First Solar is not experiencing a direct impact by the pricing decline for silicon in the distributed rooftop market. The company remains committed to focus on grid-connected utility scale markets. The acquisition for more contracts may be slower, due to the project size, but First Solar enters debt-financed projects. This encourages demand and helps build market share for the company.
Risks to Analysis and Conclusion:
The bullish case for First Solar is not without risks. A drop in oil prices would make solar energy projects less feasible. For the next few quarters, First Solar has a large backlog, which would ensure capacity utilization is maximized. This will translate to sustained profit margins for the next few quarters.
Disclosure: I have no positions in any stocks mentioned, and no plans to initiate any positions within the next 72 hours. I wrote this article myself, and it expresses my own opinions. I am not receiving compensation for it (other than from Seeking Alpha). I have no business relationship with any company whose stock is mentioned in this article.