Commodity Chart Of The Day
Daily Gold
(click image to enlarge)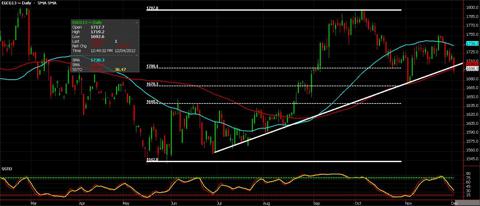 I had previously predicted the gold market to correct, and to date the market is cooperating, trading lower by approximately $55/ounce in the last two weeks. Perhaps a bigger development is a trade under that psychological $1700 level, and as one can see on the chart above, we are probing the 100 day MA -- identified by the red line. Also, February futures may be breaching a trend line that has held since mid-summer.
There is plenty of Central Bank activity, as the RBA cut rates to 3.0% today while the BOC left rates alone at 1.0%. Still on the docket this week, we have an ECB meeting and the BOE, not to mention a jobs number to round out the week. I bring this up because any surprise could cause increased volatility. My stance remains the same -- more depreciation in metals, as my target in gold remains a trade under $1670. As for silver, my target remains a trade closer to $31/ounce. The 100 day MA in March comes in at $31.68.
My favored play in both metals is back ratio spreads. Those braver than I could have short futures positions, but I would hedge them off with the purchase of call options or the sale of put options. Once we get the anticipated washout if it plays out, I am eager to be a buyer for clients from lower levels… stay tuned.
Traders out there should contact me to get a game plan on the next long entry, as I view it as an exceptional longer-term swing trade opportunity.
Risk Disclaimer: The opinions contained herein are for general information only and not tailored to any specific investor's needs or investment goals. Any opinions expressed in this article are as of the date indicated. Trading futures, options, and Forex involves substantial risk of loss and is not suitable for all investors. Past performance is not necessarily indicative of future results.
Disclosure: I have no positions in any stocks mentioned, and no plans to initiate any positions within the next 72 hours. I wrote this article myself, and it expresses my own opinions. I am not receiving compensation for it. I have no business relationship with any company whose stock is mentioned in this article.