Fear is your best friend. Good news sucks.
Simple mathematics make the headline statement above all too true. Over the short term, defined as months, not years, traders' emotions push stocks around much more readily than warranted by their absolute fundamentals.
Even high-quality individual issues can rise or fall by large percentages in reaction to what later proved to be less-than-significant news. Negative price movement, all by itself, can scare the crap out of weak holders who don't have a good feel for why they own that specific company.
When bad news strikes, the media will be broadcasting "reasons" why the stock has fallen. They will justify why the apparently bargain price is now a value trap. Fear of bigger losses upsets everybody. Many people sell simply because the price has gone down.
Good company-specific news usually makes for nice upward share price momentum. By definition, people that buy in after a price rise have already missed the lows.
Stocks with positive chart patterns are usually not cheap. That did not stop the CNBC crowd from telling us why Apple (NASDAQ:AAPL), above $700, was okay to buy. We were told it was well on the way to $1,000.
We all know how that played out.
Buying a stock after a large run up requires another big move higher if you expect to make a decent profit. An AAPL buyer at $700 would have needed to see $840 just to capture 20%.
There's an easier, and less risky way, to make outsized gains. That's where "fear" comes in. Many shares suffer huge short-term declines when badly perceived and widely publicized news hits the wires. "Sell first and ask questions later" is a common Pavlovian response.
Once a stock has dropped 50%, the potential gains from either a partial, or a full rebound to just the pre-sell-off quote, are quite remarkable.
Declines of less than 50% can also present big opportunity. A dip of 30% followed by a return to just 90% of the pre-marked down price equals a 28.57% gain from that temporary low. That would increase to a 43.28% profit if the stock fully merely regains the original quote.
Rebounding to previously touched prices may not seem exciting at first glance. The gains just cited would be equivalent to APPL going from $700 to $900 in the first example, or $700 to $1,003 in the latter case.
Here are just a few examples of well-known names that stumbled badly in 2012 only to begin recoveries pretty quickly. Deckers Outdoors (NASDAQ:DECK), Abercrombie & Fitch (NYSE:ANF), Walgreen's (WAG), YUM! Brands (NYSE:YUM), Caterpillar (NYSE:CAT) and Cummins (NYSE:CMI) are typical of what can happen if you are willing to own what's already been hit hard. All of those, except CAT, have already shown excellent results.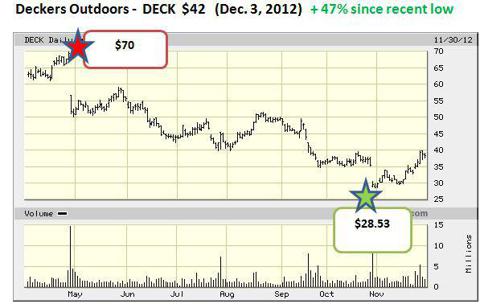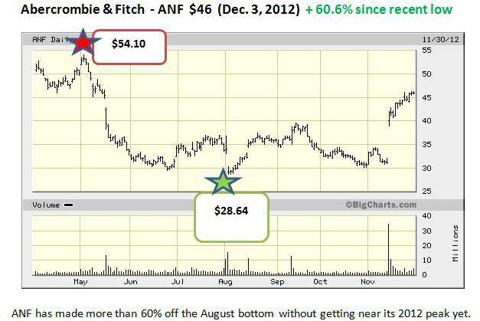 Very few pundits are brave enough to recommend the best bargains while they are still cheap.
There is almost always bad news to justify why they are down. The charts look ugly. Momentum is poor. Fear is rampant. If those factors were not in play, you could not get the shares at those great prices.
Overcome your need to only buy stocks with positive headlines. Great- news shares rarely come cheap. Market moods, both positive and negative, can change like the wind.
Buy out-of-favor tickers and reap the rewards. The bounce-backs usually happen much quicker than you expect.
Fight your fears. Your portfolio will thank you.
Disclosure: I am long ANF, WAG, CAT, CMI. I wrote this article myself, and it expresses my own opinions. I am not receiving compensation for it (other than from Seeking Alpha). I have no business relationship with any company whose stock is mentioned in this article.