Billionaire Bill Gross, the managing director of Pimco, one of the largest fixed-income investment companies in the world, and the man charged with stewarding the world's biggest bond fund in the Pimco Total Return Fund (MUTF:PTTRX) during these dangerous times has once again recommended that investors buy gold.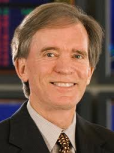 Bill is turning into something of a real gold bug; that is, after hinting around about "real assets" for some time now and avoiding actually writing the "G-word" in his weekly commentary, something that he now does on a fairly regular basis. In his December Investment Outlook, Gross adds to the growing collection of recent commentaries that have popularized the practice of questioning rosy assumptions about economic growth.
In the case of the U.S., more and more wise men are now thinking that sustained growth rates of 3% or 4% are a thing of the past. According to Gross and others, this development has important implications for investors.
As an aside, anyone looking for the real tragedy in the ongoing fiscal cliff debate in Washington should peruse the heady assumptions for economic growth that both sides are using when figuring how much they might be able to shrink the budget deficit. As per the current Congressional Budget Office baseline forecast, it averages a farcical 4% per year from 2014 to 2017.
None other than Federal Reserve Chairman Ben Bernanke has recently doubted whether economic growth as we knew it will soon return, noting in a rather glum speech last month that the financial crisis may have done permanent damage. Well, the financial crisis certainly didn't help, but there are other factors in play. Gross recounts the major ones:
Debt/Deleveraging -- too much of it
Globalization -- now fading in effect
Technology -- too many robots, not enough jobs
Demographics -- slowing population growth
Regarding the first point, the chart below was provided to drive home the point that high and rising debt levels are hostile to growth.
Click to enlarge image.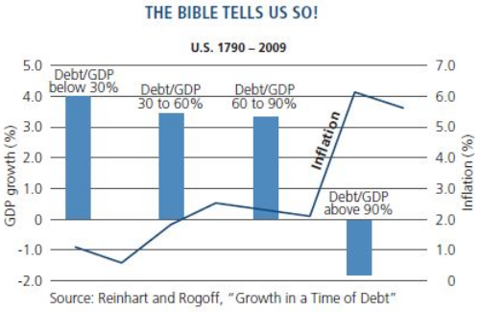 So, what's all this got to do with the price of gold?
Simply put, policy makers (particularly those in the U.S.) are likely to do whatever it takes to try to restore economic growth to its past glory (whether that is possible or not). That will involve inordinate amounts of money printing and even higher levels of debt.
Regardless of whether we've entered an era of inherently slower growth -- more like 1% or 2% in the U.S. rather double those rates -- elected officials in Washington and the folks at the central bank are sure to summon whatever resources they can to turn things around. That means further debasing the world's reserve currency, and that's a big positive for gold.
Otherwise, the U.S. turns into Europe.
Along with the yellow metal, Gross also recommends other commodities, TIPS, high-quality municipal bonds, and emerging market stocks while steering clear of banking stocks and debt from developed nations (for obvious reasons). It's no coincidence that an increasing number of the world's richest and smartest men are talking about gold these days. They didn't just wake up one day and discover they were billionaires.
While ordinary investors are not likely to amass the kind of fortunes that Bill Gross commands, they can take a small step in that direction today by buying gold in bullion form or one of the many gold funds, such as the SPDR Gold Shares ETF (NYSEARCA:GLD).
Disclosure: I am long GLD. I also own gold coins. I wrote this article myself, and it expresses my own opinions. I am not receiving compensation for it (other than from Seeking Alpha). I have no business relationship with any company whose stock is mentioned in this article.