Auto sales for the month of November are in, and the industry shrugged off the after effects of Hurricane Sandy and delivered a solid month. Sales of cars and light trucks jumped 15% to 1.14 million in November compared with a year ago and the seasonally adjusted annualized sales rate was 15.5 million, the highest since January 2008, said market researcher Autodata Corp.
Ford's (NYSE:F) sales were 6.5% higher year over year, with small cars leading the way, gaining 15% while truck sales gained 3.7%. Small cars were again strong during the month despite the drop in gasoline prices. Truck sales were relatively strong for Ford, gaining 3.7%, with Ford's F-150 full-size pickup truck increasing 17%, while General Motors' (NYSE:GM) rival Chevrolet Silverado pickup saw sales drop 10%.
Ford U.S. November small car sales

totaled

26,848 vehicles - a 76% increase compared with last year and the company's strongest November small car sales in 12 years
C-MAX Hybrids sales gain momentum with 4,848 vehicles during November, a 52% sequential increase; its best-ever month for electrified vehicle sales
F-Series has its 16th consecutive year over year monthly sales increase, gaining 18% year over year, and is fourth month in a row with more than 50,000 sales; best November since 2005
Ford Motor Company U.S. sales total 177,673 vehicles in November, up 6% from a year ago; retail sales up 12% compared with last year
Ford announces 2013 first-quarter production of 750,000 vehicles; up 11% from the prior year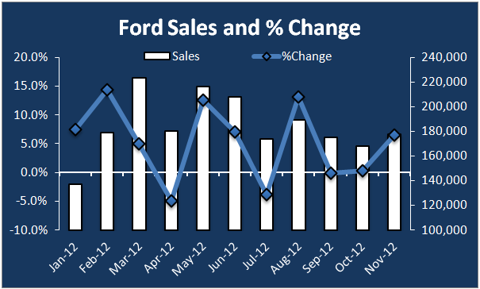 Supply was a problem for most of the industry, namely GM, which has 245,853 units, or 139 days of inventory of unsold full-sized pickup trucks on lots around the country. That is a staggering figure. As a result, GM's management is slashing production and taking away extra work at a plant in Ohio. The plant doesn't produce trucks; it produces the Chevy Cruze, which is actually performing well, gaining 27.0% during the month. However, Ford is actually increasing its production for the first quarter of 2013, to 750,000 vehicles, up 11% year over year and up more than 7% sequentially. December and January are historically strong months for trucks sales.
This month's figures are just another reason that Ford is my favorite in the industry. The C-MAX continues to see strong momentum, while the Focus became the highest selling car in the Company's lineup; the Escape and of course the F-150 round out the leader board. One of the negatives that we saw continues to be the Lincoln brand. It is not being differentiated enough relative to the Ford brand. Sales for Lincoln dropped 9.1% compared to November of 2011, and sales are down 3.2% year to date. Profitability in the U.S. should remain strong as pricing and incentives continue to trend positively for the Company. Transaction price for Ford improved 3.3% year over year to $32,453 (well above the $30,832 average transaction price for the industry), while incentives declined 21.1% to $2,307 (slightly below the $2,764 average incentive for the industry).
Ford is currently trading with a PE ratio of 2.6 (compared to the industry average 11.5); its forward PE is only 7.7. General Motors trades with a PE 9.6 and a forward PE of 6.7. Ford trades with a price to sales 0.33 and an EV/EBITDA of just 0.91. Despite these valuations, the stock has been stuck in the mud, and the primary reason for that has been Europe. Ford expects to lose $1.5 billion during 2012 in Europe. However, we do expect that things will improve in 2013 and Ford will be among the first car companies to turn profitable. The stock is up about 20% over the past three months, but I still think there is room to the upside. There is some resistance at $11.50, but a $15.00 price target would bring the Company's PE in line with the industry average.
Disclosure: I am long F. I wrote this article myself, and it expresses my own opinions. I am not receiving compensation for it (other than from Seeking Alpha). I have no business relationship with any company whose stock is mentioned in this article.