As I continue to look for stocks that can benefit from the new laws of the land, I keep coming back to the healthcare sector. The Affordable Care Act should create a windfall for some of the largest health insurance companies, and one of the biggest out there is UnitedHealth Group (NYSE:UNH). I outlined the company (and 2 others) in this article which I urge you to review.
As much as we want to hate insurance companies, sometimes we can actually love them when we can profit by owning the shares. UNH has the potential to grow both the top and bottom lines (revenues and earnings) as we leap headlong into the full effects of the new law of the land. Say what you will about the politics, but as investors we should take what the market gives us. I believe the market will give us strong capital appreciation and higher dividends with UNH.
UnitedHealth Group
UNH already has the infrastructure in place for Medicare supplemental plans. It would not be a stretch to see, that by using their selection of Medicare Advantage Plans, and supplemental plans for the new insurance plans, that the States as well as the Federal Government would gravitate towards this company. Since UNH already has the plans in place, and since they are the biggest of them all, then this company can benefit greatly and so can shareholders.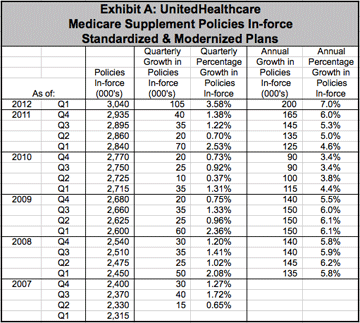 In this chart we can see the policy growth from 2007 to 2012 thus far. The quarterly growth of policies more than doubled from the 4th quarter of 2011 to the first quarter of 2012. With 48 million more potential policies out there, it stands to reason that UNH will get its fair share of new policies written. Not to mention the 10,000 baby boomers EACH DAY that turn 65 and are eligible for Medicare even without the new law.
These Medicare Supplemental policies already account for over $7 billion in revenues for UNH, and it is conceivable that going forward, the numbers can escalate dramatically.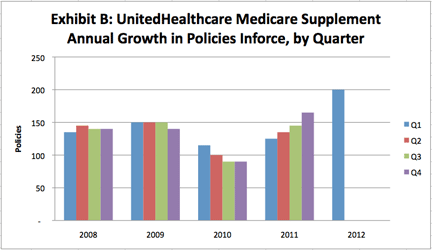 Since the Affordable Care Act was signed, and as baby boomers reached "of age", growth of policies written by UNH has been increasing markedly. Imagine 2013 and 2014 for a moment. Is it that silly to envision double the numbers, if not more? Keep in mind that UHN is the only insurance company endorsed by AARP as well.
Here is the most recent chart which includes the 2nd and third quarter: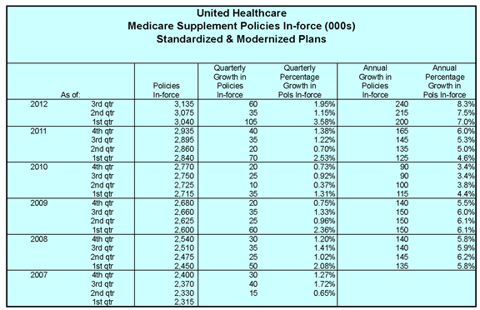 As you can see, growth has been constant. What will the 2013 chart look like?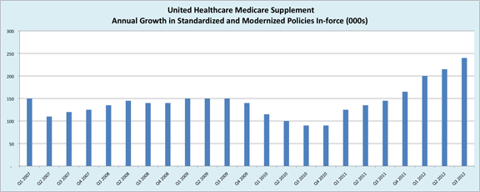 The trend is undeniable, and we have not scratched the surface yet, based on the new laws.
These figures are telling in and of themselves, but how does UNH stack up against the other insurance companies that can benefit from all of this? I believe if we just take a look at the profit margins between the major companies, we can see who might benefit the most.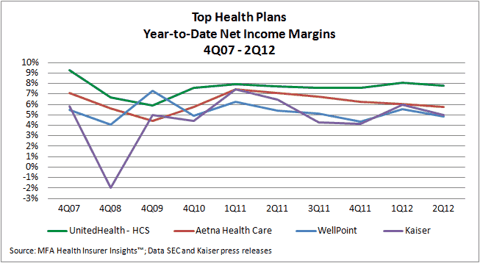 UNH has consistently held an edge in net profit margins and what that translates to, is greater bottom line growth even in a cost saving environment. If UNH can maintain greater margins, and double their revenues, that means that they should outperform all of the other insurance companies within this sector.
Add to this the fact that UNH is the actual leader of the entire "pack". As noted in this report:
"The leading health plan in the nation in terms of enrollment is UnitedHealthcare. UnitedHealth reported it gained 1.7 million new enrollees year-over-year and from December 2011 to June 2012 the company gained 1.3 million. UnitedHealth gained 550,000 commercial enrollees from 4Q11to 2Q12 with most of the commercial gains from fee-based (ASO) business. UnitedHealth added 480,000 Medicare members; more than 25% of UnitedHealth's medical membership is from government business." (Emphasis added)
Does it make sense that if UNH is already the "go-to" company for Government business, that the Government will go to UNH more than ever?
The Bigger Picture
The big picture takes a look at some very raw statistics; just how many Americans are actually insured in the first place.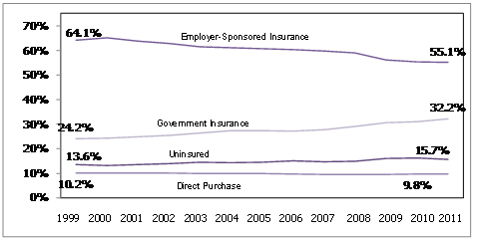 "Notes: Data is for the entire US population. Percentages do not add up to 100% because some people have more than one type of coverage. In 2010, the Census Bureau updated its coverage data for current and prior years to reflect changes in the methods used to impute health insurance for non-repondents. Government insurance includes military coverage.
Source: U.S. Census Bureau, Income Poverty and Health Insurance Coverage in the United States: 2011" (the entire report can be read here)
In just about a dozen years, employer sponsored health insurance dropped by 9% and the uninsured increased by over 2%. Leaving the direct purchase (self insured) aside, Government health insurance increased by 8% (Medicare and Medicaid). One could argue that unemployment and an aging population has skewed these numbers, but the fact remains that the gap between employer provided insurance and government provided insurance has narrowed considerably, and this is even before the full affects of the Affordable Care Act have been implemented and felt.
According to the report, there were over 48 million uninsured Americans as of 2011. The insurance mandate will go into full effect in 2014, but it does not take a genius to figure out that the number of newly covered individuals will sky rocket. The insurance companies that already have the plans in place will benefit the most.
To me this is yet one more major PLUS factor to buying UNH stock now.
Profile of the Uninsured vs. Total Population by Age, 2011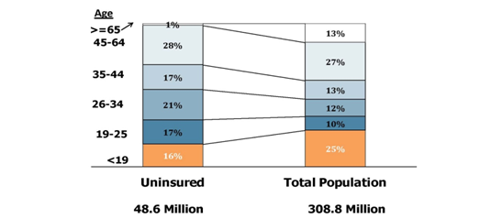 Source: U.S. Census Bureau, Income Poverty and Health Insurance Coverage in the United States: 2011
In this chart we can see the largest age brackets of the uninsured vs the population in total. While the age group between 0-34 has the total highest total percentage, it is also the age group that will either be least likely to seek out insurance, or more likely to remain on their parents insurance policies until age 26, as mandated by the new health laws.
Ages 35-44 would be the prime years of employment and those would be the most likely recipients of employer sponsored insurance. The most difficult age group to obtain insurance is between 45-64. Too young for Medicare and perhaps they now carry existing conditions that limit most of their insurance options. With the new law, nobody can be turned down for an existing condition, so that age group could be the most targeted group by the insurance companies themselves.
There are also a number of major companies that have announced that they will begin reducing the number of insured employees. Wal-Mart (NYSE:WMT) for example, will begin reducing employee hours to 30 hours or less per week so they will not be eligible for insurance from the company. Other smaller companies are stopping employee health insurance programs altogether.
What this will do, will be to force the workers into the Government "pool" which will be run by the States. Some of which are opting out, or trying to get more help from the Federal Government. Either way, these folks will become part of the new "Government Pool" which will be much like a Medicare/Medicaid hybrid, that will have various prices for various levels of coverage.
The Government will not become a health insurance company of course, but you can count on them to utilize the insurance companies that are already set up to handle this type of coverage at the lowest possible cost. UnitedHealth Group is just what the "doctor" ordered.
An Enormous Pile Of Money That UNH Will Have Greater Access To
The numbers are staggering. There also does not appear to be any relief in sight. While these numbers are not directly related to UNH or other insurance companies, they do show the enormous amount of money being spent within the entire healthcare sector. Obviously, UNH will command a huge chunk of the insurance dollars spent.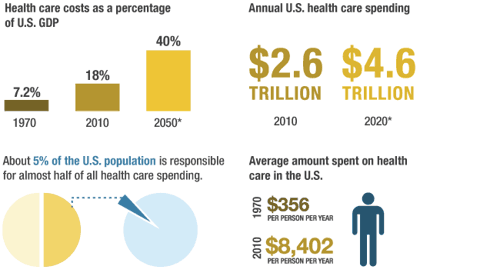 As far as I am concerned, an investor would be wise to invest in a sector that is only rivaled by the energy sector, has more sustainability in my opinion, and we do not have to "drill baby drill".
I just cannot find too many downsides.
Tying all of this together with the Affordable Care Act, was spelled out very well in this article, which notes:
"For more than a century, Americans have debated how to extend health care to all Americans. After decades of failed attempts, President Barack Obama made history. On March 23, 2010, the Patient Protection and Affordable Care Act was signed into law. This legislation has become the most significant advance in health care since the establishment of Medicare and Medicaid in 1965.
Yet, despite the significant health care crisis in America today, 28 states and the National Federation of Independent Businesses challenged the constitutionality of the health reform legislation. On June 28, 2012, the U.S. Supreme Court largely upheld the law. As a result, it will now be implemented with benefits for all Americans."
My Opinion
UnitedHealth Group is ready, and the law is in place. They have the ability to execute and the programs to fill just about every need. Not only that, but the company also pays shareholders a dividend to hold their stock.
With a miniscule payout ratio of 14%, as well as dividend increases of more than 400% since 2010, even with a yield of just 1.60% right now, I can see wonderful dividend growth as well as the anticipated capital appreciation in the years to come.
The time to buy this stock might be right now.
For REITs to consider in the health care sector, read: 3 Solid REITs For Dividends And Growth
Disclosure: I have no positions in any stocks mentioned, but may initiate a long position in UNH over the next 72 hours. I wrote this article myself, and it expresses my own opinions. I am not receiving compensation for it (other than from Seeking Alpha). I have no business relationship with any company whose stock is mentioned in this article.