Priced at its lowest valuation in a decade, we believe Berkshire Hathaway (NYSE:BRK.A) offers a compelling risk / return profile for long-term investors. While we don't see an immediate near-term catalyst for re-valuation, investors will benefit in the meantime through increasing book (and intrinsic) value, which should reasonably grow at around 10% per year, if not better. Combined with multiple expansion, investors could see mid-teens returns over a longer period of time.
Price to Book Ratio
Buffett himself has long indicated that Berkshire's book value per share is a useful proxy for intrinsic value, and that the ratio between book value and intrinsic value does not vary considerably over time. Here is the language from Berkshire Hathaway's 2011 annual report:
"We have no way to pinpoint intrinsic value. But we do have a useful, though considerably understated, proxy for it: per-share book value. This yardstick is meaningless at most companies. At Berkshire, however, book value very roughly tracks business values. That's because the amount by which Berkshire's intrinsic value exceeds book value does not swing wildly from year to year, though it increases in most years. Over time, the divergence will likely become ever more substantial in absolute terms, remaining reasonably steady, however, on a percentage basis as both the numerator and denominator of the business-value/book-value equation increase." Source: Berkshire Hathaway 2011 Annual Report.
A quick examination of Berkshire's historical price to book ratio clearly shows that Berkshire is currently trading at one of the lowest levels in the past 10 years.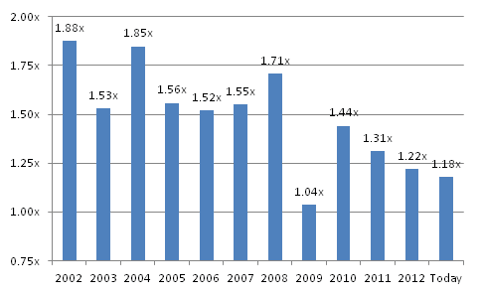 Source: Company financials and Road Less Invested analysis. Market price data from finance.yahoo.com. See Note 1 below for explanation of calculations. Data as of 12/3/12.
During this 10 year period, Berkshire's Price to Book ratio averaged approximately 1.5x, but today the company is trading just under 1.2x. Since the end of 2007, Berkshire's book value per share is up approximately 43% with its share price down slightly over the same period. In other words, its gotten a lot cheaper on a price to book basis.
What we find most remarkable about today's valuation is how it compares to Berkshire's value near the market bottom in March 2009. At first glance it appears that Berkshire reached a low of approximately 1.0x book during the crisis. However, that 1.0x figure is based on a stale balance sheet, namely 2008 year end book value. Between 12/31/2008 and March 9, 2009 the S&P 500 dropped over 25% (from 903.25 to 676.53)! Berkshire's equity, debt and derivative portfolio would have been impacted dramatically by this market move (the equity puts that Berkshire had previously sold alone would have become substantial liabilities).
While you could go through the challenging exercise of estimating Berkshire's book value per share as of March 9, 2009, we do not believe this is necessary. We now have perfect knowledge of book value on March 31, 2009. By this time the market had begun recovering (the S&P 500 was up 18% from its low and down "only" 11.7% from year end 2008). Assuming perfect knowledge of Berkshire's balance sheet on March 31, 2009, Berkshire traded at 1.32x book on that date (3/31/09), or above where it currently trades today. Based on rough analysis, we believe that Berkshire trades on a price to book basis today that is in line with how it traded in early March 2009 if you adjusted for market prices. This would represents its lowest valuation in a decade and a level only seen during the absolute bottom of the financial crisis. In other words, downside risk from a value standpoint is very low.
Why The Discount
We believe there are two primary reasons that Berkshire is trading at a discount to its historical valuations: 1) interest rates and 2) succession issues. While there is some validity to interest rate argument, we believe succession is a red herring. Here are our thoughts on both.
Low Interest Rate Environment
The low interest rate environment is currently impacting the performance and valuations of both banks and insurance companies as their ability to earn attractive returns on capital is significantly handicapped. For insurance companies the impact of low interest rates is particularly acute. Not only do insurance companies earn less on their investments, but the value of "float" as a source of financing is diminished. While we are not economists, we see no reason to believe the interest rate environment will change in the near-term. However, interest rates in the long run will likely rise causing valuation to normalize with historical levels. In the mean time, owners of Berkshire benefit from its diversified portfolio of high quality businesses and growing intrinsic value.
Another point on interest rates. There is always the possibility that the U.S. is entering a Japan like phase with low interest rates and stagnant growth for the foreseeable future. In this case, a re-valuation arguably might not occur. However, Berkshire has a portfolio of high quality non-insurance businesses and has demonstrated the ability to earn attractive returns and grow its book value in good times and bad. In this case, the stock price is likely to move in line with a growing book value per share. Even in this "downside" environment, we believe returns will be satisfactory. Don't let the tail wag the dog; insurance today represents only about one-third of earnings power.
Succession
Much has been said and written about the age of Warren Buffett and who will be the next CEO of Berkshire Hathaway. Investors and reporters analyze each word of Berkshire's annual letters for clues of who will be the next CEO. We believe this issue is a red herring for three reasons:
Berkshire's structure is extremely decentralized, with very high quality businesses being run by very high quality management. Buffett no longer at the helm does not change this fact. In fact, we believe Buffett's greatest legacy will be the portfolio of high quality businesses and managers he has assembled.
Perhaps Buffett's greatest skill as a businessman and investor has been choosing who his partners are. We have no reason to believe the partner he and his board have selected to be CEO is not of the highest quality.
Timing of a succession event is uncertain. If we knew that Buffett would retire tomorrow, then maybe we would consider waiting for the announcement and price reaction to purchase. However, there is no way to know when this will occur. If Buffett stays at the helm for 5 more years and book value continues to grow at 10% per year it will be fully 60% higher at that time. Even a sharp dip at that point will likely not approach the value you are offered today by Mr. Market. We may never see this valuation level again. In fact, if you are waiting for Buffett to retire, I would caution you this: how many other people are out there waiting around as well?
In our view, succession is a non issue. We recommend you buy today. If succession provides the opportunity to buy later at a better price then buy some more.
Good Times and Bad - What We Expect
While the heady days of 20% plus growth in book value per share may be gone, Berkshire Hathaway has continued to generate attractive returns though good times and bad. Over the 10 year period between 2001 and 2011, Berkshire Hathaway increased its book value per share at a CAGR of just over 10%. If you look at the average book value per share between 2009 and 2011 and average book value per share between 2001 and 2003, you will also find a CAGR of approximately 10% over this 8-year period (averages help smooth out year to year fluctuations). Even during the period 2007 till 2011, book value per share grew at a respectable CAGR of 6.4%. Note, that this period centers on the financial crisis and Great Recession. In fact, during the 10 year period discussed, Berkshire experienced only one year in which book value per share decreased (2008). The chart below shows Berkshire's book value per share over time.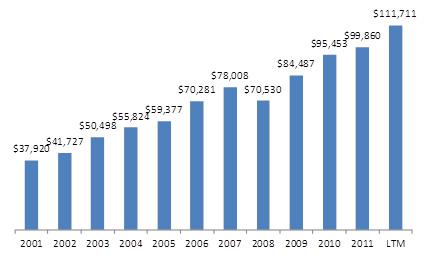 As we previously discussed, Berkshire's book value per share is a proxy for intrinsic value per share. We believe that Berkshire will continue to increase its book value per share at a long-term rate of approximately 10% per year (or significantly better if markets and the economy improve), and investors should benefit in lock step. In fact, through the first 9 months of this year Berkshire had increased its book value per share nearly 12%. During a sustained down cycle, increases may be more modest but not likely too far below the 6.4% experienced between 2007 and 2011. Today, Berkshire's non-insurance businesses provide an over 6.2% return on total ending book equity by themselves. Note, when we indicate that we expect book value per share to increase at 10% per year this is not indicative of any one given year, but rather what we would expect over a long period of time such as 10 years.
One final thought on bear markets and recessions. While the market value of Berkshire's marketable securities and the performance of its industrial businesses will surely decline if the U.S. enters recession, historically, Berkshire has generated significant value in down markets. As seen in the financial crisis, when times get tough companies often have no choice but to turn to Buffett for a bailout or to be bought. This fact has produced significant opportunities for Berkshire to invest or outright buy companies at attractive prices. In this manner, Berkshire has historically been almost agnostic to the business cycle as it tends to benefit when others are struggling. While in the short-term investors might not see this benefit in Berkshire's share price, in the long-term they will. Berkshire has always rewarded patient investors.
Summary and Expected Returns
Berkshire currently trades at a decade low valuation on a price to book basis, and in line with valuation levels seen at the markets' bottom in March 2009. We believe this provides long-term investors an attractive entry point with limited downside risk. We expect Berkshire to continue to grow its book value per share at approximately 10% per year or better. An eventual "normalization" of its trading value to a 1.5x price to book multiple would lead to annual returns of 15.4% or better over the next five years. Finally, we believe a sustained downside scenario should still provide for at least 5% annual increases in book value per share. In the event that valuation does not "normalize", we see annual returns in this downside case of at least 5% per year over the long-term. We believe this is an extremely compelling risk / reward proposition in the current market environment for long-term, conservative investors.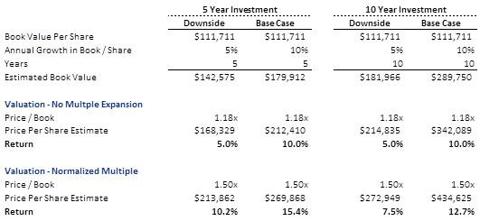 Returns illustrated above are hypothetical and are based on BRK-A stock price of $131,890 as of December 3, 2012.
Notes
Note 1: For each year we are showing book value as of the previous year end and price as of 3/31 of that year, with exception of 2009 which is shown as of March 9, 2009. For example, the data point labeled 2012 this represents March 31, 2012 price and December 31, 2011 book value. Data point labeled "Today" is based on share price as of 12/3/12 and 9/30/12 book value per share.
Disclosure: I have no positions in any stocks mentioned, but may initiate a long position in BRK.A, BRK.B over the next 72 hours. I wrote this article myself, and it expresses my own opinions. I am not receiving compensation for it (other than from Seeking Alpha). I have no business relationship with any company whose stock is mentioned in this article.