There are a lot of high-dividend yielding stocks out there right now. A few of these companies fall into the category of a Mortgage Real Estate Investment Trust (mREIT). In simplest terms, these companies borrow money from investors and re-invest that money in mortgage bonds, mortgages or other real estate investments.
An mREIT makes money by borrowing at very low short-term borrowing rates and taking advantage of higher long-term rates on the yield curve. With today's very low interest rates, the yield curve has dramatically boosted earnings and yields on these stocks. Many of them have consistently paid over 10% dividends for several years, since the financial crisis took hold.
The risk with these companies falls into the category of interest rate shocks, or a dramatic spike in short-term borrowing costs. Because their portfolios are loaded with fixed income securities, we also know that this could cause a valuation adjustment on their investment holdings, as interest rates and fixed income prices have an inverse relationship.
So, if you are looking to capture dividend yield and would like to take the risk of owning these mREITs, consider a dividend collar approach. A dividend collar marries two different options positions on a stock, while the holder of the stock collects the dividends paid.
The first position is a simple covered call option trade. With each one hundred share block of stock that is owned, sell an out-the-money call option against your shares. If the stock price rises above the strike price of the call (point B in the chart below), your shares will automatically be sold, possibly with a nice profit. In return for giving up your appreciation rights, you will receive a time value premium on the option, which would boost your portfolio yield.
The second options position is a hedge against losses. Purchase a protective put option on your shares to hedge against risk. If sudden market shifts take a negative effect, you'll lock in a selling price that is the strike price of the put option (point A in the chart below). Using the proceeds from the sale of the call option, you should be able to purchase this put option at little or no cost, in the best-case scenario.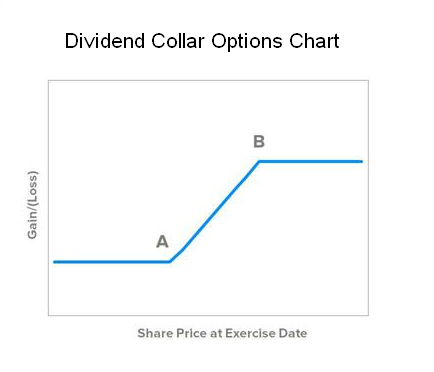 Real life examples of this trade can be seen in stocks like Annaly Capital Management, Inc. (NYSE:NLY), CYS Investments Inc (NYSE:CYS), and American Capital Agency Corp. (NASDAQ:AGNC). Professional investors are well aware of the risks associated with owning these REITs. So, when analyzing the option trades, you'll notice that the associated put options have a richer time-value premium than the call options. To make this trade work, you must commit to selling multiple call options over several options expiration periods to cover the premium of the long-term put option being used as a hedge.
Annaly Capital Management, Inc. (NLY) has a dividend yield of 13.6%. To capture this dividend using a collar approach, one might consider selling the $15 January 2013 call option for a premium of $0.15. Using the proceeds, a put option at the $12 strike price with a July 2013 expiration could be purchased for $0.46. If shares rise above $15, the call option would most likely be executed bringing the trade a profit of $0.05, which is not the desired result. The desired result is to lock in a steady flow of dividends while eliminating risk. The put option provides this insurance against loss. After the January options expiration, another call option could be sold to bring in additional premium to offset the cost of the hedge. The next dividend should be awarded at the end of December.
CYS Investments Inc (CYS) could employ a similar strategy using the January 2013 $13 strike price call option, the June 2013 $10 strike price put option, and additional call sales as the options expire. Again, the goal is to reduce risk, while collecting a dividend. The dividend yield for this company is over 14%, with the next dividend awarded in mid-December.
American Capital Agency Corp. investors should consider selling the January 2013 $33 strike price call option and buying a much longer January 2014 $27 put option. The $0.30 bid price on the call option does not pay for the put option ask price of $3.00 immediately, but when call options are consistently sold over a period of several months, the cost of the put option will drop significantly. This company will award the next dividend in the second half of December and the dividend yield is over 15%.
There are lots of reasons to consider hedging against rising rates. With fiscal cliff uncertainty threatening U.S. credit and world reputation, U.S. borrowing rates may see a spike going into 2013. Inflation may also rear its ugly head as the economy appears to be on the mend.
Disclosure: I have no positions in any stocks mentioned, and no plans to initiate any positions within the next 72 hours. I wrote this article myself, and it expresses my own opinions. I am not receiving compensation for it (other than from Seeking Alpha). I have no business relationship with any company whose stock is mentioned in this article.