U.S. equities have recovered nicely, taking the S&P 500 back to its 61.8% retracement level before starting to consolidate and seeing some weakness here recently. While the U.S. markets have been doing fairly well on an absolute basis, they have been hitting new lows in relation to the rest of the world.
Today we are going to take a look at the ratio between the S&P 500 SPDRs ETF (NYSEARCA:SPY) and the Vanguard All-World ex. US ETF (NYSEARCA:VEU), which we last talked about in late-July. With this relationship we can see which is outperforming, the S&P or essentially everyone else. SPY is outperforming (either gaining more or losing less) VEU when the green line is rising, and the opposite is true when it is falling.
In late July we saw the ratio between these two ETFs slightly exceed the previous high set in May. However, the Relative Strength Index did not confirm this new high, diverging from price and working off its overbought levels as it dropped below 70.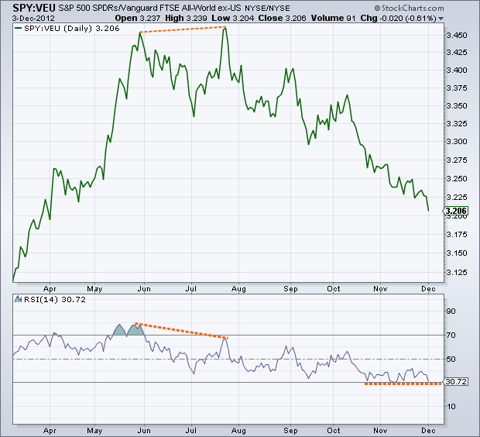 As the relationship between SPY and VEU continues to fall and puts in lower lows, momentum is beginning to diverge once again. The RSI indicator has continued to bounce off the 30 level, practically refusing to become oversold in the traditional sense. This could be a sign that the mutli-month under-performance that's taken place for U.S. equities could be ready to shift.
Even though it appears we are experiencing a change in momentum, I view that as just an early warning sign. I will be looking for the ratio between SPY and VEU to start some kind of consolidation to get confidence in the shift in relative performance between global and U.S. equities.
Disclosure: I have no positions in any stocks mentioned, and no plans to initiate any positions within the next 72 hours. I wrote this article myself, and it expresses my own opinions. I am not receiving compensation for it. I have no business relationship with any company whose stock is mentioned in this article.
Additional disclosure: Do not construe anything written in this post or this blog in its entirety as a recommendation, research, or an offer to buy or sell any securities. Everything in this post is meant for educational and entertainment purposes only. I or my affiliates may hold positions in securities mentioned in the blog. Please see my Disclosure page for full disclaimer.