Stocks To Trade
Today, we are looking at an earnings trade in Big Lots (NYSE:BIG), longs in Sears Holding (NASDAQ:SHLD) and Netflix (NASDAQ:NFLX), and shorts in Transocean (NYSE:RIG) and Baidu (NASDAQ:BIDU).
For an earnings trade, we are looking at Big Lots today. The company reported some solid earnings today, and we like BIG moving forward from here. The company reported better-than-expected earnings with EPS at -0.10. Revenue was at $1.1B. Expectations were for -0.25 EPS and $1.14B. The market cheered the earnings, sending the stock up over 10% on the day. The other news was that CEO Steve Fishman would retire once the company had found a replacement. The big news, though, was that BIG increased earnings expectations to 1.92-2.10 for its Q4, beating analysts' expectations of 2.02. That news also helped to send shares soaring, and we now expect the company to see a solid bottom put in place at $27. Right now, we can sell the 27.50/25 bull put spread for 9% gain, which is a safe bet as the stock has not failed $26.70 all year. The latest round of earnings should kick start a cheap stock with a PE of 10. The upward momentum is not done for BIG, but you can take a safe play in the above spread.
Trade: BIG, Jan19, 27.50/25 Bull Put Spread
Max Gain: 9%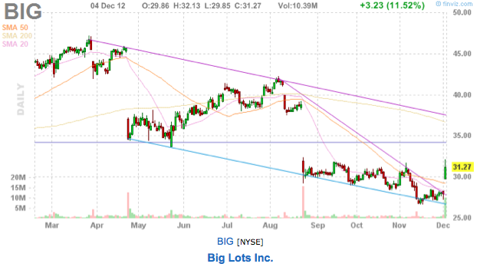 For longs, we like the looks of Sears Holding and Netflix. SHLD is looking like it's starting to put in a bottom, and it could be ready to breakout with a very strong short float. What's the catalyst for SHLD? The company has had previous support at 41-42 throughout the year and seems to be holding up here. With a strong Christmas Rally expected for retail, if SHLD can get going, it could take off. The reason is that SHLD has significant short float at 10% and if it gets momentum, that would create a short squeeze. The company has not failed $41 on three attempts this year, and we like the stock at this bottoming area. The stock is super cheap with a 0.1 P/S ratio and 1.2 P/B ratio, and the level to watch for a breakout is $45, where the company had a support pivot point. If that breaks, we could see SHLD fly.
Netflix is also looking very enticing after an announcement today that it has set a deal to become the sole home video streaming company for Walt Disney (NYSE:DIS). This news was huge for NFLX, sending shares soaring. It was the type of news that really gives fundamental strength to NFLX and gives it an economic moat it has been lacking. As competition continues to rise with Coinstar's (NASDAQ:CSTR) new Redbox Instant and Amazon's (NASDAQ:AMZN) instant streaming service, NFLX has set itself apart from the competition with the Disney deal. We like this deal as a solid catalyst moving forward, and it gives the company a great bottom. NFLX showed a nice bottom at $75, and has good support at the 50-day MA at $72. We like using that area for a bull put spread. We can still make 25% on the 72.50/70 bull put spread for Jan19, and we see that area as very safe for NFLX moving forward.
Equity Trade: SHLD, Long
Breakout Point: Break of 45.00
Options Trade: NFLX, Jan19, 72.50/70 Bull Put Spread
Max Gain: 25%
For shorts, we like the looks of Transocean and Baidu. Both companies are looking weak right now. RIG looks like it could breakdown on a move to the downside, and Baidu is a safe bet for a bear call spread.
RIG has been stronger as of late, but the stock has been limited in its upside by a strong 200-day MA resistance line that has been holding it back for some time. Further, if the stock weakens some, it could lose the key 50-day MA, as well as support at $45. What might cause that kind of move? Oil prices declining would hurt RIG a lot, which could be caused by a fiscal cliff scenario. In that situation, the damage to the economy would definitely hurt demand for oil, and stocks with a lot of exposure to oil prices would also be hurt. While RIG is a driller and not a refiner, the company could see a lot of backlash. We mention this as a potential short if it fails those levels because they are key. $45 has held since July with multiple tests. A short below that level would work well.
BIDU has been carved up as competitor Qihoo 360 (NYSE:QIHU) has begun to challenge BIDU's reign as the top search engine in China. The issue for BIDU is that the rising prices of doing business are hurting margins that have seemed rock solid, causing investors to flee. Is the end in sight? 90 is a key mental level. It held up today, but the fundamental picture outweighs the technical. With a 21.5 PE, the stock is still trading at a premium, and with news out today that the SEC is charging several Chinese auditors, the entire Chinese Internet industry could see a lot of devaluation. Further, QIHU announced several new search engine categories, including Maps and Music, that threaten BIDU as well. There is not a lot of positive news going on here, and we like a conservative bear call spread, as the stock is volatile.
Stock Trade: RIG, Short
Breakout point: Break of 45.00
Options Trade: BIDU, Jan19, 105/110 Bear Call Spread
Max Gain: 10%
Tomorrow's Outlook
The market will get an important batch of economic data tomorrow that should provide some catalysts. The big news is the ADP Employment Change report. The market is definitely anxious to see how Superstorm Sandy affected employment trends, and this report will be a first look. The report is expected to show 125K jobs were added in November. That dips from the 158K added in October. If that number beats, the market could see a strong rally. At the same time, a miss would be detrimental to the market, as it already faces fears about the fiscal cliff. Besides employment data, look for the market to continue to react strongly to any news on the fiscal cliff. We could see more discussion about the cliff from both sides of the aisle, and that should create some headlines for the market to move on tomorrow as well.
Charts courtesy of finviz.com
Disclosure: I have no positions in any stocks mentioned, and no plans to initiate any positions within the next 72 hours.
Business relationship disclosure: The Oxen Group is a team of analysts. This article was written by David Ristau, one of our writers. We did not receive compensation for this article (other than from Seeking Alpha), and we have no business relationship with any company whose stock is mentioned in this article.