Long seen as a virtual Wal-Mart (NYSE:WMT), Amazon (NASDAQ:AMZN) has emerged as a retail giant with a breakout business model and revolutionizing competitive strategies. It has been diversifying its range of offerings overtime and is centered on consumers as well as products. With its low-cost business model (because of no reliance on brick and mortar structures), key advantage of no federal or state tax on transactions and innovative ideas like same day delivery, AMZN seems all set to kill many "sung" as well as "unsung" business heroes of the contemporary world.
Several strengths of AMZN can play a key role in killing many competitors. One of the very key strengths is its sound operational performance. With a revenue growth of 8% and a heavy reliance on research and development, AMZN has become the world's largest online retailer. However, excessive spending on R&D has made its operations suffer from declining profitability as shown in the figure below. The company hopes to be able to monetize these expenses in the coming future.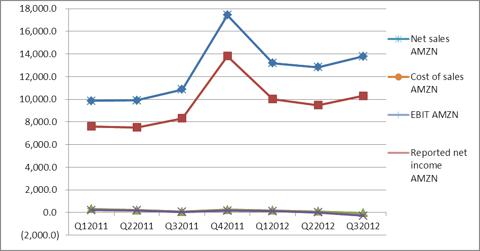 AMZN seems to be getting overvalued. If analyzed relatively, AMZN is trading at a very high P/E compared to its competitors. AMZN is now a stock with growing top line but has a stagnant/falling bottom line. The stock is trading at a P/E multiple of 138x. We feel that it does not deserve such high valuations given company's inability to grow its bottom line. AMZN is slightly overvalued even if one uses its historical average P/E multiple of 164x.
A Relative Analysis Based on Multiples

Company

Trailing P/E

Forward P/E

PEG

P/S

EV/EBITDA

Amazon

138.00

1.99

52.44

eBay (NASDAQ:EBAY)

18.03

19.28

1.56

5.08

16.20

Overstock.com (NASDAQ:OSTK)

148.73

18.28

1.35

0.33

16.73

Liberty Interactive Corporation (LINTA)

18.41

15.19

1.54

1.05

8.85

Apple (NASDAQ:AAPL)

13.26

10.10

0.58

3.52

8.91

Best Buy Co (NYSE:BBY)

6.04

-0.64

0.09

1.86

GameStop Corp (NYSE:GME)

7.63

0.86

0.36

3.56

Competitor Average

49.61

12.75

0.88

1.74

9.35

AMZN Forward EPS

$1.76

AMZN P/E Historical Average

164

AMZN Target Priced based on historical p/e

$242.88
Although analysts are expecting AMZN to grow by 35% on average for the next five years. However, its overvalued nature does not make it a buy. A better strategy will be to sell short its victims. Netflix (NASDAQ:NFLX) and BBY are its key victims.
Best Buy:
While its business model has long enjoyed a dual advantage of online as well as physical presence, BBY is now struggling because of its worsening operational performance and fading competitive advantage. Though results of Q22012 rang alarm bells, Q32012 didn't prove any better. The company witnessed a drop in revenue by 95bps while the cost kept mounting by 92bps. This resulted in 6.37% shrinking gross margins.
To save the sinking ship, Hubert Joly, the new CEO, came up with a revamping strategy for BBY. Attempts for integrating the online forum with brick and mortar performance were being made. However, interim results have not been favorable and Joly faced more difficulties than expected. While the declining margins are a big issue for the company, the strategic problems are even worse. Moreover, the emergence of greater competition this year seems to be the last nail in the coffin of BBY. Competitors like Wal-Mart and Target (NYSE:TGT) have developed their own online forums creating further challenges for BBY.
The "final nail" seems to have come from AMZN. Despite the significant investment on brick and mortar infrastructure, BBY has reported a problem of mystery shoppers. Because of more awareness about online forums customers visit physical stores of BBY to see a product. Then they go online at AMZN to buy the product at cheap rates. While BBY has suffered a lot online because of AMZN, this new issue poses the most significant threat.
Netflix:
With an ARPU of $10.6 and a subscription cost of $20.64, NFLX is an online TV content seller with major issues in its core strategies. For Q32012, NFLX has not been able to add many subscribers as promised. A more comprehensive financial analysis of the company tells that although total revenue has gone up by 83% since 2010, the gross profit has increased by 30% only. This is mainly because of the high subscription costs which have risen by 132% since 2010. This has also resulted in a reduction in the operating margin by 72% and the net income by 76%.
The current losses mainly exist because of a lower ARPU and higher per unit costs as compared to its key competitor AMZN. To come out of the crisis, NFLX needs to increase its revenue per unit which can either be done by increasing the number of subscribers or by increasing per unit price. The company seems to have failed in using the first option. While it provided an estimate of 7 million customers at the beginning of the year, it has only announced an addition of 1.65 million customers for the final quarter, reducing the original estimate from 7 million to 5.1 million. The second option also seems to be non-pragmatic. AMZN is offering lower prices on monthly packages for customers, making it difficult for NFLX to increase price for a higher ARPU. NFLX's only advantage was that it used to have a wide-range of media lead over AMZN. However, AMZN has now entered into contracts with content providers snatching much of what NFLX was offering.
Our Stance:
Although we think a part of AMZN's competitive threat is already reflected in prices of BBY and NFLX, there are serious flaws in their business models. Therefore, selling on rallies can be a very good strategy. Also, the short ratio of BBY (5) and NFLX (2.5) is not that high and still presents a selling opportunity.
Disclosure: I have no positions in any stocks mentioned, and no plans to initiate any positions within the next 72 hours.
Business relationship disclosure: The article has been written by Qineqt's Retail Analyst. Qineqt is not receiving compensation for it (other than from Seeking Alpha). Qineqt has no business relationship with any company whose stock is mentioned in this article.