Almost three months have passed since the Federal Reserve announced a third round of quantitative easing. In that time, a Presidential election and now audible negotiations over the Fiscal Cliff have pushed QE3 to the backburner of media headlines.
The lack of impact shows immediately in the path of the U.S. dollar index (NYSEARCA:UUP). The chart below shows that the U.S. dollar index has essentially churned and gone nowhere over the past three months, a path that includes what now looks like a false breakout above the 200-day moving average (DMA).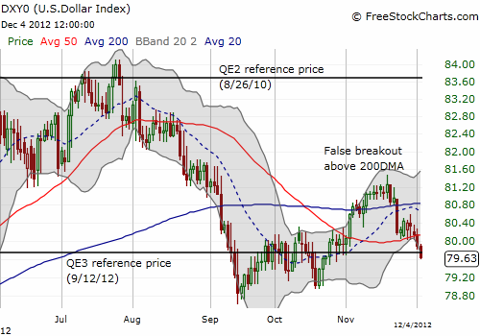 The U.S. dollar returns to its QE3 price one more time
Source: FreeStockCharts.com
This churn undermines most attempts to explain the dollar's weakness at one time and its strength at another time, but what is certain is that the Federal Reserve is just getting started on rebuilding its portfolio of mortgage-backed securities (MBSs) through QE3. Data from the St. Louis Fed show that the value of the Fed's portfolio of MBSs stabilized in 2012 after about 18 months of decline from the 2010 peak. At a purchase rate of $40B a month, the Fed has a very long way to go get back to its peak holdings (all else being equal).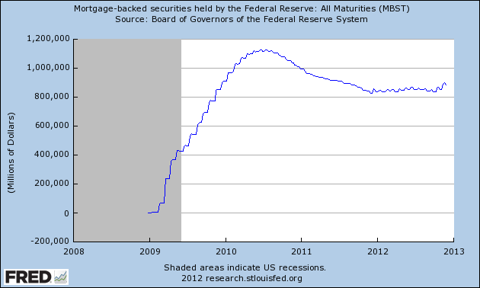 Mortgage-backed securities held by the Federal Reserve (as of December 4, 2012)
Source of graph: St. Louis Federal Reserve (NASDAQ:FRED)
Given the relative trickle of purchases, it is not clear that the dollar will weaken as a direct result of MBS purchases in QE3. For now, I prefer to look at the euro (NYSEARCA:FXE), a little over 50% of the value of the dollar index, as a stronger driver.
The market has enjoyed a prolonged reprieve from euro-panic as tail risks melt away in the face of forceful promises from the European Central Bank (ECB) and continued progress on managing Greece's debt burdens. Even multiple downgrades of European sovereign debt - the latest was a downgrade of France from AAA to Aa1 - have barely slowed down what is starting to look like a major breakout of the euro over the U.S. dollar.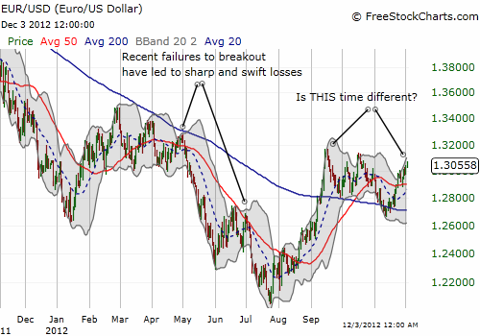 The euro toys with another attempted breakout
Source: FreeStockCharts.com
The euro has been in recovery mode since it reached 2012 lows in July. A failure here to break out could lead to another swift sell-off as complacency once again gives way to fear. It will all depend on the next catalyst.
Be careful out there!
Disclosure: I have no positions in any stocks mentioned, and no plans to initiate any positions within the next 72 hours. I wrote this article myself, and it expresses my own opinions. I am not receiving compensation for it (other than from Seeking Alpha). I have no business relationship with any company whose stock is mentioned in this article.
Additional disclosure: In forex, I will likely buy EUR/USD on a breakout.