Teen and twenty-something apparel retailer Urban Outfitters (NASDAQ:URBN) reported mediocre third quarter results. The company grew total revenue 14% year-over-year to $693 million, roughly in-line with consensus expectations. Earnings were a penny short of consensus, coming in at $0.40 per share, a 21% increase. We find its valuation to be stretched at current levels and peg its fair value below $30.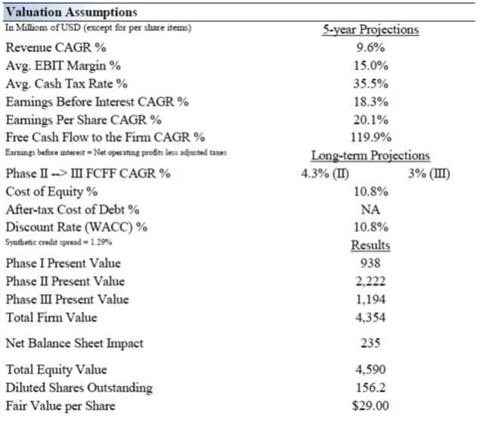 Source: Valuentum Securities, Inc.
During its most recently-reported quarter, gross margins improved 220 basis points year-over-year to 37.6%, but we weren't incredibly impressed with profitability. We think a lot of the increase came from moving Free People to a more heavily direct-to-consumer business rather than a wholesale business, though management also noted that discounting was less prevalent during the quarter. Performance across the brands diverged, with comparable retail net sales at Free People up 24%, up 7% at Urban Outfitters, and up just 1% at Anthropology. However, it's important to note that online sales are driving the majority of this growth, as same-store sales actually fell 1%. While the company likes to assert that it doesn't matter what happens in the stores-management will stop breaking the figure out in 2014-we think it is material. If stores are losing momentum, which isn't the case at most retailers, we think the brands could also be losing momentum.
Higher online spending led to higher gross margins, but SG&A costs also grew, increasing 70 basis points year-over-year to 24.1% of sales. We'll be watching to see if online investments are more accretive to the bottom line in the fourth quarter. The company offers free shipping for orders over $100 for most segments, which could hurt profitability to some degree. Going into the holiday season, comparable inventory is flat, while total inventories are up only 8% year-over-year. As we've seen from several other retailers, it appears the focus for this year's holiday season will be on maintaining gross-margin dollars rather than flooding stores with product at the end of the third quarter. We could see the company follow Macy's (NYSE:M) strategy of releasing new product during the holiday season to add some "freshness" into the store.
Overall, we aren't any more excited about the company following the quarter. Gross margins, though improving, are still down substantially from all-time highs, and are unlikely to fully recover, in our view. We like Urban's position as a mass-hipster retailer, but we think Free People could prove to be a trend rather than a new lifestyle brand. We think the holiday season will be telling about the brand's overall momentum, which we continue to have a negative stance on. Management revealed that same-store sales were down 2% due to average selling prices, and 3% due to units, which suggests some promotional activity that could continue into the holiday season. We believe shares of the retailer are overvalued at this time, and we hold a put option on the company in the portfolio of our Best Ideas Newsletter.
Disclosure: I have no positions in any stocks mentioned, and no plans to initiate any positions within the next 72 hours. I wrote this article myself, and it expresses my own opinions. I am not receiving compensation for it (other than from Seeking Alpha). I have no business relationship with any company whose stock is mentioned in this article.
Additional disclosure: URBN is included as a put option idea in our Dividend Growth Newsletter.