MusclePharm (MSLPD.OB) is a healthy lifestyle company that develops and manufactures nutritional supplements that address active lifestyles, including muscle building, weight loss and maintaining general fitness through a daily nutritional supplement regimen. The products are formulated through a six-stage research process using the expertise of leading nutritional scientists.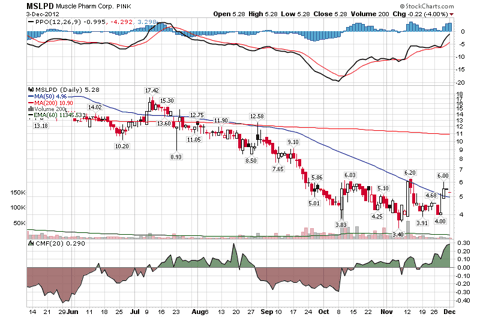 The Sports Nutrition and High Energy Supplement Market
The sports nutrition and high energy supplement market is comprised of sports beverages, sports food and sports supplements. According to BCC Research's 2008 Global Research Report, sports beverages maintain the largest market share, with approximately $24.9 billion in annual sales in 2007. The sports food segment had approximately $1.2 billion in annual sales and the sports supplement segment saw 2007 annual sales of approximately $1.1 billion. BCC projected that the sports supplement market would reach $2.3 billion by 2013.
According to BCC Research, the United States is the largest consumer market for sports nutrition products, with annual sales reaching approximately $22 billion in 2007, and projected sales of $29 billion in 2013. Western Europe and Japan are the second and third largest consumers. The key market drivers for sports nutrition products are taste, price, variety and brand loyalty. In recent years, the consumption of sports nutrition products has shifted to mainstream consumers who have become the key drivers of growth within the industry.
Sales & Distribution
The company sells its products both domestically and internationally. With respect to domestic sales, the company has three traditional distribution systems:
Approximately 41% of sales in 2011 were through a domestic Internet site named BodyBuilding.com, which is the largest online retailer of sports nutrition products in the United States. Body Building awarded MusclePharm the title of the "Breakout Brand," "Best Packaging" and "Best New Product for Assault" in 2011. At the 2012 Body Building Supplement Awards MusclePharm won "Brand of the Year," "Pre-Workout Supplement of the Year," and "Best Packaging of the Year." MusclePharm is now the number two best-selling brand on BodyBuilding.com, has two products in their top five best sellers, and eight products in the top fifty selling products out of over 14,000 SKU. In addition to BodyBuilding.com, the company also sells domestically through several distributors and over 100 Internet sites;
The company sells its products through traditional brick and mortar stores, and its products are carried in approximately 450 The Vitamin Shoppes outlets, over 5000 GNC stores, and in 400 Vitamin World retail stores;
The company has regional salesmen that support wholesale distributors like Europa, selling in up to 15,000 smaller retail or regional stores. The company also works with other large distributors who have begun to place the company's product in small retail stores and gyms across the United States. Internationally, the company is expanding rapidly into Central America, Mexico, Brazil, the Middle East, Europe, Russia, and the UK, and has Sportika Export as its international distributor that services over 120 countries.
In addition, the company just recently launched a partnership with Eurpac to distribute its line of products to U.S. military bases and stores all over the world.
Competition
The sports nutrition business is highly competitive. Competition is based primarily on quality and assortment of products, marketing support, and availability of new products. Currently, the company's main competitors are two private companies: Iovate Health Sciences [IHS] and Bio-Engineered Supplements and Nutrition [BSN], and two public companies: Optimum Nutrition and Herbalife (NYSE:HLF).
IHS is a nutritional supplement company that delivers a range of products to the nutritional marketplace. Headquartered in Oakville, Ontario, Canada, IHS's line of products can be found in major retail stores and include such brands as Hydroxy-Cut, Cell-Tech, Six Star Nutrition.
BSN is also a sports nutrition leader whose top products include No-Explode and Syntha Six Protein.
Optimum is a wholly owned subsidiary of Glanbia Nutritionals (OTC:GLAPF), an international nutritional ingredients group. Glanbia acquired Optimum in 2008 for $315 million. Optimum owns and operates two brands of nutritional supplements (Optimum Nutrition and American Body Building), providing a line of products across multiple categories.
Herbalife announced on July 7, 2011 the U.S. launch of the Herbalife24 product line, a comprehensive performance nutrition program designed to meet the nutritional needs of the 24-hour athlete. Herbalife24 consists of seven products that allow athletes to customize their nutrition program based on their specific sport, day-to-day needs, and training demands. The Sports and Energy category accounted for 5.4% of Herbalife's sales as of September 30, 2012. Herbalife's net sales were $1.0 billion for the third quarter 2012 which makes Herbalife's Sports and Energy category sales worth $54 million for the third quarter.
MusclePharm intends to compete by aggressively marketing its brand, emphasizing its relationships with professional athletes, and maximizing its relationships with those athletes, retail outlets and industry publications that align with its vision. The company also touts the strength of the science behind MusclePharm products, as this is a key point of difference.
Financials
MusclePharm's sales increased approximately $14.1 million or 318% to $18.6 million for the three months ended September 30, 2012, compared to $4.4 million for the three months ended September 30, 2011. The increase in sales was due primarily to increased awareness of the company's product brand. Since inception, the company has focused on an aggressive marketing plan to penetrate the market. As such, significant promotional expenditures have been made to increase product sales through adding new customers and expanding product line. The company has hired additional sales and marketing staff along with adding new products in an effort to expand its customer base.
Another growth area was nutritional product sales in international markets. International sales are included in the results of operations and increased approximately $3.5 million or 502% to $4.1 million for the three months ended September 30, 2012, compared to $0.7 million for the three months ended September 30, 2011.
Here is a table with the highlights of some of the key metrics:
| | | | |
| --- | --- | --- | --- |
|   | Q3/2012 | Q3/2011 | change |
| Net sales | $18.6 million | $4.4 million | 318% |
| International sales | $4.1 million | $0.7 million | 502% |
| Gross profit | $4.1 million | $0.5 million | 690% |
| Gross profit % | 22% | 12% | 83% |
The company had a net loss of $6.1 million for the three months ended September 30, 2012. The net loss was primarily attributable to the company's aggressive plan to raise additional capital and retire warrants and existing debt which resulted in increased expenses during the third quarter. Because almost all of the company's outstanding warrants were converted into common stock during the third quarter of 2012, the company does not expect such significant charges per quarter for interest expenses, changes in fair value of derivate securities or losses on settlement of accounts payable and debt, and the resulting net expenses should be significantly lower going forward.
Cash provided by operating activities was $0.3 million for the nine months ended September 30, 2012, as compared to cash used in operating activities of $4.1 million for the nine months ended September 30, 2011.
Over the longer term, MusclePharm's sales growth has been very impressive since 2009 as shown in the table below:
| | |
| --- | --- |
| Year | Revenue |
| 2012 (outlook) | $70 - $75 million |
| 2011 | $17.2 million |
| 2010 | $3.2 million |
| 2009 | $1.0 million |
Risk Factors
For the nine months ended September 30, two customers accounted for approximately 49% of the company's net sales. The company's largest customer accounted for 39% of the net sales. There is the risk of losing either one of these customers significantly impacting the bottom line and as mentioned before it is an intensely competitive industry.
The company's accounts receivables were $5.5 million as of September 30. Approximately 48% of the accounts receivables were from one customer, so again another risk of concentration in one primary customer.
The company's cash position is currently $0.6 million and its total debt is $4.0 million. It is likely that the company needs to issue more shares in the future to raise capital.
Conclusion
The stock has a $11.25 price target from the Point and Figure chart. There have been three insider buy transactions and there have not been any insider sell transactions this year. All executive officers and directors as a group own 23.09% of the company. I am expecting the company to be profitable after it reaches $100 million in revenues sometime next year. If the company can double its sales next year, MusclePharm's revenues would equal Optimum's which generated $185 million in revenues in 2007 and was acquired for $315 million. MusclePharm's market cap is currently $15.3 million.
Disclosure: I have no positions in any stocks mentioned, but may initiate a long position in MSLPD.OB over the next 72 hours. I wrote this article myself, and it expresses my own opinions. I am not receiving compensation for it (other than from Seeking Alpha). I have no business relationship with any company whose stock is mentioned in this article.