Introduction
Have you ever heard of "The 39 Clues"?
Most people have not. But I think that may soon change.
"The 39 Clues" is an adventure novel franchise published by Scholastic (NASDAQ:SCHL). DreamWorks Studios (NASDAQ:DWA) has acquired the film rights to the series with the first film currently scheduled for a 2014 release. Scholastic is the publisher of bestselling phenomenons "Harry Potter" and "The Hunger Games", and "The 39 Clues" may have similar potential. Several books from the series have already appeared on bestseller lists. But because most investors do not read childrens books, awareness of the series remains low.
Because "The 39 Clues" series is currently flying under the radar, I believe that it represents substantial hidden value for Scholastic that could be unlocked when the first film is released.
I also believe that the market has interpreted recent news from Scholastic about underperforming sales of "The Hunger Games" unevenly. The share price of Scholastic, the publisher, has dropped, but the share price of Lionsgate, the "Hunger Games" film distributor, has not. A loss of interest in the franchise should impact both companies.
Taken together, these observations form a thesis for a pairs trade: Holding Scholastic stock through 2015 while shorting Lions Gate Entertainment (LGF) through LEAP puts.
I intend to demonstrate the blockbuster potential of "The 39 Clues" by examining current trends in the publishing market and Scholastic's unique school sales channels. I further intend to demonstrate that I have a terrible sense of humor by organizing the bulk of this article into 39 clues.
Background
Scholastic's stock fell as much as 20% on Wednesday, November 21st after they announced downward revisions to the company's fiscal 2013 earnings and revenue guidance.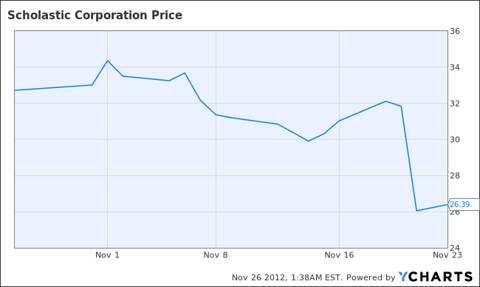 I find that the best time to buy a stock is often in the wake of a sharp correction, unfortunately, most sharp drops are simply a sign of more pain ahead.
To find the gems, I ask two questions: Was the drop caused by an identifiable problem? And if so, was it a one-time problem? If the answer to both questions is yes, I consider the situation a good buying opportunity.
This was Scholastic's explanation for the guidance reduction, from the 8-K filing:
"The Company has revised its estimates as a result of factors that include lower curriculum product sales in its Educational Technology and Services segment, which the Company believes is attributable to school district financial resources being devoted to train district educators and administrators in advance of the implementation of the Common Core State Standards, thereby reducing the availability of funds for higher margin educational technology products, as well as a delay in purchasing decisions due to continued uncertainty regarding the federal budget. The Company's outlook for its Children's Book Publishing and Distribution segment was also revised to reflect lower sales in its Book Club business generally, lower than anticipated U.S. sales of The Hunger Games trilogy, and the impact of Superstorm Sandy on the School Book Fair and School Book Club businesses in the Northeast."
So yes, there is an identifiable problem behind the drop. In fact, there are three causes.
The first cause, the impact of Hurricane Sandy, is clearly a one-time problem.
The second cause, lower curriculum sales, is a bit more troubling, but I believe it is also a one-time problem. The fiscal cliff should be resolved one way or another by the end of the year, and 45 out of 50 states have already adopted the Common Core standards. I believe that Scholastic's educational business should return when these uncertainties are removed. Long-term, Scholastic has a very wide moat around their educational business. The first series of clues shows the evidence of this educational moat.
The third cause of the lowered guidance, lower than expected sales of "The Hunger Games" series, is a temporary problem because the impact is limited to a single franchise. In addition to "The Hunger Games", Scholastic is also the US publisher of the "Harry Potter" series. The market may be undervaluing Scholastic because they are seen as a "two hit wonder", but I believe they have a repeatable formula for crafting blockbuster franchises. The second series of clues shows how the structure of the modern book market favors mega blockbusters and how Scholastic leverages their educational sales channel to create such blockbusters.
Scholastic's "39 Clues" series, in particular, is showing a lot of potential. Yet, reporting on the franchise has been scarce or non-existent in the financial media and in the company's own reports. Scholastic did not mention the series, or the planned films, in their most recent quarterly report. In previous reports, they have simply noted that the series is a print bestseller. The third series of clues show that the sales potential of "The 39 Clues" franchise is high.
The fourth series of Clues simply looks at some financial and valuation metrics for Scholastic.
But there is one big thing about the filing that does concern me. The potential weakness in the "Hunger Games", if it continues, could be a significant drag on earnings through 2015. This is because sales of the "Hunger Games" are expected to be strong revenue contributor over the next three years as the second, third, and fourth movies based on the series are released in November 2013, November 2014, and November 2015, respectively. For this reason, a hedge against "The Hunger Games" is desirable.
A short position in Lionsgate, the distributor of the "Hunger Games" films, provides this hedge. In fact, due to the more concentrated nature of the film industry a decline in the series is likely to hurt Lionsgate much more than it will hurt Scholastic; in the fourth quarter of 2014 and 2015 Scholastic will have multiple new titles and a deep backlist for sale at bookstores, but Lionsgate will only have one or two films playing in theaters. Lionsgate options can be written or purchased through January 2015. The fifth series of clues describes how Lionsgate puts could provide an effective hedge against any weakness specific to "The Hunger Games".
While riskier than the pairs trade, an unhedged long position in Scholastic would have a higher potential return and would still make sense with this thesis. The Lionsgate short position is intended purely as a hedge. I see no particular reason to short Lionsgate without the corresponding Scholastic position.
So, here are 39 things that clued me in to this thesis:
Series 1: Scholastic has A Wide Moat In The Schools
Clue #1: A Focus on Kids and Education
Unlike larger publishing companies, which have imprints covering all genres, Scholastic has maintained a focus on children's books and educational books since they were founded in the 1920's. This gives Scholastic a competitive advantage today as those categories are adapting to digital disruption much better than the rest of the industry.
Children's books, in particular, are growing rapidly as a category. The AAP reported that children's book sales were up 40.7% YOY in 2012.
Clue #2: The Book Fairs
Scholastic's competitive advantage is derived from a unique fundraising program that Scholastic has set up for schools throughout the country. Each year, Scholastic hosts over 120,000 Scholastic Book Fairs. The fundraisers make the schools happy and more likely to order supplies from Scholastic. They also gives Scholastic a unique opportunity to direct market their titles to 35 million students.
Clue #3: The Book Clubs
In addition to the book fairs, Scholastic also raises funds for schools and markets to students directly through the Scholastic Book Club program. Teachers provide Scholastic's catalogs of deeply discounted titles to their students.
Clue #4: Schools Are Bureaucratic and Decentralized
Scholastic's fundraising contracts with schools are naturally protected by bureaucratic inertia. A teacher seeking to switch vendors would need approval from district administrators, the school board, and possibly the PTA. While this isn't impossible at a single district, it is unlikely to happen simultaneously at hundreds of districts.
Clue #5: Teacher Discounts
Scholastic further stimulates sales of their titles by awarding teachers classrooms rewards points for purchases of future titles and classroom supplies. Forget polishing apples- free books are the best way to suck up to teachers.
Clue #6: Library Readings and Commercials
Scholastic has become so integrated into schools that school libraries have begun to stage readings of Scholastic titles in order to promote upcoming book fairs and stimulate book club sales. A relative of mine, who is a teacher, tells me that her school actually airs commercials produced by Scholastic.
Clue #7: Storia
Scholastic is one of the few publishers that actually has their own ebook platform opptimized for educational reading, the Storia app.
Clue #8: Finding the Most Talented Authors
Scholastic's various school programs don't just help them to market their own books. Since they carry some books from other publishers, it also helps them to identify talented authors early in their careers.
J.K. Rowling was practically unknown when Scholastic signed the US rights for her books in 1997, but the early sales for the first Harry Potter book were already strong.
And Suzanne Collins actually began her literary career at Scholastic as the head author of the "Clifford's Puppy Days" series of children's books.
Clue #9: An Edge In Editing
Another subtle benefit to Scholastic's involvement with the school system is that they have become influential over the subjective art of writing itself.
When editors working at Scholastic decide a word is being used incorrectly, they tend to be correct because they write a popular dictionary. When they decide a story is structured poorly, they tend to be correct because they create lesson plans on story structures.
Clue #10: Magazines, Lessons, and Software for Teachers
Scholastic further entrenches itself in the school system by providing additional services for the educational market. Scholastic publishes two magazines aimed at teachers. Scholastic Scope is about teaching the language arts, specifically, and Scholastic Classroom is a more general guide to classroom instruction. Scholastic also provides lesson plans, instructional materials, and educational software.
Series 2: The Modern Publishing Industry Favors Blockbuster Franchises- And Scholastic is Good at Creating Them
Clue #11: Rodents Survived When The Dinosaurs Died
The modern publishing industry is dominated by "The Big Six" publishers: Hachette, Macmillan, Harper Collins, Simon and Schuster, and the currently merging Penguin/Random House. Scholastic is well known, but they are still considered a dark horse overall.
Dark horse status can be a good thing in times of upheaval. Ebook sales are forcing publishers to renegotiate and revalue existing contracts, making a large backlist of non-digitized titles more of a liability than an asset. Scholastic's backlist is smaller than their competitors' backlists and consists largely of illustrated titles under less pressure to digitize. This gives Scholastic more freedom to focus on the future.
Clue #12: Two Is a Trend
In spite of their dark horse status, Scholastic was the US publisher of the bestselling book series of all time, "Harry Potter". And they are now topping their own record less than a decade later with "The Hunger Games". A pair of such successes is a clue that the company is doing something right and warrants further examination.
Clue # 13: Three Is Confirmation
While not quite as popular as "Harry Potter" and "The Hunger Games", "Diary of a Wimpy Kid" series has followed a similar path. With multiple titles and a movie tie-in, it has been on the New York Times bestseller list for children's series for 201 weeks. Since Scholastic published this series along with Amulet books, they now have three notches on the blockbuster belt.
Why does this keep happening? It is largely because competitors all face:
Clue #14: The Starfish Problem
According to marketing guru Seth Godin, modern authors face a growing starfish problem. Basically, authors cannot rely on online bookstores or ebookstores to effectively promote their title because there is too much competition in those venues. Since marketing campaigns for books are rare, publishers are finding it harder and harder to build awareness of their new titles.
But Scholastic, who markets titles directly to children in school, has found a way to bypass this problem altogether. This gives them a big advantage over other publishers who are must still rely on distributors to market for them.
Clue #15: Short Website Visits
The starfish problem is compounded by the fact that online shoppers are very deliberate; according to Alexa.com the average site visit to Barnesandnoble.com lasts only 4 minute 40 seconds. This means less browsing, less point-of-sale competition, and less substitution between similar titles. The titles that sell well online are the titles the consumer heard about elsewhere.
Clue #16: Bestseller Lists
Historically, the New York Times bestseller list has helped to boost sales of already popular titles over up-and-coming titles. Today, the New York Times list is accompanied by various bestseller list at Amazon and Barnes and Noble. Search results are sorted by sales rank by default, placing books that can hit the top of the bestseller list on a virtuous cycle of marketing and discoverability.
Clue #17: Loss Leadership
Since consumers frequently use bestsellers to compare prices between bookstores, the bookstores sell the bestsellers at a loss and make up the difference on other titles. This means that bestsellers are not only more heavily promoted, but also typically cheaper than less popular books. The recent court-approved settlement effectively banning the agency model for ebooks will make this practice even more pronounced in the future.
Clue #18: Sequels
Since online book buyers are less likely to encounter a brand new book sequels, which carry a built-in audience from previous titles, have become more popular.
"The 39 Clues" takes this trend to an almost absurd level. There are actually three series of books in the franchise. The original series had eleven books. There are six books planned for the current series, "Cahills vs. Vespers". And the first book in a third series, "Unstoppable", is scheduled to be released in October 2013. Additionally, Scholastic is publishing one-off "39 Clues" ebooks.
Since the franchise is so large, the unit sales and revenue potential is very high even if the fan base ends up being small relative to previous series such as "Harry Potter" and "The Hunger Games".
Series 3: "The 39 Clues" has High Sales Potential if A Hit Film is Made
Clue #19: Hollywood Wanted in... Immediately
If I had to pick one sentence to describe the moat around Scholastic's business, it would be this:
"Dreamworks bought the project before the first book was published for Steven Spielberg to direct"
"The 39 Clues" series is not written by a single author, so this arrangement implies a high level of trust in the Scholastic brand itself. "Lincoln" the last movie produced by Dreamworks Studios and Steven Spielberg had a production budget of $65 million and an estimated marketing budget of $30 to $60 million. If "The 39 Clues" receives a similar budget, the film should bring a high level of exposure to the franchise even if the movie itself flops.
Clue #20: Strong Team of Authors
Scholastic assembled a strong team of writers for the series. In addition to Rick Riordan, who wrote the first book in the series and now dominates the children's bestseller charts, bestselling author David Baldacci is also scheduled to write a book for the series. The other authors in the series- Gordon Korman, Peter Larangis, Jude Watson, Patrick Carman, Linda Sue Park, Margaret Haddix and Roland Smith- are generally well respected serial authors with multiple awards.
Clue #21: Positive User Reviews
Every book in the series so far, including both series and the rapid fire ebooks, has received four, four-and-a-half, or five stars at Barnes and Noble. At Amazon, one book has received three stars and every other book and ebook in the series has received four, four-and-a-half, or five stars.
Clue #22: Card Game Tie-in
Scholastic has created a card game that ties in to the series and the web site. Six cards are included in each book and Scholastic sells individual packs as well.
While the cards are a bit gimmicky, investors should note that Scholastic makes the card packs. This type of merchandising can be very profitable.
Clue #23: Online Game
Scholastic promotes the book series with an interactive online game. Scholastic claims the game alrady has over two million registered members.
Clue #24: Paid Apps
Scholastic also has at least one paid app, the Madrigal Maze, tied into the series.
Clue #25: Ebooks
To promote the main books and as yet another additional revenue source, Scholastic produced a series of seven short ebooks last Christmas and is coming out with another ebook this Christmas.
Clue #26: General Merchandising Rights
Since "The 39 Clues" was developed by an editorial group within Scholastic, Scholastic retains all the merchandising rights for the franchise. Think about all the "Harry Potter" wands and "Hunger Games" posters you see- Scholastic will get a cut of all that for "The 39 Clues".
Clue #27: Lather, Rinse, Repeat
As promising as "The 39 Clues" franchise is, it is not a make-or-break proposition for Scholastic. The fact that the first two books in the series- written by two different authors- debuted at number one on the New York Times bestseller list shows that Scholastic has the ability to create bestsellers almost at will. There is always a new series in the works.
Series 4: Financial Ratios Support the Long Trade
Clue #28: Scholastic is Profitable
Even with the projected decrease in earnings and sales, Scholastic will remain profitable in 2013. This is a simple, but it is a big positive.
Clue #29: The Price to Sales Ratio is Low
Under the new revenue guidance for 2013, if the stock price rose to $30/ share the price to sales ratio would be just 0.51.
Clue #30: The Price to Earnings Ratio is Reasonable
Under the new revenue guidance for 2013, if the stock price rose to $30/ share the price to earnings ratio would be just over 20.
Clue #31: Scholastic has Strong Cash Flow
In each of the last three years, Scholastic's operating cash flow and free cash flow have both exceeded earnings. This indicates that Scholastic has not been borrowing against future earnings.
Clue #32: TTM Gross Profits Exceed Market Capitalization
According to Yahoo! Finance, TTM gross profits for Scholastic were 1.16 billion. The market capitalization at $30 per share would be just under $950 million.
Series 5: Lionsgate Is A Suitable Hedge
Clue #33: The Market Did Not Punish Lionsgate When It Punished Scholastic
Lionsgate shares didn't dip on the day that Scholastic reduced guidance and tanked, and Lionsgate stock has advanced steadily since then. Some weakness related to the "Hunger Games" series is now baked into Scholastic, but it is not baked into Lionsgate at all.
Clue #34: The Two Companies Have Similar Capital Structures
Since the objective of a paired long/short trade is to protect against broader market factors, the two companies selected should be similarly structured. This helps to ensure that the two companies will respond identically to broad market stimulus.
Both companies are small caps; Lionsgate has a market capitalization of just over $2 billion and Scholastic has a market capitalization of just under $900 million. And both companies are moderately leveraged; Lionsgate has a current ratio of 1.05 and Scholastic has a current ratio of 1.67.
Clue #35: Similar Beta
According to Yahoo finance, LGF has a beta of 0.46 and SCHL has a beta of 0.65. The similar betas confirm that the two companies should respond similarly to broad market moves.
Clue #36: Both Lionsgate and Scholastic are Media Companies
While the beta and capital structure of the two companies should help to mitigate the risk of a broad market crash, the fact that they are both media companies should help mitigate the risk of an industry-specific downturn.
Clue #37: The Twilight Saga is Over
Aside from "The Hunger Games", Lionsgate's other big franchise at the moment is "The Twilight Saga". However, the last Twilight film is already in theaters. Lionsgate will need big fourth quarter hits in the coming years to replace that revenue stream or they will show a steep YOY decline. This makes the success of "The Hunger Games" sequels critical for Lionsgate.
Clue #38: Lionsgate is Pricey Enough To Discourage a Buyout
It makes me nervous to use a deep value stock as a hedge because there is a high risk that the company will be acquired. With a trailing P/E ratio over 300 and a price to sales ratio over one, Lionsgate is not a deep value stock.
Clue #39: Lionsgate is Not Involved With "The 39 Clues"
Since the film rights to "The 39 Clues" belong to DreamWorks, it will not benefit Lionsgate if it is a breakout hit. Additionally, the fact that Scholastic did not feel the need to work with Lionsgate a second time implies that, unlike Scholastic, Lionsgate does not have much of a moat around their business.
Disclosure: I have no positions in any stocks mentioned, and no plans to initiate any positions within the next 72 hours. I wrote this article myself, and it expresses my own opinions. I am not receiving compensation for it (other than from Seeking Alpha). I have no business relationship with any company whose stock is mentioned in this article.