On Dec. 21, 2012, the U.S. FDA is expected to rule on Alexza Pharmaceuticals' (NASDAQ:ALXA) new drug application (NDA) for ADASUVE, the company's inhalation powder formulation of loxapine for the treatment of acute agitation in patients with schizophrenia and bipolar disorder. This is the third attempt for Alexza to gain approval for ADASUVE. The company has received two previous complete response letters (CRLs) from the U.S. Food and Drug Administration (FDA) for ADASUVE: one in October 2010, and one more recently in May 2012.
Besides the pending U.S. FDA's decision on ADASUVE, the European Medicines Agency (EMA) is expected to rule on Alexza's Marketing Authorization Application (MAA) seeking approval for ADASUVE in the EU. I remind investors that Alexza filed the MAA in October 2011. Alexza received the 80-day assessment report in February 2012, the 120-day assessment in July 2012, and just recently the 180-day assessment in November 2012.
For the purpose of this article, I'm going to assume that ADASUVE gets approved by both the FDA and the EMA. I'm not going to spend a lot of time on why I believe ADASUVE will be approved. Instead, I'll point investors to the Psychopharmacologic Drugs Advisory Committee outcome, which voted by the narrowest of margins on Dec. 12, 2011, to recommend approval of the drug. Since that time, management has stated publicly and disclosed in its filings that they believe there is a substantial agreement between Alexza and the FDA on the proposed REMS and product labeling, and that the manufacturing deficiencies, which resulted in the second CRL in May 2012, have been fully addressed.
From Alexza's Form 10-Q (Nov. 11, 2012) -- Page 20:
Click to enlarge images.

Despite the optimistic premise that the company will receive a double-approval in three weeks, I believe Alexza shares are meaningfully overvalued at today's price. If I'm wrong on the double-approval, the point of valuation is moot. A third CRL from the U.S. FDA probably kills the drug, and perhaps the company. I could see the stock below $2 on a double CRL, but either way, Alexza shares are headed lower.
ADASUVE Commercial Opportunity
Considering my premise that ADASUVE will be approved in three weeks, the next logical question to ask is: What are peak sales? I'll start off by saying that I believe ADASUVE is a highly effective drug. Alexza tested ADASUVE in two randomized, well-controlled pivotal trials in 658 patients. In total, management has studies the device in over 1,600 patients. Below is a graph of the Phase III data showing the primary endpoint in reduction in agitation assessed by PEC score: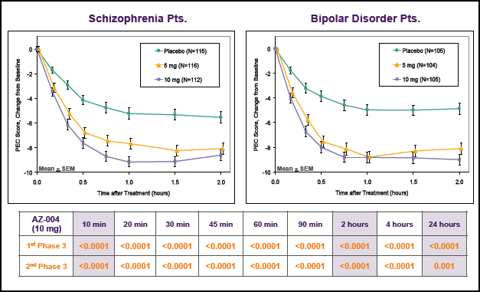 Secondary analysis of the data showed patients improved impulse control and cooperation, and reduced tension and hostility. Full data from the phase 3 program has been published for peer-review and presented at the 2010 American Psychological Association annual meeting. Here is a link to the poster presentation: 2010APA/PEC.
Where ADASUVE falls short is potentially in safety, the restrictive REMS, and direct comparison to existing medications for acutely agitated patients. Let's start with the second aspect, the competition and the need for ADASUVE in the market place.
Episodes of acute agitation occur often in the 2.5 million schizophrenia and 6.0 million bipolar disorder patients in the U.S. Management estimates that 90% of these patients will experience an episode of acute agitation during their lifetime. Typically these episodes occur at a frequency of 10 to 12 per year.
Well-treated (on medication) schizophrenia patients often do not experience significant agitation, but the well-treated schizophrenia patient is not the norm. Bipolar patients often go untreated and experience acute agitation during the mania phase of the disease. These episodes are often treated with conventional antipsychotics and benzodiazepines. Currently, the market is split pretty evenly between oral and injectable drugs, with most caregivers starting on oral medications and then moving to intramuscular (IM) injections if necessary.
Oral medications are preferred mode of administration. In fact, 55% of all prescriptions for acute agitation are for an oral (rapidly dissolving) tablet. This is important to note because the most common criticism I hear from investors is: How is an acutely agitated patient going to cooperate and inhale ADASUVE? The answer is pretty simple: They do it the same way the cooperate and take the oral tablet.
Contrary to what may be portrayed on television, acutely agitated patients, approximately 90% of the time, do not present to the ER in a manic frenzy, throwing chairs and breaking vending machines. The majority of admissions are patient driven, either alone or with the support of a family member or friend. These, by in large, are patients that are aware of their agitated state and are specifically seeking medical help.
But oral medications such as alprazolam or diazepam are slow. In fact, roughly 20% of the time following dose with an oral tablet, the patient still requires an IM injection. The outcome is far too unpredictable. Why then do oral medications have 55% market share? Quite simply, no one likes using a needle.
Haloperidol, lorazepam, olanzapine, and ziprasidone are among the most common agents used when the caregiver feels an intramuscular injection is necessary. Unfortunately, administering an invasive intramuscular injection during a state of acute agitation is a difficult task for a caregiver and may lead to increased anxiety for the patient. It presents the opportunity for potential risk of injury to the patient or the caregiver. IM injections of antipsychotics agents also carry significant negative side effects, including heavy sedation, and potential risks of acute hypertension, or severe dystonic, torticollis, or laryngospasm reactions.
Psychiatric emergency service physicians may also dose a combination of the above drugs. One such combination -- 5mg haloperidol + 2mg lorazepam, known in psych wards as "B-52" -- is among the most common, but heavily sedates the patient creating additional issues for the caregiver or hospital administrator.
In this setting, Alexza's ADASUVE will offer a new alternative to the caregiver. ADASUVE is designed to provide rapid and predictable onset in a non-invasive delivery. The American Association of Emergency Psychiatrists' Expert Consensus Guidelines for the Treatment of Behavioral Emergencies lists three key attributes for an effective medication: speed of onset, reliability of medication delivery, and patient preference. ADASUVE meets all three in my view. An inhaled drug is clearly more desirable to an IM injection, and may even be easier to administer and offer greater compliance than an oral tablet.

Unfortunately, Alexza does not have direct comparison data of ADASUVE versus either B-52 or sublingual olanzapine. ER psych doctors are going to have to make a choice versus ADASUVE or these two commonly used medications with ingrained prescribing habits. ADASUVE is new, and its uptake will be slowed dramatically by the proposed REMS.
Investors familiar with the Alexza story know the PDAC meeting last December was all about the REMS. The FDA and PDAC were pretty focused on the pulmonary safety of ADASUVE, specifically the drop in FEV1 on the second dose in a 24 hour period. ADASUVE is an inhaled drug, and FEV1, or Forced Expiratory Volume, is a measure of the maximal amount of air one can forcefully exhale in one second. The graph below shows the precipitous drop in FEV1 upon a second dose of ADASUVE at hour 10. Note the lack of recovery to baseline FEV1 following the second dose. As a result, the FDA and PDAC felt as though dosing Adasuve twice in a 24-hour period was not acceptably safe.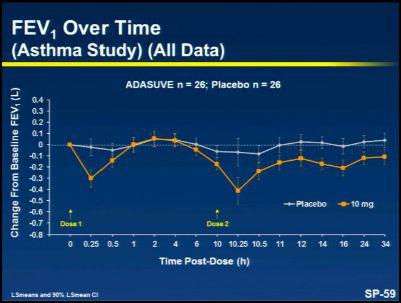 Therefore, ADASUVE dosing will be limited to once per 24 hours. With respect to the rest of the REMS, Alexza proposed one REMS and the FDA proposed another, far stricter one. Below is a slide from the PDAC meeting showing the meaningful enhancements the FDA proposed to Alexza's first-attempt REMS on ADASUVE.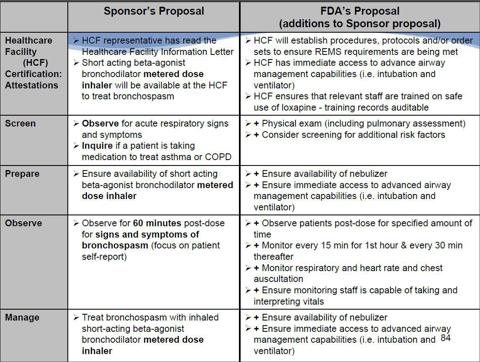 As such, before ADASUVE can be used by a caregiver:
1. The healthcare facility must have immediate access to advanced airway management abilities. The healthcare facility would need to ensure that:
a. Short acting beta-agonist bronchodilator is available in metered dose inhaler (MDI) and nebulizer forms to treat early bronchospasm.
b. There is immediate access to advanced airway management abilities (i.e., intubation and ventilators) to treat bronchospasm that is missed and progresses.
2. The healthcare facility must establish or have policies, procedures, and/or order sets in place for appropriately screening patients and monitoring patients post-administration; including orders to:
a. Screen patients by performing a physical exam including assessment for active respiratory disease and by taking a medical history from the patient including current treatment for pulmonary disease (i.e., asthma and COPD).
b. Observe patients after each treatment for a specified amount of time. (The duration of monitoring is unclear, given that the effects on spirometry varied following the first and second dose.)
c. Monitor patient's vital signs and physical examination including chest auscultation as well as monitoring for signs and symptoms of respiratory distress every 15 minutes for the first hour and every 30 minutes thereafter.
3. The healthcare facility must ensure that prescribers, pharmacists, and staff who will be prescribing/administering the loxapine inhalation powder are trained on the safe use (including proper patient selection, risk of bronchospasm, administration technique, monitoring required, and treatment of bronchospasm). Training materials would be made available by the sponsor, and the certified healthcare facility would need to keep records of the training.
The FDA also suggests adding a Prescriber Certification, meaning that centers (ER departments or emergency psych wards) would not be allowed to prescribe ADASUVE until they were effectively qualified as meeting the above criteria. The FDA may also seek to include monitoring requirements and audit facilities to make sure that centers were complying fully with the proposed REMS. And finally, the FDA has proposed a patient registry to enroll patients before receiving ADASUVE. This is in an attempt to better characterize the risk in the intended patient population.
Wow. That's a lot that has to happen before ADASUVE can be used. As such, despite what I see as a highly clinically effective product, sales will be greatly impacted -- at a minimum over the early stages of the launch -- by the REMS.
Taking all the above into consideration, I see Adasuve having peak North American sales of $160 million. I arrived at this estimate as follows: There are roughly 10 million patients in the U.S. and Canada with schizophrenia and/or bipolar disorder, and 90% experience episodes of acute agitation. About 85% of the ER hospitals or treatment centers will be in compliance with the REMS (i.e., having advanced airway management abilities). Episodes occur about once per month (12 times per year), and 50% of the time these episodes are severe enough to seek medical treatment. Adasuve to be priced at $70 per dose. Adasuve to capture approximately 4% of the market (3% from IM + 1% from oral).
Let's do the math: 10.0 million x 90% x 85% x 12 x 50% x $70 x 4% = $160 million
For simplicity sake, I'm going to assume that the opportunity in Europe, Latin America, Russia, and the Middle East is about the size of the North American market. That brings the total peak worldwide market opportunity for ADASUVE to around $300 million. Below is a snapshot of my revenue model:

I am confident that some investors may find my peak global sales assumption of $305 million in 2022 as overly aggressive. But, again, the premise of this article is that Alexza is meaningfully overvalued today, so if I am aggressive in my sales assumptions, it only further enforces this premise.
Let's Assume...
Alexza has a commercial partnership with Grupo Ferrer Internacional, S.A. for the commercialization of ADASUVE in Europe, Latin America, Russia and the Commonwealth of Independent States, first signed in October 2011. The agreement was meaningfully amended in March 2012, after the U.S. FDA delayed the PDUFA goal by three months in January 2012, creating a cash-crunch at Alexza prior to the May 2012 CRL. Back in October 2011, Grupo Ferrer paid Alexza $10 million in upfront cash, of which Alexza retained $5 million and paid $5 million to Symphony-Allergo.
As a result of the amended agreement, Alexza can earn $8 million in commercialization milestones from Grupo Ferrer (for the first sales of the device in nine listed countries) and royalties on sales. The royalty rate has not been disclosed. For the purpose of my model, I assume a tiered structure, starting at 15% and escalating to 20% by 2022.
For the U.S., Alexza has no commercial partner. The company previously partnered with Biovail, but Valent Pharmaceuticals, who acquired Biovail after the original transaction with Alexza was signed, returned the rights of the drug to Alexza in October 2010 after the first FDA rejection.
For the purpose of my model, I'm going to assume that Alexza finds another commercial partner for the drug in North America -- another optimistic assumption on my part. I'm using an upfront payment of $15 million for the drug (approximately 10% of the peak N.A. sales), $25 million in achievable back-end sales milestones, and a tiered royalty structure that starts out at 20% and escalates to 25% by 2022. Below is a snapshot of these payments:

Above, investors can get a sense of what I believe the revenue line will be. Now it is time to talk about costs. Alexza burned $10.9 million in cash from operations during the first nine months of the year. However, this number includes the $10 million payment from Grupo Ferrer, of which the company only kept $5 million. Backing out this one-time gain, and Alexza burned around $21 million in cash during the first nine months of the year, or around $7 million per quarter.
Operating expenses for the third quarter 2012 totaled $7.1 million, comprised of $4.8 million in R&D and $2.3 million in SG&A. Operating expenses for the first nine months of the year totaled $21.3 million, comprised of $14.8 million in R&D and $6.5 million in SG&A. I suspect that after approval, much of the R&D expense will transfer to manufacturing cost of goods sold and the SG&A line can be offset by partner support. As far as manufacturing, I assume that Alexza will handle all product supply from its facility in Mountain View, Calif., and sell ADASUVE to its commercial partners at a cost-plus revenue model, commensurate with an additional 0.5% royalty at peak.
I have also made some assumptions with respect to non-cash items, including stock-based compensation, which totaled $2.5 million for the first nine months of 2012, depreciation and amortization expense, which totaled $3.5 million for the first nine months of 2012, adjustments in working capital and other changes in assets/liabilities, and taxes. Based on an accumulated deficit of $324.3 million, I do not expect Alexza to pay cash taxes until 2020.
Accordingly, I have posted my net free cash flow assumptions below:

To accurately and fairly value a company based on the discounting of future cash flows, I have to make some additional assumptions and calculations, of which I post and attempt to support below.
Discount Rate: I'm using a WACC of 18%. Normally I would use the Capital Asset Pricing Model to determine the WACC for Alexza, but management was kind enough to provide to investors the firms WACC on page 11 of the Form 10-Q (Nov. 11, 2012).

Terminal Growth: I'm using a terminal growth rate of 2%. According to management, ADASUVE is patent protected until at least 2022. After 2022, which is where my model ends, the risk to generic competition dramatically increases. Once ADASUVE loses protection, all bets are off. The top line could plummet. That being said, Alexza has 10 years to develop another drug, which could be a commercial success or flop. It's all speculation at this point. I believe 2% is fair because it assumes Alexza, in 10 years, is no better/no worse than predicted inflation.
Share Count: I'm using a fully diluted share count for my model of 19.1 million shares. This includes:
15.7 million basic shares outstanding as of Oct. 26, 2012 (from Form 10-Q)
0.07 million shares of restricted stock under the company's vesting program
0.27 million shares under the company's 2005 EIP
4.40 million warrants to become effective February 2013 exercisable at $5.00/share
I am not including 1.05 million stock options and 6.5 million warrants outstanding and exercisable at significantly higher prices (>$12/share)
Net Cash: Alexza's balance sheet as of Sept. 30, 2012, lists current assets of $32.8 million, of which $25.5 million are cash and cash equivalents. There is an additional $6.5 million in restricted cash on the books in accordance with terms of the Hercules Loan agreement. Total assets of $50.3 million include $17.2 million for the company's manufacturing facility in Mountain View, Calif. Current liabilities total $22.2 million, which includes $8.0 million in financing obligation and $7.0 in a contingent consideration liability. For the purpose of my model, I'm assuming Alexza burns approximately $7 million in the fourth quarter 2012, and thus exists the year with net positive working capital of $3.6 million.
Conclusion
Plugging all these assumptions, estimates, and forecasts into my model, I arrive at fair value target price of $3.87 per share.

My chief assumptions for the DCF model are that ADASUVE has peak global sales of $305 million in 2022 and the WACC is 18%. As a reminder, I'm using management's own WACC noted in the most recent Form 10-Q. In the company's September 2012 investor presentation, management (on slide 18) notes the product opportunity in the U.S. hospital segment at $225 million. This is above my estimate of $160 million.
I've conducted some sensitivity analysis around my target by adjusting both peak global sales and the discount rate. This can be seen in the table below.

Two Ways I'm Wrong
I see two ways in which, besides my forecast for peak global sales in 2022 being too low at $305 million, I could be wrong on my calculated fair-value of $3.87 per share. The first is in the discount rate of 18%. It is possible that post approval, Alexza will be able to raise capital at a lower WACC than 18%. Above, the pivotal table shows that fair value at $300 million in sales and a 16% discount rate puts fair value at $5.15 per share.
The second big reason where I could be wrong is in the signing of a N.A. commercial partner. It is possible the upfront payment from a U.S. and Canadian deal for ADASUVE exceeds my expectations for $15 million upfront, $25 million in realistic back-end milestones and 20 to 25% royalty on sales. I'm confident in the royalty number. Where I could be wrong is on the upfront payment of $15 million. The model predicts fair value at a market capitalization of around $75 million. If Alexza were to secure an upfront payment of $30 million (instead of $15 million), the calculated fair value of the stock would adjust by +$15 million, or around $0.78 per share. Every $1 million in additional upfront adds $0.05 to my target.
I recommend investors watch the stock closely post approval. I think the shares are being bid up now in anticipation of approval. Biotech investors are playing the catalyst. I think the money will exit prior to the FDA decision. If the company can announce approval and a partnership on the same day, shorts may get burned. However, if approval is announced and no commercial partner is signed within a few weeks (say by mid-January 2013), I'd be very leery that a deal gets done at favorable terms.
Disclosure: I have no positions in any stocks mentioned, and no plans to initiate any positions within the next 72 hours. I wrote this article myself, and it expresses my own opinions. I am not receiving compensation for it. I have no business relationship with any company whose stock is mentioned in this article.
Disclaimer: PropThink is a team of editors, analysts, and writers. This article was written by Jason Napodano, CFA, one of our contributors. We did not receive compensation for this article, and we have no business relationship with any company whose stock is mentioned in this article. Use of PropThink's research is at your own risk. You should do your own research and due diligence before making any investment decision with respect to securities covered herein.You should assume that as of the publication date of any report or letter, PropThink, LLC and persons or entities with whom it has relation ships (collectively referred to as "PropThink") has a position in all stocks (and/or options of the stock) covered herein that is consistent with the position set forth in our research report. Following publication of any report or letter, PropThink intends to continue transacting in the securities covered herein, and we may be long, short, or neutral at any time hereafter regardless of our initial recommendation. To the best of our knowledge and belief, all information contained herein is accurate and reliable, and has been obtained from public sources we believe to be accurate and reliable, and not from company insiders or persons who have a relationship with company insiders. PropThink was not compensated to publish this article. Our full disclaimer is available at www.propthink.com/disclaimer.