The biggest story in biotech from last week was the much-anticipated release of, and reaction to, the phase III data from Acadia Pharmaceuticals (NASDAQ: ACAD), which tested their flagship product pimavanserin in the treatment of Parkinson's Disease Psychosis (PDP). Pimavanserin actually failed a similarly-structure clinical trial back in 2009, so ACAD investors were understandably relieved that the drug proved its efficacy this time.
The results were given in a press release at 8:00 AM EST on Tuesday, November 27th. The study met its primary endpoint through the demonstration of measurable antipsychotic activity on the SAPS scale (the Scale for the Assessment of Positive Symptoms), and also met its secondary endpoint which was based on an improvement in the Parkinson's patients' motor control using the UPDRS (Unified Parkinson's Disease Rating Scale.) See a little more information here if interested, and I'd check out the press release that generated all the excitement.
Acadia plans to conduct more clinical trials for pimavanserin before it's ready to submit an NDA, but Wall Street's reaction was overwhelmingly positive due to the increased likelihood of an NDA submission and approval for pimavanserin down the road. By the opening bell, ACAD opened at a new 52-week high of $6.53/share (184% higher than Acadia's closing price of $2.30/share on November 26th). This move rivaled the "monster rally" in shares of Sarepta Pharmaceuticals (NASDAQ: SRPT) that was seen on October 3rd 2012 after phase II trial data came out for their flagship drug eteplirsen. ACAD pulled back for the rest of the week, settling at $5.20/share at Friday's closing bell.
I figured that we'd see a similar "sell the news" reaction in Acadia that would cause a lot of downward pressure in the stock, which seems to be the right call for the time being. This implies that investors who haven't bought ACAD yet but are now interested in pimavanserin can probably get better prices soon, since a good number of ACAD investors seem interested in taking profits early.
Sarepta, the aforementioned company that saw an even bigger one-session rally back in October has been relatively quiet relative to other names in the biotech sector like Acadia. As stated into my old article that was hyperlinked in the last sentence, SRPT moved up 990% in the three months leading up to the release of phase IIb trial data for eteplirsen in the treatment of patients with Duchenne Muscular Dystrophy (DMD). A large chunk of it occurred on October 3rd, when the stock rallied 199.7% due to the notion that the phase IIb results would be enough for the FDA to consider eteplirsen a "breakthrough drug" which could be approved for marketing without the completion of phase III trials.
The FDA has yet to reveal anything about its plans for eteplirsen's approval process, but Sarepta does have plans for a large, confirmatory pivotal phase III trial "in the latter part of 2013." Speculation on Sarepta is slowing down as the market attempts to value eterplirsen with relatively little information about the release schedule.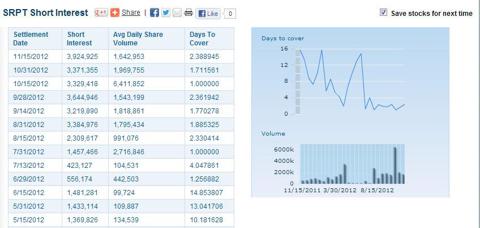 We should also take a look at the short interest in Acadia while we're at it.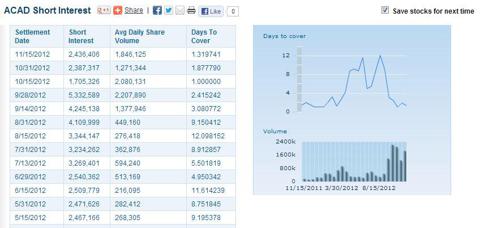 Sarepta's monster rally was made on October 3rd. Trading volume exploded on that date and remained high for weeks after, although short interest barely changed. This indicates that there isn't much interest in betting against eteplirsen, which makes sense. I think the drug is very likely to be approved - there are no real alternatives for Duchenne Muscular Dystrophy patients, and eteplirsen has demonstrated its efficacy through six-minute walk tests in clinical trials. The drug's prospects will prevent SRPT stock from dropping too low. This also means that SRPT has much less upside in the next twelve months since the stock has already enjoyed its biggest news catalyst. This is basically why Dominick & Dominick initiated coverage on Sarepta with a "market perform" rating last week.
Acadia's pimavanserin is a different animal, but we may see ACAD experience a similar outcome in the near-term. Just like SRPT, ACAD released great clinical trial data for their flagship drug that is designed for a patient population with significant unmet demand (in this case, Parkinson's Disease Psychosis instead of Duchenne Muscular Dystrophy). We may see a prolonged period of profit-taking in ACAD just as we saw with SRPT, although recall that SRPT did recover some of the losses and still trades about 100% higher than it did before the results presented on October 3rd.
The takeaway here is that we could see ACAD move lower due to the profit-taking from ACAD investors that bought in prior to the phase III results presented on November 27th, even assuming that there is no increase in short interest in the stock. This happened with Sarepta, and offered investors that opportunity to buy the stock at a much lower price following the good news related to their flagship drug eteplirsen. Trade accordingly.
Disclosure: I have no positions in any stocks mentioned, and no plans to initiate any positions within the next 72 hours. I wrote this article myself, and it expresses my own opinions. I am not receiving compensation for it (other than from Seeking Alpha). I have no business relationship with any company whose stock is mentioned in this article.