Linn Energy LLC (LINE), is a well-hedged, dividend-paying LLC currently offering a $0.725 quarterly dividend. At the current price of $39.12, Linn Energy offers a 7.4% annual yield. The company has substantially hedged all of its future 2013 and beyond production and its future cash flows under long-term contract. Linn Energy, though an LLC, is taxed as an MLP and will issue unitholders a schedule K-1.
For those looking to buy into Linn Energy without the hassle of a K-1, Linn Energy offers LinnCo LLC (LNCO), whose sole purpose is to own LINN Energy units. LinnCo's dividend is slightly smaller, at $0.71 per share. However, it does sell at a similarly small discount to its parent company. It buys unwanted assets from other energy producers, hedges expected production, and then distributes this cash to unitholders. The company funds these purchases through frequent secondary offerings of stock. The best time to buy Linn Energy is via one of these secondaries.
Click to enlarge images.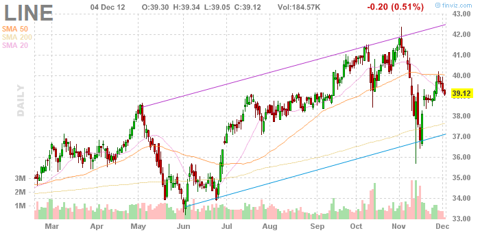 The current yield for Linn Energy is lower than similar competitors, such as Vanguard Natural Resources (NYSE:VNR) -- here is a link to an article I wrote on VNR -- QR Energy (NYSE:QRE), and Martin Midstream Partners (NASDAQ:MMLP). This lower yield is primarily the result of a high market cap and the implied safety of the yield due to Linn's almost 100% hedges on its production.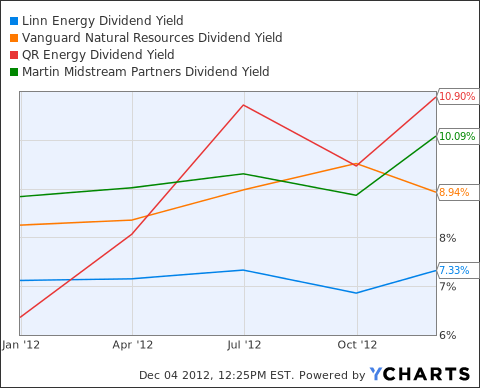 Linn Energy has recently started raising its dividend again after a two-year stretch without an increase. Since 2006, Linn Energy has managed to more than double its dividend.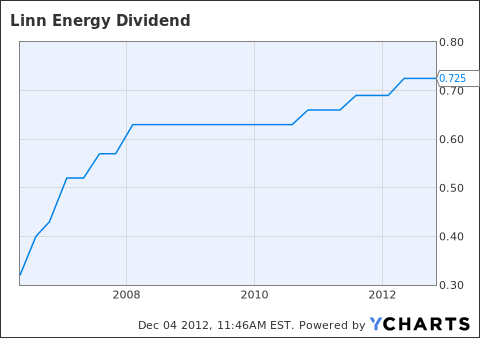 For Linn Energy, net income has been affected by its hedging program. As we can see from the chart below, Linn Energy's net income follows closely its hedging gain or loss.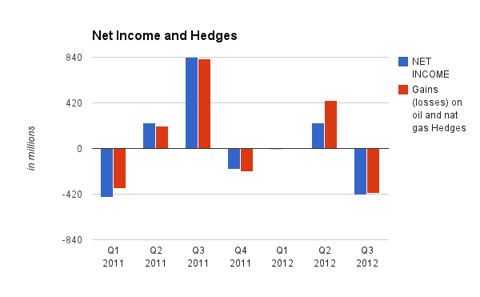 A much better indicator of Linn Energy's ability to pay and or increase the dividend is to look at its cash flow. Cash flow is not affected by the non cash charges that the income statement is. Below is a chart of the quarterly cash flow and dividend payments made by Linn Energy. As we can see, Linn Energy has mostly been able to cover its dividend except for a cash crunch during Q2 2012. Q2 cash flow was impacted by a mark to market adjustment on derivatives of $300 million.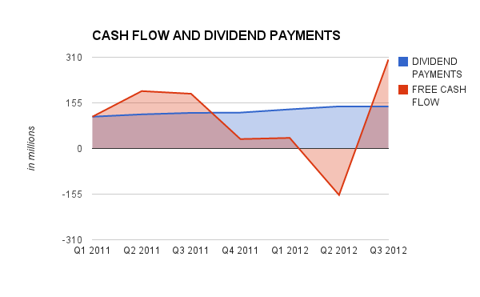 Linn Energy also has an active hedging policy in place. Linn Energy has 100% of expected natural gas production hedged through 2017 and 100% of oil production hedged through 2016. These hedges will provide the stable cash flows needed to maintain the dividend.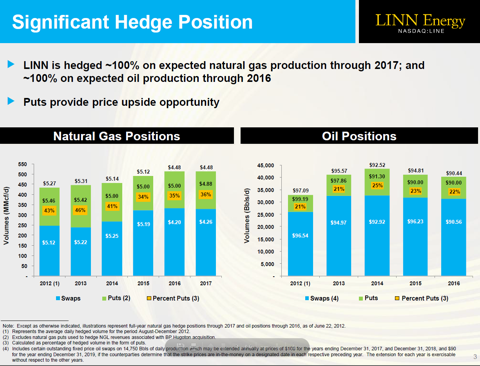 Linn Energy's current high yield of 7.4% is a compelling reason to own it. The company tends to issue shares frequently to fund future acquisitions. I would wait for one of these secondaries before buying into Linn Energy or LinnCo.
Disclosure: I am long VNR. I wrote this article myself, and it expresses my own opinions. I am not receiving compensation for it (other than from Seeking Alpha). I have no business relationship with any company whose stock is mentioned in this article.