Best Buy (NYSE:BBY), the troubled electronics retailer, has had a rough year. The stock has tumbled mercilessly, cutting the market capitalization to about $4.5 billion, less than a tenth of annual revenue.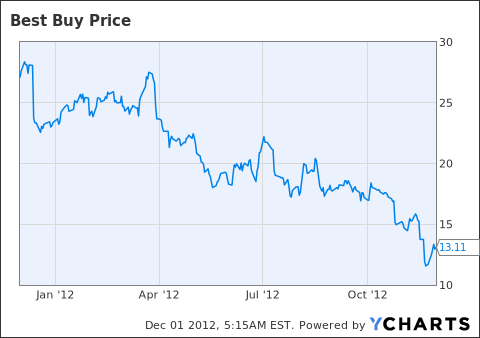 The story most people cite is this: Amazon (NASDAQ:AMZN) is killing retail, and Best Buy is doomed. Best Buy has had some terrible quarters as of late, with disappointing revenue and profits. Most people would look at this stock chart and run away in horror. But what about the bonds?
Best Buy Bonds
Buying Best Buy bonds assumes, of course, that you don't think that Best Buy is completely doomed. There are a few different options, but the best is the 5.5% note maturing in 2021 (CUSIP: 086516AL5). The price of this bond has fallen dramatically, last trading at $81.427 on November 30th.
Bond Price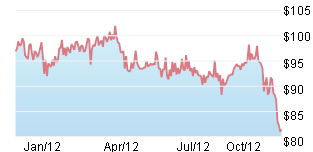 * Bond data from Finra
The bond is continuously callable, but since you can buy it below par an early call would actually increase the bond's annualized return. I'll use the Bargain Bin Yield To Maturity Calculator to analyze this bond.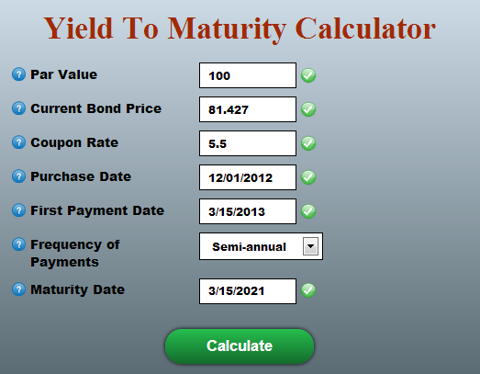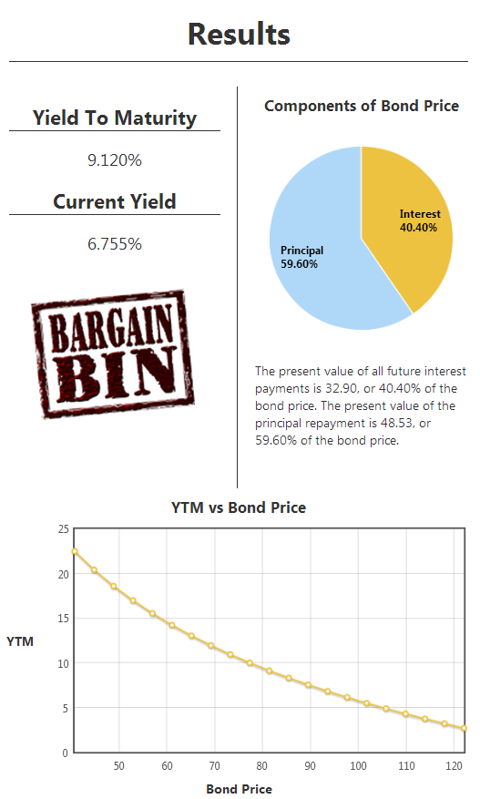 The yield to maturity, which represents the total annualized rate of return, is 9.12%. In a world of extremely low interest rates this type of return is fairly rare. Note that the yield to maturity is significantly higher than the current yield. This is due to the effect of the principal repayment, which at par value is much higher than the purchase price.
Will Best Buy even survive until 2021? Let's take a look at the financials.
Financials
Best Buy's cash situation has been deteriorating, with only $309 million in cash compared to over $2 billion a year ago. Total debt is just over $2 billion. In 2011 Best Buy spent $134 million in interest on that debt.
In the cash flow department, the situation looks bleak at first. In 2011 Best Buy generated $2.5 billion in free cash flow. In the first two quarters of fiscal 2012 that number stands at $-538 million. The company has said it expects between $850 million and $1.05 billion in free cash flow for the year.
But free cash flow has its flaws. For one, free cash flow includes changes in working capital. Since working capital will fluctuate but has no real reason to change on average, it makes sense to exclude this. I prefer to use owner earnings, a term coined by Warren Buffett, instead of free cash flow. Owner earnings is simply the net income plus depreciation plus certain non-cash charges. In the first two quarters of 2012 Best Buy had owner earnings of about $600 million. A much different picture indeed.
Conclusion
If you're like me and think that Best Buy will survive, albeit not as profitably as in the past, then this bond maturing in 2021 looks like a good deal. A yield to maturity of over 9% is well above the meager yields offered by higher-rated corporate bonds. If the stock looks a little too perilous for you, the bond may be a better fit.
Disclosure: I am long BBY. I wrote this article myself, and it expresses my own opinions. I am not receiving compensation for it (other than from Seeking Alpha). I have no business relationship with any company whose stock is mentioned in this article.