A little over a month ago, using principles of Dow Theory as well as fundamental analysis, I pointed out before the Dow or S&P 500 could launch a fourth major upleg in our current bull market, transportation stocks would have to participate. The argument was, a rising economic tide should lift all boats. It sure looked like the transportation stocks might be ready to join the party.
Unfortunately the iShares Dow Jones Transportation Index ETF (NYSEARCA:IYT) "did a bunk," as Minerva McGonagall called it in Harry Potter and the Deathly Hallows: they sold off and took the market with them.
I am sad to report (to the bulls) the Transports have failed us again. For now. The selloff that began Thursday of last week marked the eighth time IYT has gotten the vapors upon touching the trendline drawn across the July 2011 and April 2012 highs. Keep in mind the more often a trendline is tested, the more technical validity it possesses. Should it finally break, it carries even more meaning.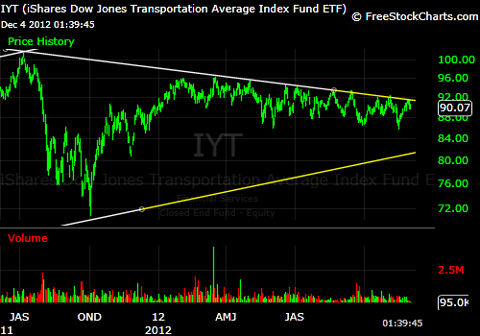 source: FreeStockCharts.com
At my editor's urging, I suggested there were two potential "springboards" that might suggest the Transport ETF was about to break upside.
The shares of C.H. Robinson Worldwide Inc. (NASDAQ:CHRW). Yahoo Finance points out Robinson provides transportation and logistics services to over 53,000 companies in a vast spectrum of modalities, domestic and internationally. More importantly, its performance has been stellar, with nary a financial hiccup throughout the recent recession: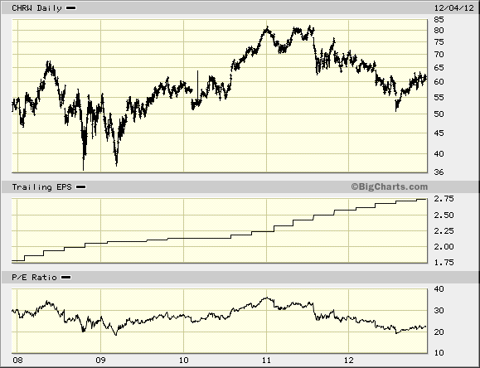 source: bigcharts.com
Not only does 20x trailing earnings seem to be a bedrock of support for the company, but the stock price, unlike the broader IYT (of which it is a component), has broken out of a 15 month downtrend channel. Its mid November low shows the previous resistance has now become support, to the delight of technicians.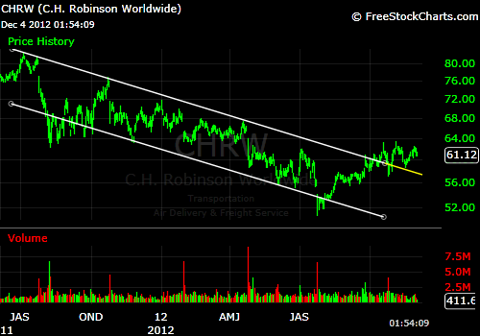 When an industry leader and ETF component like CHRW performs so well, this strong hint suggests the Transports may soon break out to the upside.
The second springboard was the stock price of Westport Innovations. Inc. (NASDAQ:WPRT). Westport is an industry leader in the development of natural gas fueled engines for trucks, buses and heavy agricultural equipment, as well as automotive markets. Adoption of these engines would cut fuel costs and reduce pollution. I suggested if the stock's price found support around $23 a share, this also would be a good sign for transportation companies. Not only did the share price hold at these levels, they rallied sharply even in the face of a dismal earnings report. (WPRT has yet to become profitable):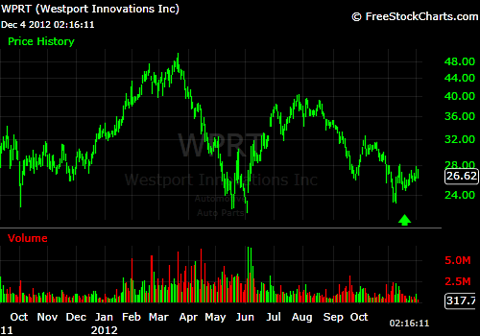 Also, notice how much lower the share volume was in this autumn's selloff compared to last spring. Sellers are getting washed out.
Keep in mind, Westport Innovations is not a component of IYT: but many companies in that ETF, especially truckers like FedEx Corp (NYSE:FDX) or J.B. Hunt Transport Services (NASDAQ:JBHT) would benefit from their technology lowering fuel and Clean Air Act compliance expenses.
Thus I continue to encourage long term investors to monitor this ETF closely. Aggressive investors might consider buying shares in IYT, or most certainly C.H. Robinson, given its superb technicals and fundamentals.
Stodgier investors - this includes myself - will want to keep their powder dry until the IYT finally breaks that sixteen month trendline, to the upside. Don't worry about being "too late." If the bull market resumes and adds a fourth leg, a few points will be the least of your regrets.
As always: have a backup plan to sell if the prices of CHRW and WPRT do not continue to perform. CHRW should hold at $57; WPRT should hold at $23.
Disclosure: I have no positions in any stocks mentioned, but may initiate a long position in IYT over the next 72 hours. I wrote this article myself, and it expresses my own opinions. I am not receiving compensation for it (other than from Seeking Alpha). I have no business relationship with any company whose stock is mentioned in this article.
Additional disclosure: Not so much the next 72 hours, but when IYT breaks upside, I will be a buyer.